DJ Archer, Bob Learn Jr. Throw Key Strikes to Win PBA-PBA50 South Shore Doubles Titles
August 09, 2015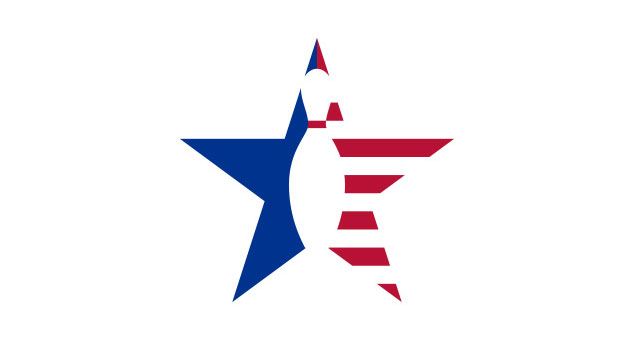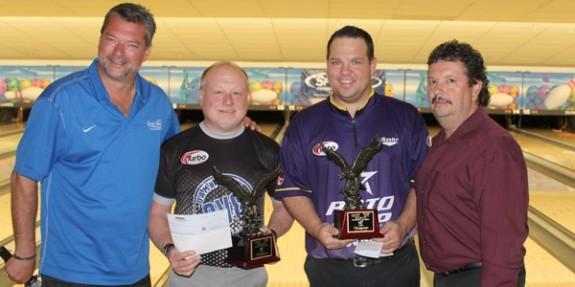 HAMMOND, Ind. – DJ Archer of Friendswood, Texas, and PBA50 partner Bob Learn Jr. of Erie, Pa., used critically-place strikes to defeat EJ Tackett of Huntington, Ind., and PBA Hall of Famer Walter Ray Williams Jr. of Oxford, Fla., 213-206, to win the PBA-PBA50 South Shore Doubles presented by DV8 at Olympia Lanes Saturday.
Archer earned his second PBA Tour title and Learn, a five-time PBA Tour champion in his earlier years, claimed his third PBA50 Tour title.
The title was decided when Archer struck on his first shot in the 10th frame after a missed 10 pin by Learn in the ninth gave Tackett and Williams a glimmer of hope.
"I admit there was a little more pressure in the 10th frame because its doubles and you're also bowling for your partner," Archer said. "But I did the same thing I did when I won the Chameleon Open – I just focused on making the best shot I could, and that was enough."
Learn, who gave Archer a bear hug after his strike, apologized for "making it a little more exciting than it needed to be. But I'm really glad we wound up as partners. DJ is a great young player who is proving he can throw it for the wheat when he has to."
Archer and Learn started the title match with a pair of strikes, and added another string of three in a row to take a 27-pin lead before Learn's miss in the ninth frame. Tackett and Williams, however, didn't throw back-to-back strikes until the ninth and 10th frames. A second strike in the 10th by Tackett would have forced Archer to double for the win, but Tackett left the 3 pin and Archer, needing a mark for the win, got his strike.
Archer and Learn advanced to the title match by eliminating top qualifiers Tommy Jones of Simpsonville, S.C., and his PBA50 Tour partner Chris Keane of Cape Coral, Fla., 219-213, in the semifinal round. Tackett and Williams advanced with a 227-205 victory over JR Raymond of Bay City, Mich., and his PBA50 partner Sammy Ventura of Syracuse, N.Y.
The match play finals were contested under a Baker doubles format in which the doubles partners alternated frames and players switched lanes each game. Ten teams of PBA and PBA50 players were created based upon the players' respective finishing positions in separate PBA qualifying rounds. Eight additional teams of PBA50-only players also qualified for match play.
The PBA50 Tour concludes its 2015 season next week in Fort Wayne, Ind., when Pro Bowl West hosts the PBA50 DeHayes Insurance Group Championship, presented by Ebonite, Monday through Wednesday, followed by the PBA60 Dick Weber Super Senior Classic, presented by Hammer, Friday through Sunday.
All competitive rounds of both tournaments will be covered live, exclusively on PBA's Xtra Frame online bowling channel. For subscription information, visit pba.com and click on the Xtra Frame link.
PBA-PBA50 SOUTH SHORE DOUBLES
Presented by DV8
Olympia Lanes, Hammond, Ind., Saturday
(All match play competition was contested under an alternate-frame Baker doubles format)
Championship: DJ Archer, Friendswood, Texas/s-Bob Learn Jr., Erie, Pa. ($20,000) def. EJ Tackett, Huntington, Ind./s-Walter Ray Williams Jr., Oxford, Fla. ($8,000), 213-206.
Semifinal Round (losing teams earned $4,500): Tackett/Williams def. JR Raymond, Bay City, Mich./s-Sammy Ventura, Syracuse, N.Y., 227-205. Archer/Learn def. Tommy Jones, Simpsonville, S.C./s-Chris Keane, Cape Coral, Fla., 219-213.
Round of 8 (best of three games, losing teams earned $3,200): Tackett/Williams def. Ronnie Russell, Marion, Ind./Jerry Brunette Jr., Rochester, N.Y., 2-0. Raymond/Ventura def. Brian Gunn, Chicago/s-Norm Duke, Clermont, Fla., 2-0. Jones/Keane def. Eugene McCune, Munster, Ind./Ron Mohr, Las Vegas, 2-1. Archer/Learn def. ss-Tom Baker, King, N.C./s-Harry Sullins, Chesterfield Twp., Mich., 2-0.
Round 3 (best of five, losing teams earned $2,900): Russell/Brunette def. Kyle Troup, Taylorsville, N.C./Sam Maccarone, Blackwood, N.J., 3-2. Gunn/Duke def. s-Rick Woloszyn, Griffith, Ind./s-John Burkett, Southlake, Texas, 3-2. McCune/Mohr def. Tom Daugherty, Wesley Chapel, Fla./s-Lennie Boresch Jr., Kenosha, Wis., 3-2. Baker/Sullins def. Anthony Pepe, Elmurst, N.Y./Brian Cooper, Henderson, Nev., 3-1.
Round 2 (best of five, losing teams earned $2,700): Russell/Brunette def. s-Rick Zakrajsek, Lorain, Ohio/s-Brian Leclair, Delmar, N.Y., 3-2. Woloszyn/Burkett def. s-Tom Ream, Tampa, Fla./s-Jeff Richgels, Oregon, Wis., 3-1. Daugherty/Boresch def. s-a-Leroy Johnson, Chicago/s-Jack Jurek, Lackawanna, N.Y., 3-1. Baker/Sullins def. ss-Dave Bernhardt, Romeo, Mich./ss-Ted Staikoff, Black Hawk, S.D., 3-2.
Round 1 (best of five, losing teams earned $2,500): Zakrajsek/Leclair def. ss-Bill Henson, Westerville, Ohio/s-Parker Bohn III, Jackson, N.J., 3-0. Johnson/Jurek def. s-Robert Brown, Cody, Wyo./s-Gregg Zicha, Glen Ellyn, Ill., 3-0.
Other PBA60 Cashers ($1,000 each): Bill McCorkle, Westerville, Ohio; Bill Idzior, Crown Point, Ind.; Frank Gallo Jr., Jacksonville, Fla.; Kerry Painter, Henderson, Nev.; Bob Knipple, Long Beach, Calif.; Phil Moros, Lombard, Ill.; Richard Hunt, Valparaiso, Ind.; Kerry Fulford, Fort Worth, Texas.
s-denotes PBA50 player; ss-denotes PBA60 player, a-denotes amateur.
300 Games: Walter Ray Williams Jr. Brian Gunn.