Donna Zimmerman, USBC Hall of Famer, dies at age 77
January 13, 2011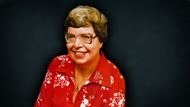 Donna Zimmerman, a United States Bowling Congress Hall of Famer, passed away Dec. 23, 2010 in Thousand Palms, Calif. She was 77.
She was inducted into the Hall of Fame in 1982 in the Superior Performance category. Zimmerman's best season came in 1965, when she captured the all events title at the Women's International Bowling Congress (now USBC) Championships and led her team to a second-place finish at the tournament. She also won the Bowling Proprietors' Association of America doubles crown with Janet Harmon.
For the 1965 season, Zimmerman was named to the Bowlers Journal International All-American team and finished second to Betty Kuczynski for Bowler of the Year honors. She was named Southern California Woman Bowler of the Year.
Zimmerman was a charter member of the Professional Women's Bowling Association. She earned one professional title, the PWBA Oxnard Open in 1964, and took second in three other events. She was inducted into the PWBA Hall of Fame in 1996.
She began her bowling career in her hometown of Akron, Ohio. In 1952, at age 19, she became the 27th woman in bowling history to roll a perfect game. It was the only 300 game the WIBC recorded during the 1952-53 season.
One of her more interesting moments in bowling occurred at the 1959 BPAA All-Star Tournament in Buffalo, N.Y. A severe snowstorm left her without transportation, so Zimmerman and Buzz Fazio decided to run to the center. She described how they ran through the snow and managed to arrive at the center moments before the squad went to the floor.
"The officials already had the alternates dressed to take our place," Zimmerman said. "I bowled with cold air in my lungs all evening and was thankful to finish second to Marion Ladewig."
That season, she also finished second at the World Invitational.
She also is a member of the California WBA, Southern California Bowling Writers, Tri-County, Ohio, and Summit County, Ohio, Halls of Fame.