Doubles leaders and 300 highlight memorable weekend for large group at 2022 USBC Open Championships
April 11, 2022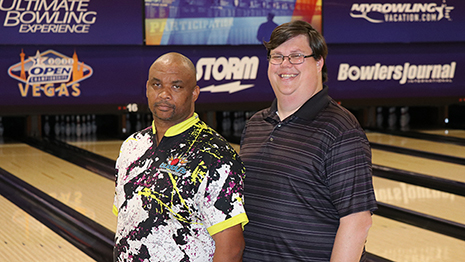 LAS VEGAS -
When it's time for Captain's Club member Jim Costello of Chula Vista, California, and his teams to hit the lanes at the
United States Bowling Congress Open Championships
, a good time is almost guaranteed, and noteworthy scores have started to become the norm.
On Sunday morning, both the stage and spotlight belonged to three bowlers on adjacent pairs of lanes, which made enjoying the excitement convenient for the media, fans, friends and their fellow bowlers.
This year's diverse group included 80 teams across all three average-based divisions, competing at the 60-lane South Point Bowling Plaza over two days.
The first bowler to secure a special place in history was Jerry Ankenbrandt of Dallas, who finished doubles with the 10th perfect game of the 2022 USBC Open Championships.
Minutes later, Tony Odom of Palm Springs, California, and Nick Powanda of San Diego catapulted into the lead in Regular Doubles with a 1,518 total, the first score above 1,500 at the tournament since 2010.
Odom, a 44-year-old right-hander making his sixth Open Championships appearance, led the doubles performance with games of 247, 258 and 257 for a career-best 762 total. It was an improvement of 239 pins from his team set Saturday afternoon.
Powanda, a 34-year-old right-hander competing for the 11th time, used his own run at perfection in the final game to help lock up the lead. He started the finale with nine consecutive strikes, before a 2 pin ended the bid for 300. His first two games were 212 and 268, and he finished with a 756 series, his first 700 on the championship lanes.
"I was just trying to keep the ball in play and not think about it too much," Powanda said. "The strikes kept coming, and it felt nice. It certainly was important to take advantage of what we had. I've got enough 300s to where you would think I would be comfortable, but every time I get there it still makes me nervous, especially in a situation like this. The nerves got to me, and the people watching know what happened."
The duo had an idea what the leading number was, and by the middle of the final game, they felt confident they could get there. Chris Barnes of Denton, Texas, and Billy Rogers of Denison, Texas, previously held the top spot with 1,479.
By the time Powanda stepped up for his shot at perfection, they already were leading. It was just a matter of how high he could raise the bar with nearly 100 days of competition and tens of thousands of bowlers yet to come.
Odom finished first, but not before he stopped briefly to watch the end of Ankenbrandt's 300 and offer his congratulations.
Then, he stepped up to do his part and moved aside.
"I got to the 10th frame and looked up, and my only goal was to keep it on the lane and not do anything crazy," said Odom, who got two strikes and nine pins in his final frame. "I wanted to set it up for my partner to be able to finish it off, and luckily, I got the job done."
Even though it was a new day and different oil pattern, Powanda entered doubles with some momentum after a 671 performance in the team event. Odom was looking to refocus and redeem himself after shooting 523 in team.
"I just couldn't get comfortable, wasn't throwing the ball well and couldn't see the motions the right way," Odom said. "After we bowled our set, I decided to go to a bowling center to do some work to try to get my feet back underneath me, and it worked."
Odom finished the trip to Las Vegas with a 594 series in singles for a 1,879 all-events total. Powanda added 599 in singles for 2,026, his first time over 1,800.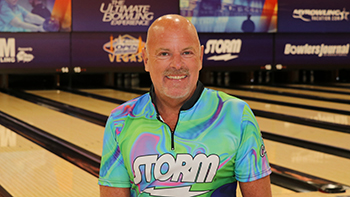 Ankenbrandt also had an up-and-down campaign at the South Point Bowling Plaza, but he felt fortunate just to be able to compete.
During a recent trip to Chile, he lost his balance while hiking and fell several hundred feet down a hill and directly into a cactus bush. Had it not been there, it's possible he could've rolled onto the highway on a busy Friday afternoon.
The healing process is ongoing, and the bruises still are very defined, but Ankenbrandt knows just how fortunate he was to get the outcome he did. It also puts a challenging day of bowling into a different perspective.
"This morning, I could barely walk, let alone try to bowl, but I'd never desert my teammates," Ankenbrandt said. "I just wanted to gut it out, so this is totally unexpected. After everything I've been through the past week and a half, it's that much more special and was meant to be."
The game before the 300, the 58-year-old right-hander, who's naturally left-handed, bowled 142, but he used a lifetime of experience and great advice to persevere once again.
With help from his coaches and pro shop operator, Ankenbrandt was prepared with the right selection of bowling balls and surfaces, and his open-mindedness allowed him to be versatile and flexible with where he was playing on the lanes Sunday, compared to his comfort zone.
He closely watched Odom and Powanda for guidance and inspiration, and he worked through his own tools and possible strategies. Then, everything fell into place on the sport's biggest stage.
"This is a highlight, a dream come true and something I never expected to happen," said Ankenbrandt, who made his 18th tournament appearance. "Along with winning a gold medal at the Gay Games, this is the biggest accomplishment in my bowling career. Also, my father was my first bowling coach and my biggest inspiration. Bowling 300 at the Open Championships was something we always dreamed about."
The perfect game gave Ankenbrandt a 655 series for his doubles event, and it came between sets of 551 in team and 544 in singles for a 1,750 all-events total.
While the Captain's Club at the Open Championships offers rewards and conveniences for captains with five or more teams, there's no reward like seeing your bowlers succeed on the lanes.
Ankenbrandt's performance marks the second consecutive year a member of Costello's group bowled a perfect game.
At the 2021 Open Championships, also held at South Point, former Team USA member
Daniel Patterson
of Milwaukee achieved the feat.
It was historically significant because it was the 900th perfect game in 117 years of tournament history, and it also was a special way to kick off Pride Month for Patterson and his fellow competitors, many of whom started their visit to Las Vegas with the International Gay Bowling Organization's IGBO Annual 2021.
Earlier on Sunday, another member of the group tried to add her name to the list of bowlers with 300s at the Open Championships, and a near-perfect opening game put her in position to also make a run at the lead in Regular Singles.
Virginia Young, a 37-year-old right-hander from Sun City, Arizona, started her singles set with 11 consecutive strikes, before a 1-2-10 washout on her final shot left her with 297.
She added games of 267 and 205 for a 769 series. A double and eight pins in her final frame would've allowed her to sneak past Sam Cantrell of Roseville, California, who leads Regular Singles with 777.
Young added 657 in doubles and 651 in team for a 2,077 all-events total. It was her eighth tournament appearance and best overall performance by 385 pins.
Visit us on Facebook at the
official USBC Open Championships page
.