Doug Kent wins USBC Masters
October 29, 2006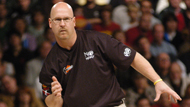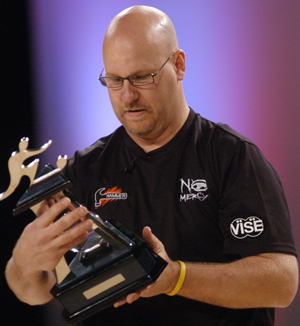 WEST ALLIS, Wis. –
When Doug Kent of Newark, N.Y., won his first Masters title in 1991, he described himself as young and wild.
On Sunday, Kent showed discipline and poise in winning the 2006 United States Bowling Masters at the Wisconsin Exposition Center, defeating Jack Jurek of Lackawanna, N.Y., 277-230 in the title match to earn $100,000 and the Frank K. Baker trophy.
"In 1991, I was very young and my game was kind of wild, so I didn't have real good mechanics," said Kent, who now has eight career titles on the Denny's Professional Bowlers Association Tour. "This one is sweet. I've completely changed my game since then. I'm a lot sharper, a lot smarter and I've become more of a well-rounded player."
Kent became the first bowler in Masters history to win the event from the No. 3 seed position. Since the Masters went to the stepladder finals format for TV in 1980, no player had won the event from the No. 3 or 4 positions.
In the championship match, Kent trailed early but started a string of nine consecutive strikes in the third frame. Jurek started the match with four strikes but couldn't maintain his momentum.
"It's disappointing not to finish it off, but it's probably the best week I've ever had," said Jurek, who earned $50,000 for finishing second. "This is my biggest pay day, and no matter what happens from here I'm going to have my biggest year."
To advance to the championship match, Kent dispatched of amateur George Lambert IV of Wellandport, Ontario. The seven-time Team Canada member never seemed to get comfortable and lost 246-190.
In the opener, Kent defeated Tommy Jones of Greenville, S.C., in thrilling fashion. Needing a strike to even the match, Jones threw a perfect shot to tie the match at 248 and force a sudden death roll-off.
In the roll-off, Kent, the higher seed, elected to start and left a 2 pin. Jones then left a 2-4-8-10 split to lose the match.
Kent, who earned a two-year exemption on the Denny's PBA Tour with Sunday's victory, said some of the pressure is off for the rest of the season.
"I've been in the middle of the pack in points for the last few years, so the two year exemption is big for me," said Kent, who became the sixth player in history to win at least two Masters titles. "It's a huge load off my mind and relieves a lot of stress. It's feels good to get off to a great start like this."
The 2006 USBC Masters featured 498 of the best professional and amateur bowlers in the world. A major on the Denny's PBA Tour, bowlers competed for a prize fund of more than $350,000.
The 2006 USBC Masters was presented by Potawatomi Bingo Casino and was sponsored by AT&T, the official telecommunications company of the Masters. Kegel is the official lane maintenance provider for USBC.

2006 UNITED STATES BOWLING CONGRESS MASTERS
Wisconsin Exposition Center, West Allis, Wis.
Match 1
Doug Kent, Newark, N.Y., def. Tommy Jones, Greenville, S.C., 248-248 (9-6). Jones earns $15,000.
Match 2
Kent def. George Lambert IV, Wellandport, Ontario, 246-190. Lambert earns $25,000.
Match 3
Kent def. Jack Jurek, Lackawanna, N.Y., 277-230. Jurek earns $50,000 and Kent earns $100,000