Dream debut at USBC Open Championships teams first-timer with her father and bowling idol
April 30, 2022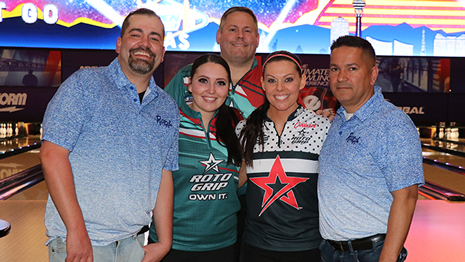 LAS VEGAS -
Brianna Lisner is living her life one amazing experience at time, and while flying in a fighter jet and competing in the
United States Bowling Congress Open Championships
aren't exactly comparable, she considers both to be personal highlights.
In many ways, her two passions forever are intertwined, and it was her role in the U.S. Air Force that allowed her to be in Las Vegas this week for a memorable debut on the tournament lanes.
The 23-year-old right-hander spent countless afternoons of her childhood in a local bowling center, where her parents worked part-time. Her interest grew over the years and led to her having her own equipment and a spot on her high school bowling team.
The timing didn't work out for her to bowl again the next year, due to an early graduation, but she practiced and worked on her game. Off the lanes, at the same time, she was determining what her post-graduation life would look like, and that's when she decided to join the Air Force. Her career began in 2016.
"The first couple years I was in the Air Force, I was so busy learning how to be an Airman, working in a new job and living in a new state, completely away from everyone, that it wasn't until 2020 that I was going through my stuff and realized I still had my bowling balls," Lisner said. "I asked myself why I didn't bowl anymore, considering it was something I was so passionate about and loved, but I never really got to see my full potential."
Initially stationed in Florida, Lisner immediately went to her local bowling center and committed herself to bowling again. Before long, she was spending hours there every night doing drills and working on releases, trying to get where she wanted to be competively.
Fast forward two years, and she knows she still has a lot of progress to make, but she's satisfied with the pace and has met some great people along the way.
"The people around me is what makes it all so great," Lisner said. "Without the bowling community and all the supportive people, I wouldn't be here today, and that's what I'm most grateful for."
So far, her time in the Air Force and on the lanes has been more rewarding than she ever could have imagined, taking her from the sandy beaches of the Florida Panhandle to the icy terrain of Anchorage, Alaska, where she's stationed at Joint Base Elmendorf-Richardson.
While moving about the country, bowling has been a constant for Lisner and a way to meet new people. It also offers fun and familiar scenery, regardless of her zip code or the weather outside.
As much as her time in the Air Force has allowed her to see places she may not have traveled to otherwise, it turns out bowling can afford her similar opportunities, including her visit to the South Point Bowling Plaza this week.
Logically, as an Airman in the Air Force, one would expect to spend a significant amount of time off the ground. As a first-time competitor in the USBC Open Championships, Lisner's time on the biggest stage in bowling ended up being out of this world.
The opportunity to participate in one of the world's largest participatory sporting events already was a twist of fate that found Lisner in Las Vegas for a training assignment at Nellis Air Base during some of the 129-day run of the 2022 tournament.
It was an experience previously delayed by COVID-19 and by her work schedule, and one she intended to share with her father, Nate, an avid bowler and past participant at the Open Championships. Nate Lisner agreed to make the trip from Montgomery, Illinois, for his first appearance since 2015. He also competed in 2001 and 2004.
Despite the short notice, Brianna Lisner was able to secure a spot in the event, though they still were three competitors short of a full team.
Thanks to the event's online sub board, they connected with Danny Zimmerman and Michael Martinez of Billings, Montana, who were looking to join a team.
Upon arriving at the South Point Bowling Plaza to look around, Brianna Lisner turned to the on-site pen-and-paper sub board to help find their final team member.
"I haven't been able to bowl with my dad for years, but when I found out I was coming to Las Vegas and would be able to have this opportunity, I called him to see if there was a chance he'd be able to join me," Lisner said. "It was only two weeks ago, but he said he'd make it happen. For me to be able to be here bowling with him, especially since it's my first time bowling in Nationals, it meant a lot. He's someone I always looked up to in this sport, and I wouldn't be here without him."
Less than 24 hours before their march to the lanes at the Bowling Plaza, the Lisners had accepted the possibility of having to compete with just four team members.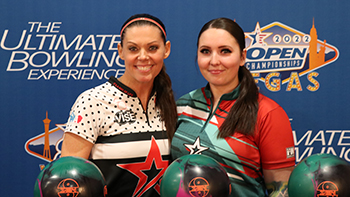 Enter longtime Team USA member Shannon O'Keefe of Shiloh, Illinois, who already has had a whirlwind April and was planning to be in Las Vegas for just 36 hours but wanted to use the opportunity to log a few games.
As the head women's bowling coach at McKendree University, she was days removed from leading the Bearcats to the 2022 NCAA women's bowling national championship and a top-eight finish at USBC's Intercollegiate Team Championships.
Even during the collegiate season, O'Keefe's own game remains a priority. The 2022 Professional Women's Bowling Association Tour is just a few weeks away, and she has been trying to overcome some nagging hip issues.
The real reason O'Keefe was in Las Vegas, though, was to make an appearance at the 2022 USBC Convention, where she and longtime teammate Stefanie Johnson announced their upcoming retirement from Team USA after 18 years.
O'Keefe, a 43-year-old right-hander, made a call to the Check-in area at the Open Championships to see if it was possible to add her name to the sub board, or if the time frame for someone already needing a substitute matched the window the two-time PWBA Player of the Year would be available to compete.
A fortunate stroke of serendipity allowed Brianna Lisner and O'Keefe to connect indirectly, which resulted in an anxious and sleepless night for Lisner, who has enjoyed following O'Keefe's continued success on the PWBA Tour, as a member of Team USA and during her time at McKendree.
"When I got the phone call about the fifth bowler, I already was prepared to go out there with only four people and take a zero for the last spot," Lisner said. "To find out Shannon was available and interested, I was surprised and thought it was a joke. It was jaw-dropping. I was tossing and turning because I was trying to picture what the day was going to be like."
Lisner admitted to being slightly intimidated by the enormity of the South Point Bowling Plaza and the grandeur of the event itself.
Though she'd heard nothing but positive things about the Open Championships, the description doesn't always do it justice.
"I had come up on Sunday to see the venue and the event, which made me feel a little better, but being here and starting practice and having my dad here and being able to bowl with Shannon, I actually felt at ease," Lisner said. "I thought I would be more nervous because she was here, but it ended up making me feel more comfortable. She was super supportive and willing to help when I was struggling."
O'Keefe was in her element Wednesday, both as an ambassador for bowling and in the unexpected opportunity to give some advice.
It marked the 11th tournament appearance for O'Keefe, who is one of 10 women in 118 years of Open Championships competition to roll a perfect game. She achieved the feat in her team event in 2012.
"I walk around every day, and I'm just Shannon, and my college kids see me as just Shannon after a while, too," O'Keefe said. "When I'm able to be on tour or come to events like this, it's very humbling. It's humbling that people know who I am and want to meet me. To know that I've been able to meet Brianna and bowl with her and impact her in a positive way is pretty special."
O'Keefe has a special place in her heart for the military, with multiple family members having served in the Air Force, and recognizes the significance of getting to meet and compete with Brianna Lisner.
Being able to travel the world representing Team USA on the lanes is something O'Keefe can do because of people like her new teammate and friend.
"We live in the land of the free because of the brave, and she's one of the people spending every day making sure we're protected," said O'Keefe, who has been on Team USA consecutively since 2005. "I wouldn't have the opportunity to do what I have done, if it weren't for our brave military. I feel honored that I was able to bowl with her, especially in her first event. It's kind of emotional and very cool."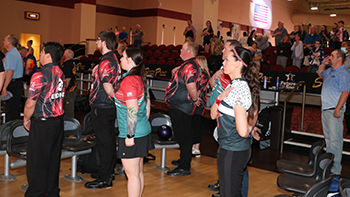 While her father and O'Keefe helped Lisner find comfort under the high ceilings of the Bowling Plaza, the sport itself, and the global bowling community, serve a similar role in her life on the move.
Lisner quickly learned that no matter where she is working or stationed, nearly every Air Force base includes a bowling center, which she considers her "happy place."
"I consider bowling my second home and a place where I'm comfortable," Lisner said. "No matter how stressful of a day I had, I can go to the bowling alley and just focus on me and my game for a while, and my friends there make it that much more special for me. I don't know what I'd do without it."
If she's not bowling, Lisner is following all the bowling entities on social media. She describes herself as a visual learner, so the information and tips she has found online have helped speed up her progress.
With O'Keefe on her team for her first Open Championships experience, Lisner definitely was not able to fly under the radar this week, but the tournament staff and her fellow competitors now will keep an eye out for her at future events.
On the tournament lanes this year, Lisner rolled sets of 487 in singles, 466 in doubles and 446 in team for a 1,399 total and something to build on when the event heads to Reno, Nevada, in 2023.
Nate Lisner has struggled with some arthritis and other health issues, so he hadn't bowled in over a year, before getting the call from his daughter.
"The last time we were able to see her was last August when we took a trip up to Alaska, so when we got the call that she wanted me to come and bowl with her, it was exciting," Nate Lisner said. "The bowling is secondary. I was more excited about the opportunity to come spend three or four days with her. Her military life keeps her busy, and we're grateful for the supportive people who allowed us to share this experience. Seeing her do all of this makes me incredibly proud."
Nate Lisner finished his 2022 tournament campaign with sets of 490 in team, 484 in doubles and 454 in singles for a 1,428 total.
O'Keefe contributed a 627 series to their 2,544 team total, with help from Martinez (630) and Zimmerman (351).
The Lisners had the moment to themselves for doubles and singles Thursday, and they combined for a 950 doubles total.
If she wasn't already excited to continue her progress, Brianna Lisner is leaving South Point ready to work on her game to be prepared for future editions of the storied event, schedule permitting. She also has her eye on other upcoming tournaments, some of which support the military and may coincide with upcoming training trips to Las Vegas.
When she looks at the photos and thinks about her first heart-pumping march across the approach at the Open Championships, Brianna Lisner will know other years won't be like her debut, and that's OK with her.
"Overall, this is something I'm going to remember for the rest of my life," Brianna Lisner said. "One, having my dad here. Then, having Shannon on our team. It was the most extraordinary thing I could ever imagine happening, and I would not trade it for the world. I don't know for sure what my schedule is going to be like, but I will continue to do everything I can to bowl in future years. Now that I've had this experience, it was two of the best days of my life."
Visit us on Facebook at the
official USBC Open Championships page
.