Duke, Lavoie Win 'Challenge' Events to Kick Off WSOB IX
November 08, 2017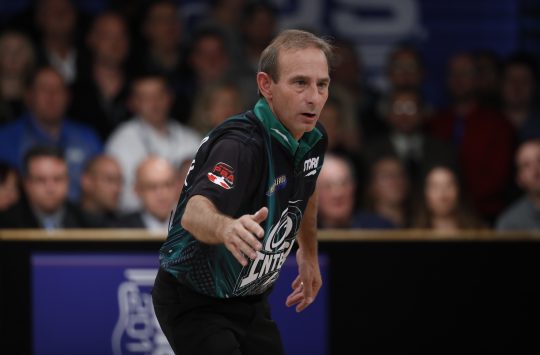 RENO, Nev. (Tuesday, Nov. 7) – Professional Bowlers Association Hall of Famer Norm Duke of Clermont, Fla., and 2016 PBA Rookie of the Year Francois Lavoie of Quebec City, Quebec, kicked off the GEICO PBA World Series of Bowling IX, presented by Eldorado Reno Proprieties, with victories in the special PBA50 Tour and PBA Regional Challenge events Tuesday at the National Bowling Stadium.
Duke, a 38-time PBA Tour champion who endured a second-place plagued season in PBA "senior tour" competition, completed a perfect match play round with a 222-212 victory over newly-elected PBA Hall of Famer Ron Mohr of Las Vegas to win the PBA50 Tour Challenge title, and an $8,000 prize heading into the start of World Series competition Wednesday.
"There's no place worse than second," Duke said after winning an eight of his matches to reach the title match against Mohr. "It's a nice start to the World Series and it's a testament to how I bowled all season on the PBA50 Tour. Those second place finishes got in the way of the Player of the Year, which was a goal, but you have to take pride in knowing you were in the race all the way to the end.
"I knew I had to change my momentum coming into the World Series. You can lose with big games, and win with lesser games, but it's winning that's important. This was a nice momentum boost. After all of the work I put into the U.S. Open (he finished fifth last week), I knew that was going to pay dividends this week, and it already has."
Lavoie, who currently lives in Wichita, Kan., where he starred as a collegian and began his PBA Regional career, dominated the PBA Southwest Region in competition points in 2017 and won a frame-for-frame battle over PBA Midwest Regional points champ AJ Johnson of Oswego, Ill., 247-235, when Johnson failed to strike on his first shot in the 10th frame.
"Bowling in the PBA Regional program when I was in college helped me get ready for this," Lavoie said of his impressive PBA Tour debut, including the 2016 U.S. Open title. "Everyone in the Challenge field bowled well in the regional program all year, so I knew it was going to be a tough event to win. It's nice to have this under my belt before the World Series gets started."
Both of the Challenge events culminated season-long competition points qualifying to allow players to reach the World Series, and entitled each of the competitors to paid entries into the World Series as well. The Challenge events, which were the debut events contested on the new PBA Earl Anthony 42 lane oiling pattern, were covered live on PBA's online video streaming service, Xtra Frame.
The ninth annual WSOB, which officially kicks off the 2017-18 Go Bowling! PBA Tour schedule, gets underway Wednesday with the first of four animal pattern qualifying stages leading into the PBA World Championship. Qualifying rounds of the Chameleon 39, Shark 45, Cheetah 33 and Scorpion 42 events will be covered live on Xtra Frame Wednesday, Thursday, Saturday and Sunday, respectively, at 11 a.m. and 5 p.m. PST. All competition throughout the WSOB also will be covered in depth on pba.com's "live scoring" feature.
PBA50 TOUR CHALLENGE
Championship: Norm Duke, Clermont, Fla. ($8,000) def. Ron Mohr, Las Vegas ($4,000), 222-212.
Final Match Play Standings (after 8 games, including match play bonus pins; top two advanced to championship match):. 1, Duke, 8-0, 2,147. 2, Mohr, 5-3, 2,050 3, Bob Learn Jr, Erie, Pa., 5-3, 1,971, $2,000. 4, Michael Haugen Jr., Phoenix, 3-5, 1,946, $1,000. 5, Brian LeClair, Albany, N.Y., 4-4, 1,839, $800. 6, Parker Bohn III, Jackson, N.J., 3-5, 1,748, $700. 7, Amleto Monacelli, Venezuela, 3-5, 1,712, $600. 8, Walter Ray Williams Jr., Oxford, Fla., 1-7, 1,622, $500.
PBA REGIONAL CHALLENGE
Championship: Francois Lavoie, Canada, ($8,000) def. AJ Johnson, Oswego, Ill. ($4,000), 247-235.
Final Match Play Standings (after 8 games, including match play bonus pins; top two advanced to championship match):. 1, Johnson (Midwest Region), 6-2, 2,147. 2, Lavoie (Southwest Region), 6-2, 2,080. 3, Cameron Weier, Tacoma, Wash. Northwest Region), 3-5, 2,006, $2,000. 4, Darren Tang, San Francisco (West Region), 5-3, 1,999, $1,000. 5, Graham Fach, Canada (Central Region), 5-3, 1,991, $800. 6, Matthew O'Grady, Rahway, N.J. (East Region), 3-5, 1,918, $700. 7, Dick Allen, Columbia, S.C. (South Region), 3-5, 1,866, $600. 8, Shota Kawazoe, Japan Region, 1-7, 1,732, $500.