Defending champions among eight undefeated teams after Day 1 of 2023 Intercollegiate Team Championships
April 20, 2023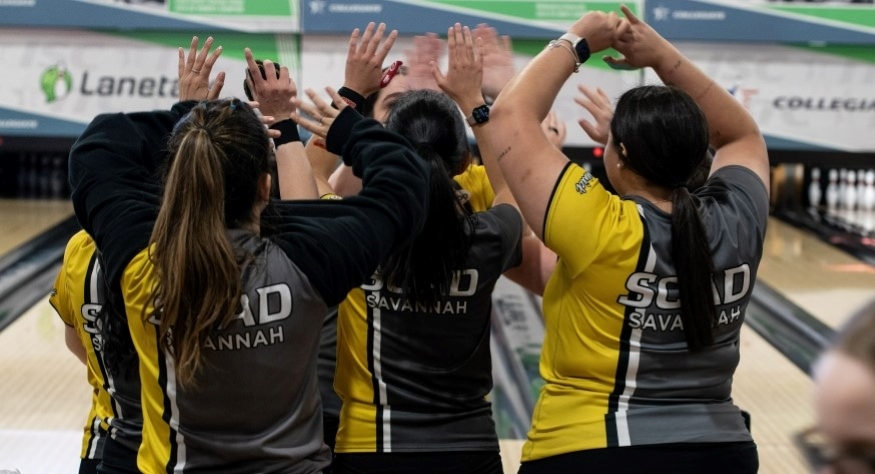 LAS VEGAS
– The 2023 Intercollegiate Team Championships got underway Thursday at the South Point Bowling Plaza in Las Vegas, and eight teams, including both defending champions, went undefeated and have put themselves in prime position to make a run at this year's titles.
The ITC is the culminating event of the 2023 United States Bowling Congress Collegiate season and features the top 16 men's and women's bowling programs from across the country.
All teams bowled 24 Baker games Thursday to determine seeding for the double-elimination bracket, which features best-of-seven Baker matches leading into the finals.
The finals, which will be taped Saturday, will air on Tuesdays in May. The women's ITC show will air May 9 at 11 p.m. Eastern while the men's ITC final will air May 16 at 7 p.m. Eastern.
Leading the men's division in qualifying was defending champion Wisconsin-Whitewater with a 5,365 total, a 223.54 average. They were followed by Webber International (5,281), Wichita State (5,199), St. Ambrose (5,037) and Tennessee Southern (4,998).
Whitewater began its quest for back-to-back titles with a 4-1 victory over No. 16 Trine, which is making its ITC national finals debut. The Warhawks then defeated No. 9 Ottawa, another ITC first-timer, 4-2, in Round 2 to set up a quarterfinal match with fourth-seeded St. Ambrose.
The Fighting Bees needed all seven games to get past No. 13 William Paterson, 4-3, in Round 1, but things went much smoother during Round 2 as St. Ambrose breezed past No. 12 Lawrence Tech, 4-1, to earn a Friday afternoon bout with the defending champs.
On the other side of the men's bracket, No. 3 Wichita State advanced to the quarterfinals by securing a 4-3 victory over No. 14 Pikeville during Round 1 and then going on to top No. 6 Purdue by the same margin in Round 2.
They will face No. 7 St. Francis-Illinois, which won two nailbiters of its own. The Fighting Saints slipped past No. 10 Lindenwood, 4-3, in the opening round and then used clutch shot-making down the stretch to topple No. 2 Webber International, 4-3, during another thrilling battle in Round 2.
Pacing the women's qualifying field was McKendree (5,243), followed by Louisiana Tech (5,061), Maryville (5,033), North Carolina A&T (4,959) and Wisconsin-Whitewater (4,942).
McKendree opened match play with a 4-2 victory over No. 16 Webber International. From there, the Bearcats only got stronger, quickly dispatching St. Francis-Illinois, 4-1, during Round 2 to move into the quarterfinals.
There, McKendree is likely to encounter a considerably tougher challenge as it will face defending ITC women's champion Stephen F. Austin, which earned its two victories on Thursday by getting past No. 5 Wisconsin-Whitewater (4-3) and No. 4 North Carolina A&T (4-2).
Third-seeded Maryville advanced in the winners bracket by collecting a come-from-behind victory over No. 14 Mount Mercy (4-3) in Round 1 and a 4-2 win over No. 6 Lindenwood during Round 2. The Saints will be back in action Friday afternoon with a quarterfinal matchup against No. 7 Wichita State.
The Shockers earned their spot in the match by defeating No. 10 Duquesne, 4-1, in Round 1 and No. 15 Savannah College of Art and Design-Savannah during the second round (4-1) to remain undefeated.
Competition at South Point Bowling Plaza resumes at 10:45 a.m. Eastern on Friday with elimination matches. Another round of elimination matches will follow at 12:45 p.m. Eastern. Winners bracket matches will resume at 4 p.m. Eastern.
Match play will continue Friday until the teams for Saturday's title matches are determined.
Teams earned their way into the ITC field in March by finishing in the top four at one of four sectional events held throughout the country.
BowlTV.com
has live coverage of all qualifying and match-play rounds of the Intercollegiate Team Championships leading up to the televised finals.
Visit
BOWL.com/ITC
for more information on the Intercollegiate Team Championships.