El Paso Convention Center ready for bowlers to arrive
February 26, 2015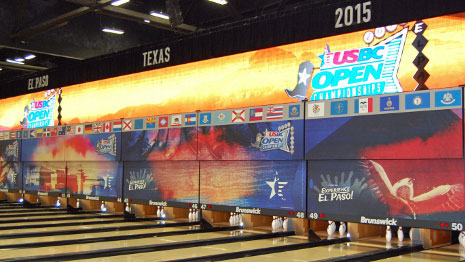 EL PASO, Texas – In just a few days, the first of more than 40,000 USBC Open Championships bowlers will arrive in El Paso, Texas, to start a parade down the famed Center Aisle that will last for 128 consecutive days.

Competitors will come from all 50 states and converge on an excited Sun City, which is eager to give them a memorable experience that definitely will include some amazing scenery and delicious Southwestern cuisine.

On Thursday, the El Paso media and a few lucky locals got the chance to see what the Open Championships is all about as the completed tournament venue was unveiled to the public after just 48 days of construction.

USBC Senior Director of Tournament Programming Greg Moore, Open Championships Tournament Director Duane Hagen, Destination El Paso General Manager Bryan Crowe, El Paso Sports Commission Executive Director Brian Kennedy and El Paso City Representative Cortney Niland all were on hand to address the guests and get a sneak peek at this year's march out video.

USBC staff and a handful of local workers have transformed the El Paso Convention Center into a 62-lane bowling stadium, complete with the world's largest mobile electronic scoreboard, seating for more than 500 bowling fans, office and vendor space, locker and squads rooms and even a cantina alongside the 10 Showcase Lanes.

The 2015 Open Championships will get underway on Saturday, March 7 and run until July 12.

Here's a look at some of the great features of this year's custom venue.