Elysia Current wins ISC title
May 22, 2007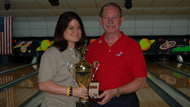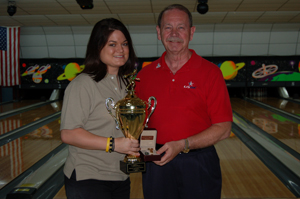 HUNTSVILLE, Ala. –
Elysia Current transferred to bowling power Wichita State at the start of the season hoping she could win a national championship. Now, she has two to her credit.
A month after leading the Shockers to the United States Bowling Congress Intercollegiate Team Championships title, Current, a senior with one season of eligibility remaining, proved she could win as an individual as well as she claimed the women's title at the 2007 USBC Intercollegiate Singles Championships on Tuesday.
Current, who bowled for Fairleigh Dickinson from 2003-05, defeated Fresno State's Karen Rosprim 3-1 in the best of three of five championship match at AMF Pin Palace Lanes. She topped a field of 16 of the best collegiate bowlers in the country to win the national title.
"I came to Wichita State to try and further my bowling career, and I wanted to win national championships," said Current, who was the Player of the Year and Rookie of the Year with Fairleigh Dickinson in 2003-04. "Throughout my college career, I've done everything on my list and the singles title was the last thing on that list."
In the championship match, Current won the two opening games 215-184 and 191-189. After falling 233-214 in the third game, she claimed the title with a 220-216 victory.
"I just kept slow and focused my eyes on my target the whole time," Current said. "I didn't even worry about anyone else's scores but my own. I just kept to myself and it worked."
Current entered Tuesday's match play as the second seed and earned a bye to the quarterfinals, where she swept Pikeville's Ashley Stahurski 3-0. In the semifinals, Current defeated reigning Player of the Year Kayla Bandy of Pikeville 3-1.
Qualifying for the USBC Intercollegiate Singles Championships was held at the four Intercollegiate Bowling Championships Sectional Qualifier sites -- Allentown, Pa.; Chattanooga, Tenn.; Fairview Heights, Ill.; and Las Vegas -- on March 23. All participants bowled six games with total pinfall determining final standings. The top four finishers in each division (male and female) at each site advanced to the USBC Intercollegiate Singles Championships.
The USBC Intercollegiate Singles Championships is sponsored by Hammer Bowling and Kegel, the official lane maintenance provider for USBC.

2007 USBC INTERCOLLEGIATE SINGLES CHAMPIONSHIPS
At AMF Pin Palace, Huntsville, Ala.
TUESDAY'S RESULTS
Match play
(Best 3 out of 5)
WOMENRound 1
(9) Jamie Foster, Pikeville def. (16) Valerie Klaas, Grand Valley State, 3-0 (197-138, 211-121, 207-173)
(12) Mindy Pancoast, Virginia Tech def. Leigh Pratt, Western New England, 3-2 (193-246, 165-210, 208-189, 215-178, 214-181)
(11) Marissa Martinek, Morehead State def. Desiree Lee, Erie Community College, 3-1 (200-147, 204-194, 160-219, 227-167)
(10) Heather Grundke, Mohawk Valley Community College def. Brandy Silva, West Texas A&M, 3-2 (223-159, 190-163, 178-201, 189-214, 200-180)
Round 2
Foster def. (8) Jennifer Ridilla, Lindenwood, 3-0 (214-189, 204, 177, 224-177)
(5) Rebekah Diers, McKendree def. Pancoast, 3-2 (202-147, 235-186, 180-189, 262-229, 190-247)
Martinek def. (6) Emily Maier, Wichita State, 3-1 (200-189, 188-175, 202-219, 245-211)
(7) Ashley Stahurski, Pikeville def. Grundke, 3-0 (200-176, 167-166, 202-137)
Quarterfinals
(1) Karen Rosprim, Fresno State def. Foster, 3-0 (235-197, 193-156, 248-145)
Diers def. Amanda Sharshel, Newman, 3.5-.5 (201-190, 202-190, 194-194, 243-157)
(3) Kayla Bandy, Pikeville def. Martinek, 3-0 (222-165, 266-181, 244-191)
(2) Elysia Current, Wichita State def. Stahurski, 3-0 (207-189, 225-169, 172-165)

Semifinals
Rosprim def. Diers, 3-1 (236-180, 277-239, 222-255, 185-157)
Current def. Bandy, 3-1 (232-163, 167-234, 218-201, 279-268)
Finals
Current def. Rosprim, 3-1 (215-184, 191-189, 214-233, 220-216)