Europe Closing in on Weber Cup Victory
October 17, 2015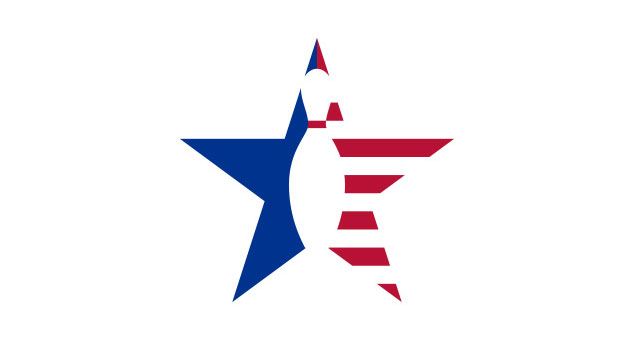 By Keith Hale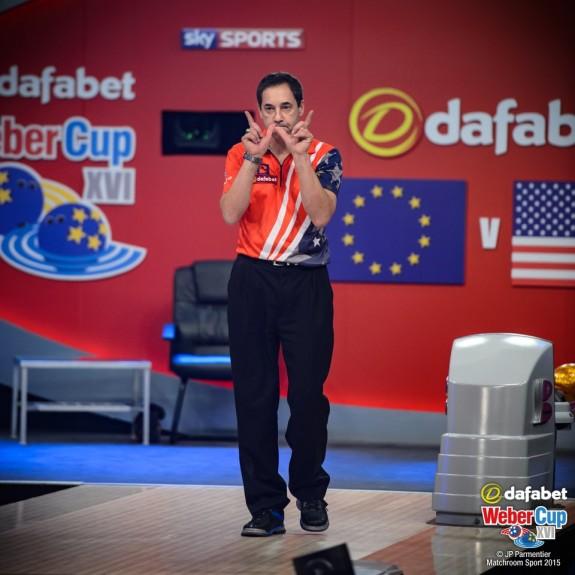 Parker Bohn III celebrating a rare strike.
Things are a looking a little grim for the Americans to win this year's Weber Cup and even up the overall score to 8-8. Earlier, USA captain Tommy Jones had forecast that his team would win four of each of the six matches in Saturday's two sessions. Unfortunately for the visitors, it was Europe that won four in the afternoon session to hold a record 9-3 total, going into the evening session.
One Baker team match and thereafter five singles will close the second of the three-day event. In the past, Europe has always found the Baker event a difficult hurdle but last night they commenced with a convincing win. Tonight they hope to repeat that success.
The Europeans had the advantage of choosing the lane pattern for this session and set up a 40-foot condition. They could not have made a better decision. Eleven strikes in a row and then a stubborn 10-pin game them an opening 299, Dom Barrett having the honor of finishing off the tenth frame with a double and nine. The American quartet struggled once again, posting just 205.
Europe 10, United States 3.
In the first of five singles matches, Martin Larsen faced Wes Malott. Hard to forecast the winner, but when the American suffered two splits it was Larsen who won through to take yet another European point, showboating to double strike and eight in the tenth frame for a 222-191 victory.
Europe 11, United States 3.
Dom Barrett was next in line, facing lefty Parker Bohn III, truly a formidable opponent and a bowling legend. The Americans badly needed to glean some points from the remaining ten matches, mainly to avoid a session defeat, which would truly disappoint so many fans from far and wide who have descended on Barnsley for this popular annual event.
Bohn built an early lead over the European team captain and held the advantage to win a valued point, 229-200.
Europe 11, United States 4.
Match four of the six was between Stuart Williams and Bill O'Neill, two long-serving members of the Weber Cup squads. Williams put his foot on the gas to start with four strikes, but ran into trouble with consecutive splits. O'Neill also ran into trouble with a few splits, not crossing the 200 mark and letting Williams post yet another European point, 221-173.
Europe 12. United States 4.
Tommy Jones entered the arena to great applause as he prepared for the penultimate match against Finland's Osku Palermaa, the famed two-handed delivery exponent. With four perfect games to his credit on the Barnsley lane over the ten years he has represented the United States in the Weber Cup he is certainly the crowd's favorite. Despite the interruptions of a defective foul light, both maintained a lower score pace through the game and after 10 frames it was a 168 tie, meaning a two-frame roll-off. Palermaa struck, while Jones spared. Palermaa then doubled and got nine to total 59. Jones spares and then had an eight count, totaling 37. Europe tallied yet another point.
Europe 13 United States 4.
The 12th and final match of the day saw the return of Dom Barrett and Parker Bohn III to the lane, Barrett hoping to get back the edge after his 229-200 defeat by Bohn in the third match. Bohn is certainly a great character, playing to the crowd and receiving a really warm Yorkshire welcome. Barrett left two 2-4-10 splits and converted both. That match went down to the 10th frame. Bohn went nine-spare and strike for 205. Barrett just needed to mark for the point and struck, then doubled and got a nine count on his final shot for 223.
Europe 14 United States 4.
SESSION THREE SCORES
Baker team: Europe 299 United States 205
Martin Larsen 222 Wes Malott 191
Dom Barrett 200 Parker Bohn III 229
Stuart Williams 221 Bill O'Neill 173
Osku Palermaa 168+59 Tommy Jones 168+37
Dom Barrett 223 Parker Bohn III 205