Family-focused bowler rolls perfect game, takes singles lead at 2022 USBC Open Championships
April 23, 2022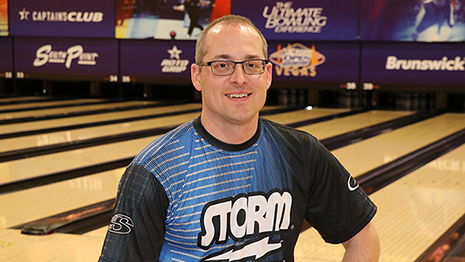 LAS VEGAS -
David Jecko of Whitesboro, New York, knew he might have trouble making his flight home from the 2022
United States Bowling Congress Open Championships
, so he did all he could to make sure he didn't have to spend another day away from his wife and children.
His efforts included throwing 57 strikes across six games Saturday night at the South Point Bowling Plaza, as averaged 263.5, rolled the 15th perfect game of this year's event and moved into the lead in Regular Singles with a 788 total.
The 38-year-old right-hander needed every strike, too, as his doubles partner and teammate, Steven Arehart of Holland Patent, New York, had taken the lead a moment earlier with 787.
A 3-6-7-10 split on the second shot of his final frame cost Arehart an 800 series and the chance to lock up the top spot in the singles standings. He cleaned up the 3, 6 and 10 pins, but leaving the 7 pin standing also left the door open for Jecko.
Jecko finished with games of 289, 199 and 300, while Arehart had 267, 256 and 264. Brandon St. Onge of Zephyrhills, Florida, previously held the lead in Regular Singles with 781.
"I was rooting for him 100% percent of the way and wanted him to strike out and take the lead, before I got up to finish off my game," Jecko said. "Our core guys have bowled together all year in singles, doubles and team tournaments, and it's awesome to have a group of guys that no matter what, we're always rooting for each other."
Prior to the singles battle, Jecko and Arehart made a run in Regular Doubles. They settled into second place with a 1,485 total.
Jecko led the performance with a 793 series, and Arehart contributed 692. Nick Powanda of San Diego and Tony Odom of Palm Springs, California, lead with 1,518.
"It was awesome to bowl with Steve and come so close to taking the lead, but we did have to reset and start over for singles," Jecko said. "We had three more games, and we were still trying to put a number up for Team All-Events, even though that leading score is humungous. It was about staying focused and making sure we threw good shots."
The huge night Saturday for Jecko, a math teacher, added up to a career-best 2,212 all-events total, which is second in Regular All-Events behind another standout from upstate New York, Brett Cunningham of Clay, New York, who leads with 2,220.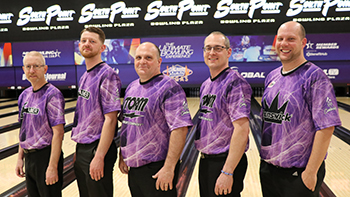 Jecko's total helped Maximum Potential Pro Shop of Baldwinsville, New York, into third place in Team All-Events with a 10,140 total. DiLaura Brothers 1 of Clinton Township, Michigan, leads this year with a record score of 10,585.
Arehart added a 2,092 all-events total for Maximum Potential Pro Shop and was followed by Lawrence Porter (2,050), Raymond Cyr (1,939) and Josh McClusky (1,847).
Their success, which included moving into sixth place in Regular Team with a 3,335 total Friday night, was a complete team effort, from start to finish.
"Our team communicates so well, and we're talking after every shot, making sure we're paying attention to the moves and ball changes," Jecko said. "I used one ball in doubles, and I had a shot at the start of singles come in as a light mixer. They saw that and told me to change balls. I trust them completely as my teammates, I made the change without hesitation and the other ball rolled amazing."
After opening his first game of singles Saturday with 10 consecutive strikes, Jecko said he got a little fast, stuck on his heel and didn't quite get through the 11th shot the way he wanted to, and the result was a weak 10 pin.
To start the next game, he moved a bit left but missed seeing the next move as the doubles and singles oil pattern continued to transition. Though he struck four times in the first seven frames, the stretch also included a pair of unconverted splits - a 4-9 in the second frame and a Greek Church in the seventh frame.
"With the help of my teammates and our constant communication, I was able to get back on track," Jecko said. "In the last game, I took an extra deep breath and told myself to keep my feet slow. I wanted to reach through the shots and throw it the best I could, then hope all the pins fell, which they did."
Jecko, who made his fourth USBC Open Championships appearance, had only a few minutes to celebrate with his teammates before rushing off to the airport, hoping to catch his red-eye flight back to New York, where his wife, Jonielle, and children Juliana and Jillian, will be excited to hear about his success in Las Vegas and the role they played in it.
The young Jeckos have made a tradition of crafting special bracelets to match his bowling jerseys, and they promised him they were good luck. He was wearing one Saturday night and proved them right.
"I'm on cloud nine night now, and it's hard to believe I just shot 790 and 780 at the Open Championships," Jecko said. "I know it won't settle in for a while. For next year, though, we're definitely going to work on getting a flight for the following day. We joked about changing today's squad time to 10:30 a.m., so I still could catch my flight, and my kids wouldn't miss me for another day. I just love them so much. This all is so amazing."
Visit us on Facebook at the
official USBC Open Championships page
.