Field set for 2023 Intercollegiate Team Championships
March 12, 2023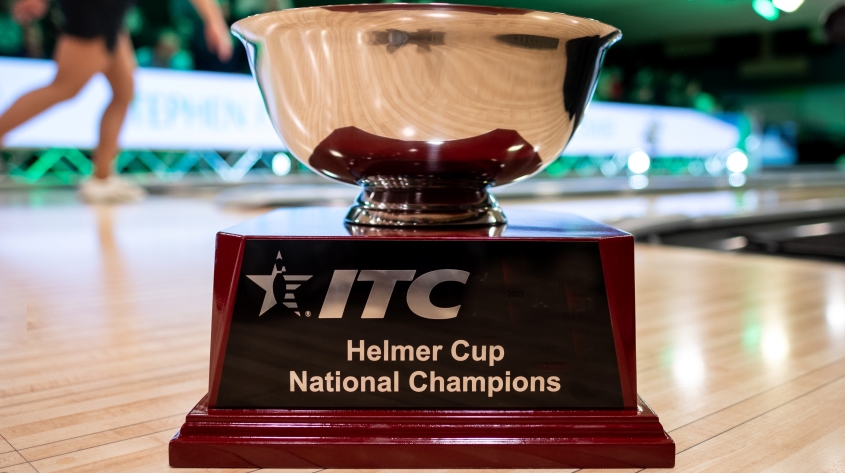 RESULTS

ARLINGTON, Texas
- The teams competing at the 2023 Intercollegiate Team Championships were determined this weekend through four sectional qualifying events across the country.
The ITC will welcome 16 men's teams and 16 women's teams to the South Point Bowling Plaza in Las Vegas to determine the champions in each division for the 2022-2023 USBC Collegiate season. The 2023 edition will be held April 19-22.
The teams advancing to the ITC were determined through four sectionals held Saturday and Sunday in Addison, Illinois; Dayton, Ohio; Smyrna, Tennessee; and Dallas. The top four teams in each division, based on total pinfall for 64 Baker games, earned the chance to compete for the Kerm Helmer Cup awarded to the team champion at the ITC.
Each sectional qualifier was broadcast live on BowlTv.com.
In Addison, Webber International dominated the men's field, averaging more than 216 per game to cruise to first place with a 64-game Baker total of 13,835. Mount Mercy was second with 13,176. Saint Xavier came in with 13,122 to finish third and earn its first ever berth in the ITC national finals. Lawrence Tech (13,061) grabbed the final advancing spot in Addison by placing fourth.
The final scores were much closer in the women's division, but the top two teams remained the same with Webber International (12,693) finishing first and Mount Mercy (12,627) taking second. Louisiana Tech (12,489) was third, and Maryville (12,243) took fourth.
The Dayton sectional was contested at Poelking Lanes South where William Paterson used a 729 start (216, 225 and 288) during its final four-game block to roll to the sectional title with a total of 13,579.

Purdue was second at 13,493 while Trine (13,423) took third to collect the first national finals berth in program history. Pikeville (13,282) finished fourth and will be heading to nationals as well.
North Carolina A&T claimed the women's title in Dayton, finishing with a 12,398 total. SCAD-Savannah (12,316), Duquesne (12,210) and Pikeville (12,129) grabbed the remaining spots in the top four.
In Smyrna, the defending ITC champs from Wisconsin-Whitewater posted a total of 13,752 to narrowly hold off second-place St. Ambrose (13,742) and emerge with the sectional title. Tennessee-Southern (13,480) and St. Francis-Illinois (13,060) also advanced from Smyrna Bowling Center.
McKendree breezed to the top spot in the women's division in Smyrna, finishing with a 13,195 total, which was 631 pins better than second-place Maryland-Eastern Shore (12,564).

St. Francis-Illinois (12,315) and Tennessee-Southern (12,054) secured the final two advancing positions.
The Dallas sectional came down to the wire, but Lindenwood fired a final-game 247 to claim the men's sectional title with a 13,730 total.

Wichita State was a close second at 13,725. Midland secured third place with 12,991 while Ottawa came in at 12,839 to take fourth and earn its first ever trip to the ITC national finals.
Things weren't quite as dramatic in the women's division at USA Bowl as perennial power Wichita State won the women's sectional title with a total of 12,177 while defending ITC women's champ Stephen F. Austin placed second with 11,992.

Lindenwood (11,648) and Wisconsin-Whitewater (11,550) took the final two advancing spots and earned the right to compete in Las Vegas next month as well.
The week's top individual competitors also qualified for spots at South Point Bowling Plaza in April and will have the chance to win a national title at the Intercollegiate Singles Championships. The ISC will be held April 17-22.
The singles event was contested at each of the sectional sites Friday, with the top 24 men and top 24 women advancing based on six-game pinfall totals.