Finalists determined at 2023 Intercollegiate Singles Championships
April 19, 2023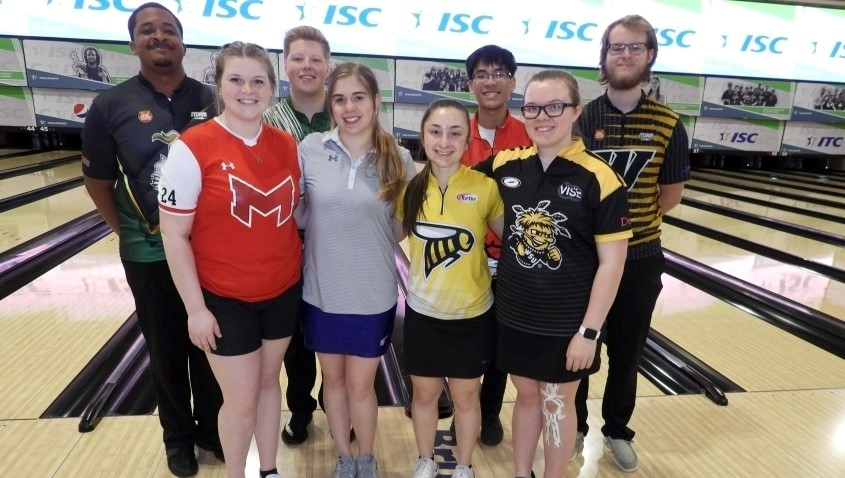 LAS VEGAS
– The eight finalists for the 2023 Intercollegiate Singles Championships were determined Wednesday at South Point Bowling Plaza, and the roster includes three men from one team and the defending women's singles champion.
The ISC semifinals and title matches, which will be one-game matches, will take place Saturday and be taped for broadcast on CBS Sports Network.
On the women's side, 2022 ISC champion Chloe Skurzynski of Stephen F. Austin will face Maryville's Anna Maxwell in one semifinal match while Paige Wagner of Wichita State and Lara Kurt, who bowls for the Savannah College of Art and Design – Savannah, will square off in the other.
Skurzynski authored a memorable performance during her opening match on Wednesday, recording her second 300 game and first 800 series during an 805-596 Round 2 victory over Duquesne's Kiearra Saldi.
The defending champ followed it up with a solid 621 in Round 3, which was more than enough to push her past Monmouth's Jenna Lehrer (576) and into Saturday's TV finals.
There, Skurzynski will have the opportunity to become just the second repeat champion in ISC history and the first to accomplish the feat since Emily Eckhoff of Hastings College won back-to-back titles in 2015 and 2016.
Nevertheless, Skurzynski isn't focusing on history; instead, she's just trying to enjoy the here and now.
"I'm just grateful to be able to go through the whole process again," Skurzynski said. "There's a lot of good people here that I'm bowling against, good bowlers and good people. I just need to keep my head in it, use what I've learned and hope the hits go my way."
Skurzynski will need those hits in order to get past Maxwell, who spent the first three rounds playing the role of spoiler.
Maxwell's first opponent Wednesday morning was Vanderbilt's Mabel Cummins, a Team USA member who recently helped the Commodores secure the 2023 NCAA national title.
However, that didn't intimidate Maxwell, who found a way to deliver clutch shots throughout their Round 2 matchup and wound up emerging with a 659-639 victory.
It was more of the same during Round 3 when Maxwell squared off against No. 6 seed Rebecca Hagerman of McKendree.
Once again, the match came down to the 10th frame of Game 3. Maxwell recorded a double to start her final frame, which meant that Hagerman would need to strike on the first ball in the 10th in order to win the match.
Hagerman delivered a quality shot, but only nine pins would fall, allowing Maxwell to come out on the winning end of a 645-634 decision and sending her through to the finals.
Now that she's there, Maxwell is hoping to make the most of the opportunity not only for herself, but also for the Maryville bowling program and the university as a whole.
"It's a pretty great feeling to make it on TV and to have such a big accomplishment for our school; I'm very happy to represent them," Maxwell said. "I don't even think words can describe how amazing it would be to be the one holding up the trophy at the end, but I hope I can do it."
Maxwell's first task will be to get past Skurzynski; if she can do that, she'll earn herself a title tilt with either Kurt or Wagner, both of whom performed valiantly on Wednesday as well.
Kurt's road to the TV finals was just as challenging as Maxwell's as she was forced to get past a pair of top-five seeds in order to punch her ticket to the finals.
Kurt opened Wednesday's action with a hard-fought 629-614 victory over fifth seed Lauren Tomaszewski of North Carolina A&T during Round 2, and she followed it up with a 635-548 win over No. 4 Maggie Thoma of Arkansas State in Round 3.
Kurt displayed incredible poise while securing the two victories; nevertheless, after the final balls had been thrown, she was having some trouble believing that she had just earned a spot on Saturday's show.
"Frame by frame, shot by shot, I tried to keep myself very present and focused on what I needed to do; I just sort of stayed inside my bubble, so, right now, it feels pretty surreal that I was able to come this far," Kurt said. "Now that I'm there, I need to just make sure I'm not too timid, have some fun and work my way through whatever is in front of me."
The first person in front of Kurt on Saturday will be Wichita State's Wagner, who earned her own berth in the TV finals thanks to victories over Maryland Eastern Shore's Alexis Ingersoll (709-534) and Davenport's Carly Snyder (668-603).
Like Kurt, Wagner attributed a lot of Wednesday's success to finding the ability to block out distractions and stay focused on her own game. She knows that ability will be called upon again if she hopes to be at her best once the TV lights come on.
However, no matter what happens on Saturday, Wagner will walk away proud of what she has accomplished at this year's tournament.
"Honestly, I already feel like I've been really successful here," Wagner said. "I'm thankful that I've gotten to have this experience; it's a great experience to have. Whatever happens, happens."
On the men's side, one thing that will happen for sure is that a bowler from Webber International University will compete for the title.
That's because three Warriors – Adam Atkins, Austin Grammar and A.J. Wolstenholme – are among the final four bowlers left in this year's men's field. The lone non-Webber bowler in the final four is Vincent Luong of Fresno State.
Luong and Grammar will match up in the men's first semifinal on Saturday with teammates Atkins and Wolstenholme battling it out in Semifinal No. 2 for the right to face the winner.
Atkins' road to the semifinals included wins Wednesday over Henry Hecht of Stony Brook (646-576) and Emmanuel's Nick Dischinger (618-551).
Some bowlers might find it difficult having to face a teammate during a semifinal or championship match; nevertheless, to Atkins, it's just going to be business as usual.
"We bowl each other all the time, so I don't think bowling against A.J. (Wolstenholme) or Austin (Grammar) on TV will be any easier or any harder for me," Atkins said. "I need to treat this just like any other tournament and not let the moment get too big. It would feel great to be the guy holding the trophy at the end, but we'll cross that bridge when we get there."
Wolstenholme wants that trophy just as badly, but part of him wishes that the path to getting it didn't have to go through a fellow Warrior.
"It's awesome that we're all on the show, but it sort of sucks at the same time," Wolstenholme said. "It's going to be difficult to take the fact that we're teammates out of it and just look at it as just another person or name on the scoreboard."
Nevertheless, once competition begins on Saturday, Wolstenholme will be forced to do just that because he wants to walk away the 2023 ISC men's national champion just as much as the other three semifinalists do.
"I don't know what it would feel like to win, but I know it would feel good because there's been a lot of time, a lot of work and a lot of help that have gone into just getting me to this point," Wolstenholme said. "My goal coming in was to make the TV show; everything after that was just icing on the cake, so I'm just excited to have the opportunity."
Wolstenholme earned that opportunity by delivering clutch strikes in the 10th frame to eliminate Mount Mercy's Brett Lloyd (632-628) during a thrilling match in Round 2 and then going on to cruise past South Florida's Sidney Schroschk (659-608) in Round 3.
Grammar – the only 2022 ISC men's national finalist to qualify again this year – took an even easier path.
After leading the men's field during qualifying with a six-game total of 1,333 (a 222.17 average) on Tuesday, Grammar entered match play as the men's No. 1 seed.
It was clear why during his two matches on Wednesday as he methodically dispatched Jayson Miner of William Penn (641-611) in the second round and Wichita State's T.J. Rock (688-613) in the third to stake his claim to a semifinal berth.
Once there, Grammar will have the good fortune of not having to face a Webber teammate right away; however, even if he had, that would have been more than fine with him.
"It's awesome to have those guys on the show too; I wish there were four of us, but we got three, which is still pretty good," Grammar said. "I can't focus on that though. I just need to focus on me and keep doing what I've been doing because it's worked pretty well so far."
He'll need it to keep working in order to get past Luong, who has turned in some strong performances of his own during the first two days of competition.
After qualifying fourth on Tuesday with a score of 1,293 (a 215.5 average), Luong wasted no time getting back to work on Wednesday, defeating Davenport's Nicholas Luther (612-581) during Round 2 and then punching his ticket to the finals with a 659-606 win over Mount Mercy's Kai Evans in Round 3.
For Luong, qualifying for the finals is just a continuation of the good feelings he's been riding since the tournament began.
"I woke up feeling great, and it just carried on. I had success today, and I'm super stoked to have made the final four," Luong said. "I know it's going to take a lot to win because I'm bowling an opponent who has had a really great week, but if I bowl my game, I might have a shot.
"It's going to be a little bit weird being the only non-Webber bowler on the show, but I'm up for the challenge. I get to represent myself and my school on TV, and that's great."
The 24 men and 24 women competing at the Intercollegiate Singles Championships qualified through one of four sectional events held throughout the country in March.
The national event consisted of six qualifying games to determine seeding for the single-elimination match-play bracket. The bracket matches were three games, with total pinfall determining the winner.
CBS Sports Network will televise the semifinals and finals of the women's division on April 25 at 7 p.m. Eastern while the men's division will air May 2 at 7 p.m. Eastern.
The Intercollegiate Team Championships, in which the top 16 men's and top 16 women's teams in the nation will compete for the Helmer Cup, starts Thursday at 11 a.m. Eastern at South Point Bowling Plaza.
BowlTV.com
will provide live coverage of the ITC leading up to the televised finals.
Visit
BOWL.com/ISC
for more information on the Intercollegiate Singles Championships.