Finalists determined at 2023 Intercollegiate Team Championships
April 22, 2023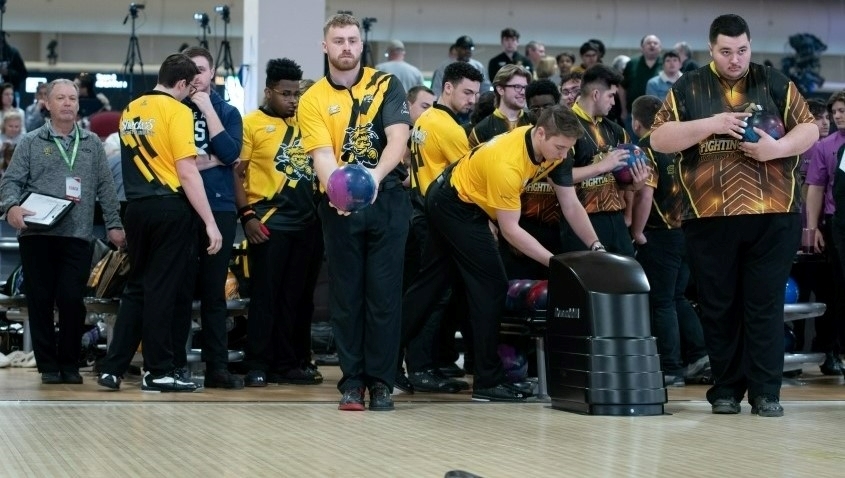 LAS VEGAS
– Spectators who came out to South Point Bowling Plaza on Friday to watch the final rounds of match play at the 2023 Intercollegiate Team Championships were treated to more than 12 hours of heart-stopping action with several matches coming down to the final shot.
When the dust settled, just two men's teams and two women's remained, and those squads will be the ones battling it out for national titles on Saturday.
On the women's side, 2017 champion McKendree will take on Maryville, which will be seeking its first ITC national title.
The men's title bout will be a rematch of the 2021 ITC final with perennial powerhouse Wichita State taking on St. Ambrose.
Wichita State will be looking to break its own record by recording its 13th national championship. St. Ambrose will be looking for its first.
Both title matches will be taped Saturday and air on Tuesdays in May on CBS Sports Network. The women's ITC show will air May 9 at 11 p.m. Eastern while the men's ITC final will air May 16 at 7 p.m. Eastern.
The title matches will be best-of-five Baker matches.
Maryville had to dig itself out of an early hole to earn its shot at the title after it fell to Wichita State (4-1) during Friday afternoon's quarterfinal round.
The Saints wouldn't stay down for long, however, as they rebounded with a 4.5-2.5 victory over Louisiana Tech to earn themselves a rematch with the Shockers.
Since Wichita State entered the round undefeated, Maryville would have to top the Shockers in two best-of-seven matches in order to make it through to the finals.
Things certainly didn't appear to be moving in that direction early on as Wichita State jumped out to a 3-0 lead and appeared poised to eliminate the Saints once and for all.
Maryville wasn't about to go down that easily, however, and before Wichita State knew what had happened, the Saints hadn't just avoided the sweep; they had rallied all the way back and beaten the Shockers 4-3 to force a final winner-take-all best-of-seven match.
Fueled by the momentum of the comeback, this time it was Maryville jumping out to a 3-0 lead and appearing destined to reach the finals.
However, the Saints missed makeable spares in the ninth and 10th frames to lose Game 4 and keep Wichita State's hopes alive.
That was the lifeline the Shockers needed, and they took full advantage of it, heating up to win Game 5 and Game 6 to tie up the match and force a decisive Game 7, one that will be talked about for years to come.
Maryville came out swinging, striking on its first seven shots to grab the lead.
That lead wasn't very big, however, as Wichita State stayed clean and put together its own string of strikes to keep things close as the match headed to the 10th frame.
Maryville's anchor bowler had a chance to seal the victory with a strike on her first ball, but a stubborn 10 pin refused to go down. Undaunted, she converted the spare and finished with a strike to help the Saints post a score of 256.
Incredibly, that gave Wichita State's anchor bowler the opportunity to step up and win the match with a double.
Her first shot in the 10th frame was a high-flush pocket hit that resulted in a strike. Her next shot looked just as good entering the 1-3 pocket; however, that one failed to topple the 10 pin, which allowed Maryville to emerge with another hard-fought victory (4-3) and move into the finals.
For Maryville Head Coach Lauren Pate and assistant coach Matt Russo, it didn't take long for the emotions to pour out after watching their team capture the all-important victory.
"I immediately turned and hugged Matt (Russo) because he and I have both been in this position before, so to be able to give back to these girls and see what they've accomplished, it just means so much," Pate said. "He instantly started crying; I still can't cry, but if we hold the trophy up at the end of the day tomorrow, I think I might just cry a little bit."
Earning the right to hold the trophy will not be easy as not only will the Saints have to battle an incredibly talented McKendree team, but they'll also likely have to battle their own jitters.
"In order for us to be successful, I think it's going to come down to containing emotions and easing our nerves," Pate said. "This will be our first time on TV. Obviously, expectations are there, but as long as they're having fun and enjoying what they're doing, that's a win for us."
McKendree certainly knows a thing or two about winning. In fact, that's all the Bearcats have done so far at this year's ITC as they set a new 24-game qualifying record with a score of 5,243 (a 218.46 average) and then went 4-0 during match play to advance to the finals.
They opened Friday's action by defeating 2022 ITC champion Stephen F. Austin (4-2) in the quarterfinals. Later, they held off a courageous charge and got past North Caroline A&T (4-3) in yet another match that came down to the very last shot.
McKendree Head Coach Shannon O'Keefe was certainly pleased with her team's ability to grind out another hard-fought victory; however, she was hardly surprised by it.
"This team is resilient; they've been that way the whole year," O'Keefe said. "We got knocked out early in the NCAAs, and that was tough, but for our girls to then come in here, break the all-time scoring record, march through match play and stand tough when North Carolina A&T was firing at them like that was really cool to watch."
Saturday's women's title match will certainly be cool to watch not only because it pits two outstanding teams against one another, but also because it will be a battle of teacher versus student.
That's because O'Keefe coached Pate at McKendree during Pate's collegiate career, one that saw her earn All-American status three times and help the Bearcats to both the ITC and NCAA national titles in 2017.
The men's title match won't be able to draw upon the teacher vs. student storyline, but it could definitely be promoted as an underdog story.
That's because in one corner there is Wichita State, which holds multiple ITC records including most tournament appearances (40), most finals appearances (24) and most championships (12), and in the other there is St. Ambrose, which is making its seventh tournament appearance and just its second trip to the finals.
Nevertheless, despite the disparity in resumes, it's the Fighting Bees who come to the title match undefeated, and they appeared to have very little trouble staying that way.
St. Ambrose won eight of its 10 games on Friday as it defeated defending champion Wisconsin-Whitewater (4-1) during the quarterfinals before going on to eliminate Tennessee Southern by the same margin in the bracket finals.
Although he is supremely confident in his team's abilities, St. Ambrose Head Coach Eric Littig could hardly believe that his squad was going to have the opportunity to bowl for a national title for the second time in three years.
"I don't know if it's really sunk in yet. We made the show two years ago, and I still can't believe we're going back," Littig said. "This team has taken me on a lot of amazing journeys, and this is just another one."
But Littig and his team aren't going to be content to just take the ride; they want it to lead all the way to the top.
"We've been bowling as well as anybody in the building this whole week, so we just need to keep doing what we've been doing," Littig said. "We know that Wichita is going to be confident, but we're a very confident team too. We're deep and we've been there before, so we just need to come out and show what we're capable of."
Collegiate bowling fans already know all too well what Wichita State is capable of as the Shockers' legacy speaks for itself.
Nevertheless, Wichita's path to the title match wasn't as smooth as some might have predicted.
That's because after soundly defeating St. Francis-Illinois (4-0) during the quarterfinals, Wichita State found itself on the short end of a 4-2 decision to that same Fighting Saints squad just a couple hours later during the opening round of the bracket finals.
The loss forced the Shockers to regroup and go up against St. Francis one more time, this time with both teams' seasons hanging in the balance.
Wichita State quickly seized control, winning the first two games before the Fighting Saints rebounded to take Game 3.
That's as far as the Shockers would allow things to go, however, as they won the next two games to eliminate USF and push themselves through to the TV finals.
For programs like Wichita State, competing for national titles isn't just a goal; it's an expectation.
Still, Shockers Head Coach Rick Steelsmith made it clear that he and his team find it very special whenever they get the opportunity to compete for the ITC crown.
"Our goal, and probably every team's goal in college bowling, is to get to this point and put yourself in position to bowl for a championship," Steelsmith said. "We know what it takes to get there, but it's definitely not something we take for granted. A lot of hard work and dedication go into it.
"I'm happy for these guys; they work their tails off. If people actually saw how hard they work, I think they'd be surprised. I'm super happy for them, and it's awesome that I get to be a part of trying to help them chase their dreams."
Those national championship dreams will become a reality for two squads on Saturday; the others will have to take pride in having gotten this far and turn the page to next year.
The 2023 event kicked off Thursday with a 24-game Baker block determining seeding for the bracket for the top 16 men's and 16 women's teams in the country. The opening rounds of match play took place Thursday evening with all teams returning Friday to South Point Bowling Plaza.
Teams qualified for the ITC through four sectional qualifiers held throughout the country in March. Teams had to place in the top four in their respective sectionals to advance.
For more information on the Intercollegiate Team Championships, visit
BOWL.com/ITC
.