Finalists determined for stepladder at 2022 USBC Senior Masters
June 11, 2022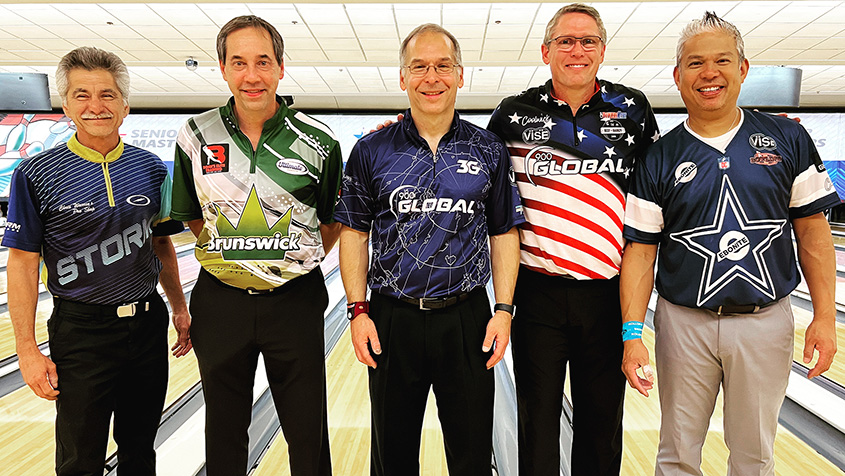 (pictured above (from left): Chris Warren, Parker Bohn III, Jack Jurek, Chris Barnes and Dino Castillo)BRACKETS

By Joe Jacquez
Bowlers Journal International

LAS VEGAS
- If there is one thing that is guaranteed about Parker Bohn III and all other professional bowlers, they will give it 110 percent on every shot and then some.
Sometimes the pins fall.
Sometimes they do not.
But the effort will always be there.
"I want to make every shot I roll, the best I possibly can," Bohn said. "When you watch Parker Bohn bowl, he is trying to give you 100 percent on every single shot."
In addition, believe it or not, the pros are not always trying to shoot 280 or 300. Bohn said it all comes down to scoring pace.
"You got to take a step back and try to find something," Bohn said. "Now, tomorrow is going to be different. We are going to bowl one-game matches. You have to at least do what your opponent is doing, and when I say that, make sure you are one pin better than them."
Bohn qualified as the No. 2 seed for Sunday's stepladder finals of the 2022
United States Bowling Congress Senior Masters
at Sam's Town Bowling Center from Sam's Town Hotel and Gambling Hall in Las Vegas.
Bohn said the score is irrelevant in the sense that a win is a win.
"I was close (to scoring big), but when you start fighting that, you try to make it strike and then you start losing control of the pocket," Bohn said. "I can tell you right now, you can't do that, especially when you are bowling on a sport pattern."
The USBC and Professional Bowlers Association Hall of Famer said there are too many factors to consider to only focus on the score, including speed of the ball, what ball you are throwing, what ball your opponent is throwing, what surface they are using, if any, and of course, how the pair plays.
In addition to all those factors, the professionals have a different mindset during qualifying compared to match play.
"If your opponent looks like they are struggling a little bit, then you take the fact that you are close to the pocket, filling the frames," Bohn said. "Filling frames, 190 or 200 can win.
"But if your opponent is really rallying and hitting the pocket strong, before you know it, they come out of the gate with the front two or three, well you better bring your 'A' game to the table."
Qualifying is a completely different story.
"When you are bowling the field in qualifying, I don't care what the leader is doing," Bohn said. "In qualifying, all I am trying to do is keep up with the vast majority of guys that are near the top," Bohn said.
Bohn said that when he throws a good shot and the ball doesn't strike, it's not that he caught a "bad break," it's that the ball did not do the right thing.
"That's just being realistic with yourself," Bohn said. "If you know you threw a crisp shot off your hand, and it went exactly where you are looking for and the ball doesn't do what you think it's going to do, well then, you've got to make a maneuver off of that.
"More than likely it's back to the operator."
Bohn eventually found something that other left-handers struggled to find.
"Chris had a great vision of the lane," Bohn said. "Fortunately for me, I had a really good look on most of them (the pairs) I was on.
"Whatever I found, I am going to say it bluntly, a lot of the lefties were trying to figure out and do whatever it was that Parker was doing," he said. "I was playing the extreme outside part of the lane with my target in front of me."
This allowed him to make the show as the only left-hander, along with top qualifier and 2018 Senior Masters champion Chris Warren, who had the best look in the bowling center all day, No. 3 seed Jack Jurek, No. 4 seed Chris Barnes and No. 5 seed Dino Castillo.
The stepladder finals will take place Sunday at 1 p.m. Eastern live at
BowlTV.com
, and by the end, a new USBC Senior Masters champion will be crowned.