First-timer rolls 300 at 2014 Open Championships
March 14, 2014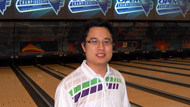 RENO, Nev. -
First-time
United States Bowling Congress Open Championships
participant Darryl Carreon of Woodbridge, Va., quickly made his way into the tournament record books with a perfect game during his team event at the National Bowling Stadium on Friday.
After his inaugural march down the tournament's famed Center Aisle, the 29-year-old right-hander rolled games of 188 and 268, which included a brief moment in the spotlight when he started his second game with seven consecutive strikes.
A 4 pin ended his first run at perfection, followed by another, but he immediately learned from those shots and rattled off 15 straight strikes to finish with the second 300 of the 2014 USBC Open Championships. His 756 series helped Spare Time Sports 3 of Indian Head, Md., to a 2,998 series. Coach's Corner 1 of Lafayette, Colo., leads Regular Team with 3,236.
"I missed my target slightly to the left when I threw the strike in the seventh frame (of the second game)," said Carreon, who bowls out of Bowl America Shirley in Alexandria, Va. "I should have made that fraction of a move to the left with my feet, and I paid for it. In the fourth frame of the last game, I feel like I leaked it early to the right, and it came back high flush. To me, that was the adjustment that I missed in the second game, so I made an adjustment on both lanes and just kept striking."
In the 10th frame, the 78-lane NBS grew silent as Carreon had the stage to himself. Feeling the pressure of needing one strike to add his name to the record books, he made a slight adjustment to compensate for the nerves and delivered his purest shot of the day.
"The 12th shot was probably the most nervous I've been throwing a shot in my life," Carreon said. "I told myself to move the feet a few more boards left and just let it go. It was probably the cleanest shot I felt off my hand. I saw it and just said, 'that's got to carry all of them.'"
Although he was mobbed by his fellow competitors and congratulated by onlookers, Carreon's thoughts after the final shot were of his mentor, Willie Jelks.
"I was just thinking of back home," Carreon said. "I came out here feeling inspired. In the last 10 to 12 years, he's given me so much knowledge. I brought it all here and didn't take anything for granted. I'm just thankful for him."
Carreon will return to the NBS on Saturday morning to see if he can keep the momentum going, but leaving The Biggest Little City in the World with a piece of tournament history is something he'll never forget.
"This definitely tops all of my achievements," Carreon said. "I'm honestly still a little speechless. It's special to me. Tomorrow, I'll come in the same way I came in this afternoon. I'm just going to see what the lanes show me and throw each shot one at a time."
The other 300 of the 2014 tournament belongs to
Regular Singles leader Terrence Blevins
of Chicago, who sandwiched the first 300 of the year between games of 257 and 226 for a 783 series.
Visit us on Facebook at the
official USBC Open/Women's Championships
page.
Presenting sponsors for the 2014 USBC Open Championships include Circus Circus Reno, Eldorado Hotel Casino Reno and Silver Legacy Resort Casino Reno.