Florida bowler becomes youngest to roll 300 game
November 20, 2013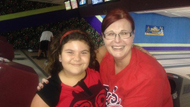 ARLINGTON, Texas -
Hannah Diem of Seminole, Fla., became the youngest United States Bowling Congress member to roll a certified 300 game Sunday when she ended her Youth/Adult Fall league session at Liberty Lanes in Largo, Fla., with 12 consecutive strikes.
At 9 years, 6 months and 19 days, Hannah broke the previous overall record of 10 years, 2 months set by Chaz Dennis of Columbus, Ohio, in 2006 and shattered the girls' mark of 12 years, 4 months set by Brandie Reamy of Farmington, Mich., also in 2006.
Hannah started the night with games of 204 and 226 before rolling the perfect game to finish with a 730 series, a personal best by 166 pins. Entering the night, her high game was 224 and her high set was 564.
"Going into the third game, I knew what she needed for her first 600 series, but then the strikes started to add up," said Heidi Diem, Hannah's mother. "It's like every shot she threw was right there. It was magical."
Diem credits much of her daughter's continuing improvement to the support and guidance of the older youth bowlers at Liberty Lanes and the dedication of USBC Bronze coach James Crouch, who runs the youth program and the Youth/Adult league. Hannah also spent time over the summer at the Kegel Training Center in Lake Wales, Fla.
In four years of certified competition, Hannah has raised her average to 162. She bowls in multiple leagues each week, practices often and bowls in tournaments on the weekend. In 2012, she won her singles division at the Florida State Youth Tournament.
After her second game Sunday night, Hannah asked her mother when she thought she'd roll her first perfect game. The answer was, "next year."
"I tried not to talk to her too much and distract her," Heidi Diem said. "I don't know how she composed herself. I've never thrown a 300 or been close, so I don't know the pressure she felt when she was up there. Going into the 10th frame, it's like she didn't waiver at all. She just got up there and nailed it."
For Hannah, the accomplishment is a little bit overwhelming.
"At first, I wasn't that confident I could do it, but as I got more strikes, I felt like maybe it could happen," said Hannah, who uses a 12-pound ball. "This just feels amazing. It's so much excitement, and my brain is still trying to process it all."
Hannah hopes to continue improving with the help of her teammates and coaches, and her sights are set on potentially competing in the
Bowling.com Youth Open Championships
and
USBC Junior Gold Championships
in the Buffalo, N.Y., area next summer. For now, she and her mother are enjoying the chance to bowl together on Sunday nights.
"She certainly didn't get the bowling gene from me," Diem said. "I always joke that it skipped me, and she got double, but it means a lot that it's something we can do together."
The achievement is pending formal approval from the USBC.
For more information about USBC records, visit
BOWL.com/records
.