Florida bowler celebrates 50 consecutive appearances at Open Championships
May 26, 2022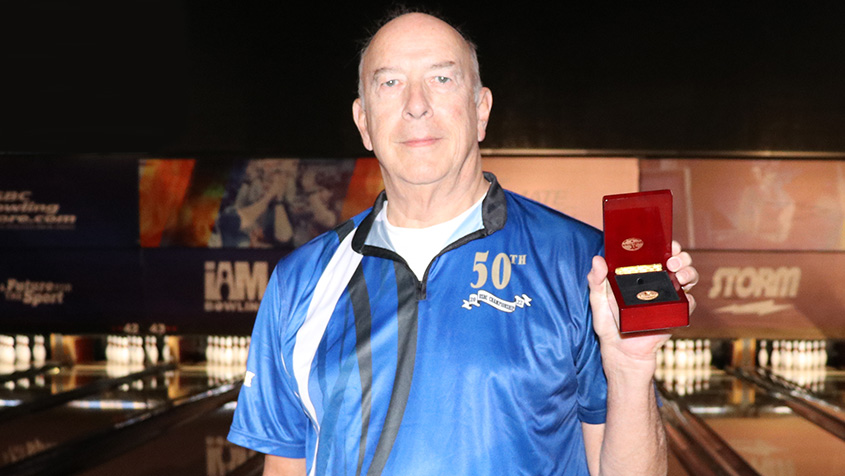 By Brandon Cruz and Aaron Smith
USBC Communications

LAS VEGAS
- Whether it has been the competition on the lanes, the trips beyond the lanes or the camaraderie shared with his fellow bowlers, Larry Kubiak of Daytona Beach, Florida, has enjoyed his journey at the
United States Bowling Congress Open Championships
.
The 77-year-old right-hander recently celebrated his 50th consecutive appearance at the USBC Open Championships after starting his career at the 1972 event in Long Beach, California. He received a plaque, chevron and diamond lapel pin to commemorate his longevity at the South Point Bowling Plaza.
Like many bowlers at the event, Kubiak got his start thanks to others in his league asking him to join. From that first appearance, he was hooked.
"I was bowling in the Kansas City All Stars with a guy named Gary May," Kubiak said. "I think they needed a man, so I went out with them. I really loved it, and from that point, I kept coming back."
As he traveled from event to event, he picked up new bowlers along the way who have competed alongside him for most of his career. One of his teammates in 2022, Ron Painter of Hot Springs Village, Arkansas, made his return to the event to help Kubiak celebrate his milestone appearance.
"Ron came back this year," Kubiak said. "We bowled together in his first tournament in Wichita. He went to 25 with me and bowled his last one in El Paso, but he came back for my 50th. Not many people would do that. I look forward to seeing these guys. Some of them have been bowling with me since they started. You look forward to the camaraderie out here."
In addition to seeing friends each year, the tournament has served as a chance for Kubiak and his wife, Bonnie, to explore and see new things across the country. Bonnie helped march out Larry for his ceremonial presentation prior to his team event, and she has joined him for more than 35 of his appearances.
One of Kubiak's favorite experiences on the lanes came during his trip to Wichita, Kansas, in 1989. During his second game of singles, he started with 11 consecutive strikes before finishing with a 299 game.
"I was bowling well, and I actually bowled better the night before," said Kubiak, who rolled to his highest all-events total in 1989 with a 1,961 total. "I caught a deep line that was working for me, and I'm not a power shooter. On my last ball, I just lost it inside and knew it was horrible. It should have been 296 or 297, but I left a 3-6-10 and the 6 (pin) fell and tripped out the 3 (pin)."
Kubiak fought through some knee injuries during the years and eventually had them replaced, but it never stopped him from making his annual visit to the Open Championships.
He's not sure what the future holds for him with the tournament, but he still plans to look out for his teammates looking ahead to the 2023 event in Reno, Nevada, and beyond.
"I was thinking this was it for me," Kubiak said. "I had some guys that really wanted to go to Reno, though, so I told them I would get the squads together. Maybe I'll go if I'm a sixth man or if they need someone to make 10. There's some dedication there, because I have a guy who will get his 30th in two years. He's been bowling with me for years. I'm not going to drop a squad, so he doesn't have a chance at 30, and there's another guy at 22 years. I kind of feel like Michael Corleone from 'The Godfather' - when I thought I was out, they pull me back in. I love the game and love the tournament, though, so I keep coming back."
In his 50th appearance, Kubiak rolled sets of 490 in doubles, 446 in singles and 431 in team for a 1,367 all-events total. Over his career, he has knocked over 75,596 pins for a lifetime average of 171.4.
Visit us on Facebook at the
official USBC Open Championships page
.