Florida bowler celebrates 50 years with family at Open Championships
May 17, 2023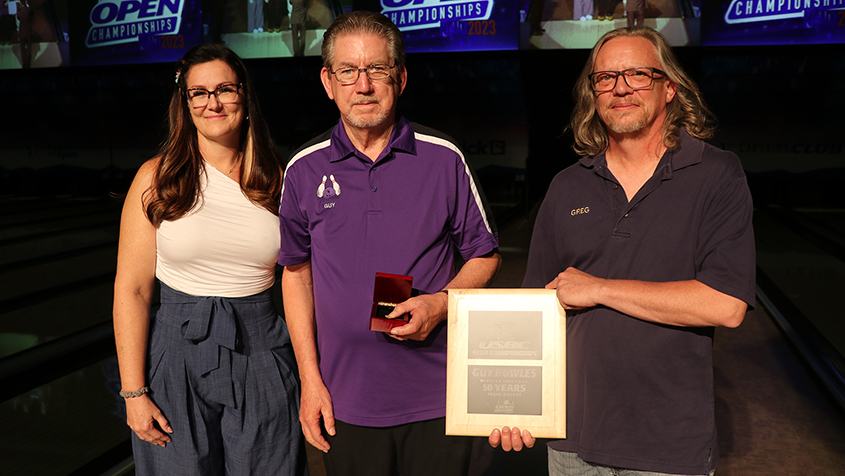 RENO, Nev. –
Guy Bowles of Sumterville, Florida, became the 325th bowler in the history of the
United States Bowling Congress Open Championships
to reach 50 years at the tournament when he made his appearance Sunday at the National Bowling Stadium.
The 79-year-old was escorted by his daughter, Cassandra, and his son, Greg, for his honorary march down Center Aisle to receive a chevron, plaque and diamond lapel pin to commemorate his milestone.
Bowles, who had been very involved on the administrative side of the sport as a member of the Kansas State USBC board, has had the love of the game since he was a young man, working as a pin boy at his local bowling center. He made his first appearance at the USBC Open Championships in Detroit at the 1961 event.
He started bowling with his brothers at the tournament in 1961, and then took a 10-year break from the event to serve in the Navy. He continued to bowl while serving, though, and he made his return to the Open Championships in 1972.
"Every year when I started bowling again in 1972, we would make it sort of a family reunion with my brothers," Bowles said. "We were always named the Bowles Boys and would have the number of what kid we are in the family on our shirts."
Bowles is the sixth child out of the nine in the Bowles family, and he had most of his family at this year's event in Reno.
"Having my family here to watch me throw my last shots at this event means everything to me," Bowles said. "My wife was able to join me, along with my daughter and son to walk me down the aisle, and that is something I will cherish for all of my days."
Throughout the years, Bowles has enjoyed traveling to all the different cities the Open Championships has visited, with Baton Rouge, Louisiana, being his favorite.
"I really enjoyed the food in Baton Rouge, along with the set up of the bowling stadium," Bowles said. "The city in general was a good time."
With his 50th appearance in the books, Bowles was able to get to an all-events score of 1,617 with sets of 559 in doubles, 535 in singles and 523 in team. He now has knocked down 83,779 pins in his career at the tournament for a lifetime average of 188.6.
Bowles already had decided that this would be his last year participating at the Open Championships, as some health issues have been lingering for him, and getting to his 50th year was his ultimate goal.
"I wanted to end my career coming here knowing that I gave my all and went out on a high note," Bowles said. "I wanted to avoid continuing to bowl knowing I might not be in the best of health years from now and may not be able to compete to the best of my abilities."
The 2023 Open Championships kicked off March 4 and will conclude July 24. The 143-day tournament will feature more than 9,700 five-player teams and nearly 50,000 bowlers making their way to compete in The Biggest Little City in the World.
Visit us on Facebook at the
official USBC Open Championships page
.