Florida bowler rolls 300 in doubles, leads singles at 2022 Open Championships
April 12, 2022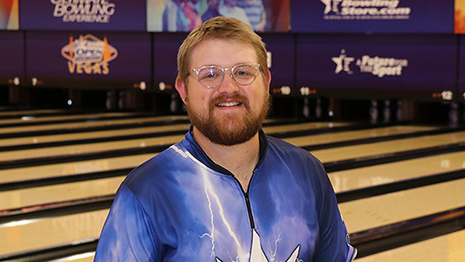 LAS VEGAS -
Brandon St. Onge of Zephyrhills, Florida, achieved two things many competitors at the
United States Bowling Congress Open Championships
dream of - he rolled a perfect game on the tournament lanes, and he took the lead.
As impressive as those two feats are, however, it might be what happened in between that is the most noteworthy detail of his 2022 USBC Open Championships experience.
The 300 was the 12th of this year's tournament at the South Point Bowling Plaza and came in his final game of doubles Monday.
The 25-year-old right-hander admitted to being nervous in a way he hadn't felt in a long time, yet he was able to finish off the game in dramatic fashion, celebrate briefly and then regain his composure to begin his run up the singles standings a few minutes later.
"I've had a few 300s before, but doing it here was a completely different feeling," said St. Onge, who made his fifth Open Championships appearance. "My legs turned to Jell-O, and I haven't felt that in years. It was just a different experience, and watching them all fall was really cool, even with how they did."
The final shot of the game was well left of the previous two as it made its move toward the pins, and the result was what's described in many bowling glossaries as a Jersey squasher. The ball was heavy on the headpin but didn't fully cross over, which made it look like it just squashed down the pins.
The last pin to fall for St. Onge was the 3 pin, and completing the task allowed him to join his coach and teammate, Andrew Colon of San Antonio, Florida, in the tournament record book.
"The last shot, I couldn't feel my legs, and I could barely feel the ball in my hand," St. Onge said. "That's all pretty unusual. I don't normally get nervous in those situations, but my body wanted to give out this time for some reason. I was just fortunate to get them all to fall."
The perfect finish came after games of 180 and 202 for a 682 series. At the time, it was the highest set of his tournament career and helped him and Drew Markwardt (751), also from Zephyrhills, to a 1,433 doubles total, which is tied for fourth in the Regular Doubles standings this year in Las Vegas.
Colon and Larry Brande of Palm Beach Gardens, Florida, also cracked the top 20 with a 1,361 doubles effort, and St. Onge said the support of his teammates and their collective success helped keep him focused and motived during the six games.
Minutes after some high-fives and hugs, singles was underway at the South Point Bowling Plaza, and while logic might suggest he'd enter the new event still reeling from the excitement, St. Onge said the opposite was true.
"It was a lot easier to get refocused, easier than I thought, because we were going into a whole new set," St. Onge said. "Knowing I didn't have to follow it up in a way, and there was a break and a reset to a new series, just relaxed me."
St. Onge added four more strikes to start singles, before a single pin ended his string at 16. He went on to strike 23 more times during his three games of singles, including three clutch shots in what could be a career-defining final frame.
He finished with games of 248, 268 and 265 for a 781 series, which required at least two strikes and good count in his last frame to get past Sam Cantrell of Roseville, California, who previously held the lead in Regular Singles with 777.
"After I threw the strike in the ninth, I told Andrew I didn't think I could get there, but he said to just throw good shots," said St. Onge, who finished the day with 10 consecutive strikes. "I tried to throw the best three I could, and luckily, it worked."
St. Onge may have been the only person in the 60-lane venue who didn't know what he needed to secure the top spot, but like they do in life and on the lanes at home, his teammates were there to support him in the moment.
He said they kept him in a positive mindset, even when a couple of poor shots could've derailed the momentum.
"I missed a ball change, which my teammate told me to make about two frames earlier, and not doing it resulted in a spare and an open to start the last game of singles," St. Onge said. "I was stubborn, but I finally listened. They're a good bunch of guys I've bowled with for a long time, so we have great chemistry. Bowling with them is always a good time."
Colon, who rolled a perfect game during his team event at the 2013 Open Championships, has been a coach and mentor for St. Onge for the last 10 years, even convincing him to explore the world of college bowling.
St. Onge's journey took him to Lincoln Memorial University in Harrogate, Tennessee, where his game and competitive outlook continued to develop, concluding during the 2019-2020 season, when COVID-19 interrupted what he was hoping would be a memorable senior season.
"During my four years, I learned so much from those guys," St. Onge said. "I made a lot of lifelong friends. At home, Andrew has been a huge help with everything. I'm just grateful that he took me under his wing when I was about 15, and he has been a great influence on my game over the years."
If there is any environment that mimics the unique and exciting atmosphere of collegiate bowling, it's the Open Championships, which has featured one of the world's premier team competitions for nearly 120 years.
St. Onge and his teammates this week excelled in the energetic environment and found success in both the three-game team event and the nine-game marathon known as Team All-Events, which combines the all-events totals of all five team members.
St. Onge and his Him Bowling Team 14 teammates posted a 3,292 total Sunday afternoon, and that landed them just inside the top 10 in Regular Team.
That momentum, fueled by chemistry, camaraderie and communication, carried into Monday's doubles and singles on a different lane condition.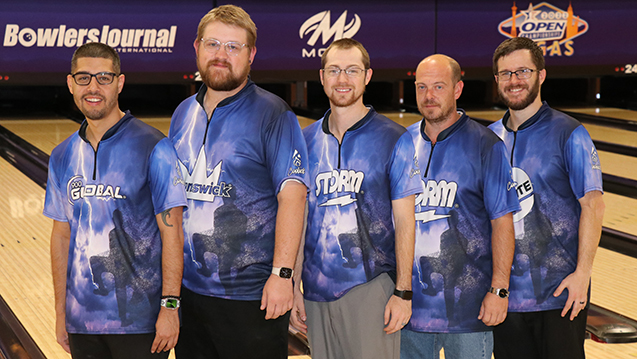 Ongoing success over the two days landed St. Onge in a tie for sixth place in Regular All-Events with a 2,139 total, which included a 676 series in the team event, and his career-best performance helped lift Him Bowling Team 14 into second place in Team All-Events.
He was joined in the effort by Colon (2,047), Markwardt (2,023), Brande (1,974) and Tyler Shingle (1,874) for a 10,057 total, just the 64th time in tournament history a team eclipsed the 10,000 mark. Team All-Events has been considered an official Open Championships title each year since 1947.
Mento Produce of Baldwinsville, New York, leads Team All-Events this year with a record 10,444 total, an average of more than 232 over the nine games.
Looking far ahead, St. Onge now can anticipate being announced as a celebrity at the 2023 Open Championships in Reno, Nevada. His name forever will be listed with Colon's, plus another member of their group, Ron Jacobson of Tequesta, Florida, who rolled an 804 series en route to the Regular Singles title in 2017.
In the short-term, St. Onge now will have to wait until July 18 to see if he can match Jacobson's singles title, but he won't let the wait and score watching consume him, something many leaders often do.
"I'm just going to go back to my day-to-day life, since there's nothing I can do about what other people are shooting," said St. Onge, who works for Pasco County in Florida. "I'll go back to work, bowl at home and hang out."
The 2022 Open Championships got underway March 12 and will run for 129 consecutive days, before champions are determined in team, doubles, singles, all-events and Team All-Events.
Visit us on Facebook at the
official USBC Open Championships page
.