Florida's Zachary Andrews honored as 2023 Chuck Hall Star of Tomorrow
March 31, 2023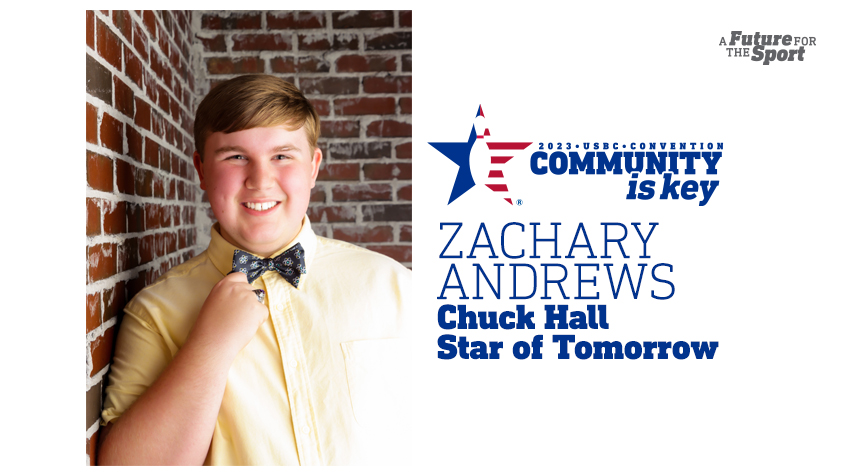 ARLINGTON, Texas
– Zachary Andrews of Jacksonville, Florida, has been selected by the International Bowling Campus Youth Committee as the 2023 Chuck Hall Star of Tomorrow.
The award recognizes the star qualities in a United States Bowling Congress Youth member, including distinguished bowling performances on the local, state and national levels, academic achievement and community involvement. Applicants must be a male high school senior or college student.
Along with the prestigious honor, Andrews will receive a $6,000 scholarship as the 2023 recipient.
"To put it simply, I was shocked," said Andrews, when describing his emotions when he received the news that he was the award recipient. "I applied for several of the scholarships from USBC, and this was by far the one I was NOT expecting to get. It was sheer and utter shock, but also at the same time there was excitement in the realization that all the work I'd put into my bowling and my schoolwork, that all of that was worth it."

Despite being pleasantly surprised and shocked, the meaning of the award was not lost on Andrews.
"This award means so many different things. It encompasses each and every area of my life, including the bowling I've worked so hard at since I was a child and that I'm so closely connected with through my family. Then you also have my academic work and volunteer work all coming together in one place at one time in this award."
Andrews, 16, has already established himself as a force to be reckoned with in the classroom, on the lanes and in the community.
A senior at Duncan U. Fletcher High School in Neptune Beach, Florida, Andrews has maintained a 4.0 GPA (4.942 weighted), is at the top of his graduating class and is the current president of his school's National Honor Society chapter.
His considerable academic prowess and motivation to continue developing his skills led Andrews to pursue and gain acceptance into the Stanford Pre-Collegiate University program, which has allowed him to take college-level coursework while still in high school in order to jumpstart his pursuit of a degree in mechanical engineering.
"From a young age, I've had a love for mathematics," said Andrews. "My mom, who is a math teacher, instilled a drive in me to always look for more in mathematics, to always look for that next level of complexity, so, I made it my goal to get ahead in math as much as I could and eventually, last year, I ran out of math courses to take in high school. That was when we found the Stanford Pre-Collegiate program, and that allowed me to continue on my mathematical journey."
While a love for math was instilled in Andrews at a young age, a love for bowling was as well.
"I've been bowling pretty much since I was able to pick up a ball," said Andrews. "My family, all of us bowl. My grandparents run a local youth league here in Jacksonville. My mother and her sisters bowled all the time, including now, so bowling has always been this experience of family."
Andrew has distinguished himself on the lanes in the same manner as he has in the classroom, capturing multiple top-10 finishes at high-level tournaments across the state of Florida. And, although many of those were individual honors, Andrews cites a win in a team event as one his most memorable in bowling.
"One of my first big, proud moments in the sport was with the USA Bowling tournament," said Andrews. "As a U12 team in 2017, we ended up winning our first tournament in the Coastal South Region and qualified for the national tournament. One of the nice things about that tournament is that it's a Baker-style format, so it really emphasizes teamwork, cooperation and cohesion. The fact that we were able to come together and win that was one of my proudest moments. It was great having all of us together, and we got to travel to Junior Gold together, so it was just a wonderful experience."
The USA Bowling tournament introduced Andrews to Junior Gold, and he has qualified for the Junior Gold Championships three times (2017, 2018 and 2021). He also has won Riptide Bowler of the Year honors twice (2021 and 2022) and was the 2018 Beach Bowl Youth Bowler of the Year.
Additionally, Andrews is the current vice president of the Florida State USBC Youth Leaders where he's had the opportunity to function in a variety of roles, including working with various tournaments and collaborating with the Ways and Means Committee on fundraisers and scholarships the association awards and distributes.
"Being able to give back to the bowling community that has served me throughout my life as sort of a second family has been a great experience with the Youth Leaders," said Andrews.
Andrews notes he's had the privilege of being involved in a number of community service projects, including a variety of tutoring programs that he's been able to participate in throughout his high school career. He joined his school's chapter of Mu Alpha Theta – a national mathematics honor society – during his freshman year and has been president of that chapter for the last two years.
"As part of membership in Mu Alpha Theta, we have a tutoring program," said Andrews. "That was how I was introduced to tutoring other students in math. One of my favorite things about being able to tutor, especially with mathematics, is that it's a way for me to put my mathematical skills to use in service to others. Then, through National Honor Society and through the college board and a website called Schoolhouse.world, I've been able to expand my outlets for tutoring to areas outside my school."

As Andrews continues to grow as a young man, bowling remains an impactful part of his life.
"I've learned some great life lessons through bowling," said Andrews. "Like the concept of average score for example. One bad game doesn't ruin your entire average or your entire tournament, so why let one bad thing ruin your entire week or month or year? Being able to keep that positivity in experiences has been one of the most valuable things I've been able to bring with me into other aspects of life."
Andrews has already been accepted to the Honors Program at the University of Florida, but he is waiting for news on his applications to other universities including Princeton, Yale and Duke. No matter where Andrews attends college or where his career path takes him, he sees bowling as part of his future as well.
"I'm definitely going to keep bowling well into the future," said Andrews. "It will always be a part of my life. If there's a bowling center within driving distance of me, I will definitely be paying it plenty of visits. Whether it's just recreationally or whether there ends up being room for more, it's important for me to continue having that aspect of my life that has been so influential to me up to this point."

Andrews will be recognized in April during the 2023 USBC Convention at South Point Hotel and Casino in Las Vegas.
This year's award ceremony, which includes a variety of awards for youth and adult bowlers, will take place during the 2023 USBC Annual Meeting on April 26 and 27. The meeting will be broadcast live at BowlTV.com.
For a list of past Chuck Hall Star of Tomorrow winners, click here.
Learn more about awards for adult youth leaders and scholarship opportunities for youth bowlers at BOWL.com/ScholarshipAwards.