Former Junior Team USA member rolls 300 at 2022 USBC Open Championships
May 25, 2022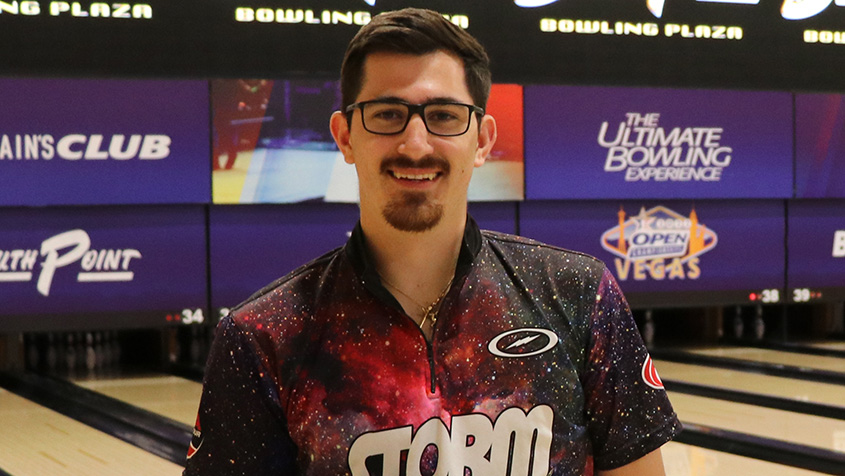 By Nick Bonsanto
USBC Communications

LAS VEGAS
- Gregory Young Jr. of East Dundee, Illinois, became the 34th competitor to roll a 300 game at the 2022
United States Bowling Congress Open Championships
on Tuesday.
The former Junior Team USA member completed his 300 in the third game of doubles, helping him and doubles partner Aaron Ruiz of Nashville, Tennessee, return to the top five in the Regular Doubles standings.
Young rolled his 300 at the South Point Bowling Plaza after games of 244 and 243 for a series total of 787. Coupled with the 692 thrown by Ruiz, the pair tallied a 1,479 for the competition, leaving them in a tie for third place at the 2022 event.
At the 2021 USBC Open Championships, the pair finished fourth in Regular Doubles at the South Point Bowling Center with a 1,447 total.
The leaders in Regular Doubles at the 2022 event are Nick Powanda of San Diego and Tony Odom of Palm Springs, California, with a total of 1,518.
In 2021, Chris Pierson of West Bend, Wisconsin, and David Labinski of Milwaukee won the title with a 1,466 total.
Stepping up in the 10th frame of his perfect game, Young talked about what he was thinking.
"I was wondering where my legs were," Young said with a chuckle. "I was trying to breath and was thinking this is why we bowl."
Young has found success at every level of the game, from his three years on Junior Team USA (2013-2015), where he won the coveted team gold at the 2014 International Bowling Federation World Youth Championships, to his success at McKendree University as a two-time winner at the Intercollegiate Team Championships (2016, 2018).
He's now a member of the Professional Bowlers Association and reflected on the accomplishment of rolling a 300 at the Open Championships.
"It's a big stage here," Young went on to say. "I've had like three opportunities with the front nine here, and I missed them. But this one, I finally got."
After his 787 series in doubles, Young rolled a 770 set in singles to make a push toward the top 10 in Regular All-Events with a 2,174 total. Young currently finds himself just outside of the top 10 and in 11th place.
The Regular All-Events leader is Brian Waliczek of Frankenmuth, Michigan, with a total of 2,241.
Young was able to put together his best performance at the Open Championships even after a difficult start in his team event Monday, where he shot 617. Young joked about his struggles in the team event at the Open Championships.
"Actually, that was my best team event here ever," Young chuckled. "I broke a six-year run of not throwing 600 in the team event."
Young teased the crowd one more time in his seventh Open Championships appearance in his third game of singles with a potential second 300 of the night. His string of strikes ended in the ninth frame, as he finished with a 250 game.
Regular Doubles features bowlers with combined entering averages of 351 and above. Regular All-Events includes bowlers with entering averages of 176 and above.
Visit us on Facebook at the
official USBC Open Championships page
.