Four bowlers enjoy spotlight, celebrate milestones at 2022 USBC Open Championships
April 25, 2022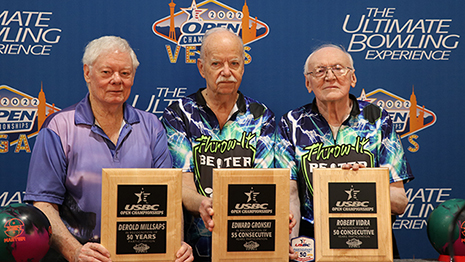 LAS VEGAS -
It has been quite the week at the
United State Bowling Congress Open Championships
, where five gentlemen joined the exclusive 50-Year Club over a course of 48 hours.
There have been cheers, tears and memories flowing from the honorees and their families and friends.
On Saturday, Derold Millsaps of Hixson, Tennessee, and Robert Vidra of Oak Lawn, Illinois, became the latest bowlers to reach the milestone, and they each received plaques, chevrons and diamond lapel pins on the championship lanes at the South Point Bowling Plaza.
Millsaps is a true Southern gentleman, who loves country music and bowling in the USBC Open Championships.
At his first tournament appearance, which came in Cincinnati in 1968, the top country songs were Stand by Your Man (Tammy Wynette) and Folsom Prison Blues (Johnny Cash).
"That was a long time ago, but I do remember those songs and walking into my first Open Championships," Millsaps said. "They had special lanes built at the Cincinnati Convention-Exposition Center. I was young and totally in awe."
Millsaps had only been bowling about four years, when a man he worked with invited him to participate in the tournament.
"I stepped onto the lanes and didn't know if I should even throw the ball, because I saw people on the other end," Millsaps said. "People said it was OK. They were the manual scorekeepers. I accepted that and then threw my first ball in my first tournament."
It has been an amazing bowling career for Millsaps, who has enjoyed a long and memorable run of league and tournament bowling that has yielded nearly two dozen perfect games and a handful of 299s.
"I've left the 8 pin, 9 pin and a lot of 10 pins in those 299 games," Millsaps said with a grin. "I never dwelled on that. The good Lord gave me the physical abilities to be pretty good at this game, and I accept everything as is."
Prior to retiring from DuPont after 35 years as a maintenance mechanic, and after, Millsaps has seen a good part of the United States, thanks to the Open Championships.
"I'm not a traveler, but it excites me to see so many different parts of this great country," Millsaps said. "I've seen more places than I could ever have imagined, and it's all because of bowling in this tournament."
The only edition of the tournament he has missed since 1968 was in 1981.
"My dad passed that year, and I was unable to bowl," Millsaps said. "Thanks to good physical and mental health, I'm able to reach 50 years in this tournament, with 40 of those in a row."
Millsaps has been recognized for his bowling talents in his home state of Tennessee, where he is a member of the Chattanooga Sports Hall of Fame (2012) and the Cadillac Area Bowling Association Hall of Fame.
On the lanes at the 2022 Open Championships, Millsaps rolled sets of 528 in doubles, 526 in singles and 518 in team for a 1,572 all-events total.
In 50 years on the tournament lanes, Millsaps had knocked down 78,623 pins for a career average of 181.9.
"I love the game, and I love the challenge of the Open Championships," Millsaps added. "I enjoy meeting new friends and reconnecting with bowlers year after year."
Vidra's appearance at the Open Championships this year marked his 50th consecutive, a career that began in Long Beach, California, in 1972. While others might have had trouble getting to a tournament to continue their longevity run, Vidra has a different perspective.
"I never had trouble getting to a tournament, but I had trouble leaving one, and I was really close to missing my flight back home," Vidra said. "Our squad was running late, and my departure time was getting closer and closer. I rolled the fastest six games of my life."
One of Vidra's most wonderful memories was getting to share the lanes with his brother, Leonard, who participated in 43 tournaments from 1973-2019. He died in February 2020.
"I think of Len every day, on and off the bowling lanes," said an emotional Vidra. "I bowled 26 consecutive years with him, and we finished fourth in doubles in St. Louis in 1978. I'm sad that he did not get to reach 50 years, but I know he would be so happy and proud that I did."
Also thrilled for Vidra are his nephew Scott, who is Leonard's son, and Scott's wife Kim.
Scott Vidra has added to the family legacy at the Open Championships with 27 consecutive appearances of his own, while Kim Vidra, a four-time participant, continues the tradition by bowling doubles with Robert Vidra.
"So many people call him Uncle Bob, but I am so proud that he really is my uncle," Kim Vidra said. "It means so much to me that I am his partner here at the Open Championships."
There were two special moments while Vidra was at the South Point Bowling Plaza for the 2022 event.
He just celebrated 55 years of marriage to his wife, Donna, on Friday, and he was able to have another year on the lanes with longtime teammate, Edward Gronski of Mulkeytown, Illinois, who was honored Saturday for his 55 consecutive years at the Open Championships.
"Ed has been my bowling partner and dear friend forever," Vidra said. "I remember back in 1958 when Ed used to buy candy at my mom's store. We don't see each other as often as we'd like, but every year, we get together to bowl the championships."
Vidra kicked off his milestone Open Championships with a 548 series in team, and he added 448 in doubles and 440 in singles for a 1,436 all-events total. In his 50 appearances, Vidra has toppled 79,749 pins for a career average of 177.2.
"I am thankful that my health has allowed me this great opportunity, and I definitely plan on being in Reno (Nevada) next year for No. 51," Vidra said.
Gronski added to his own total by rolling scores of 579 in team, 561 in doubles and 432 in singles for a 1,572 total. His 55-year pinfall total climbed to 91,022, a 183.8 average.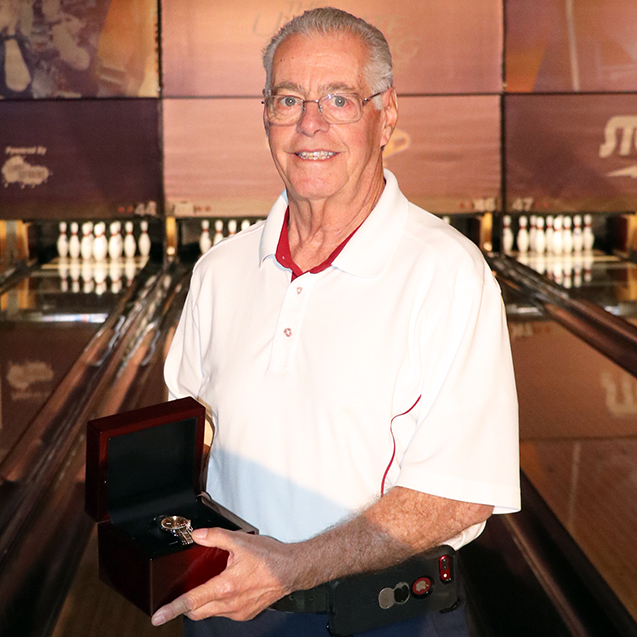 One more bowler - Jules Falcone of Media, Pennsylvania - reached a milestone at the South Point Bowling Plaza.
The 79-year-old made his milestone march to the lanes Monday and also joined the 55-Year Club, earning a plaque, chevron and engraved watch to commemorate the achievement.
Like Gronski, Falcone also made his Open Championship debut at the 1967 event in Miami and has been to every event since.
There are 31 bowlers scheduled to reach 50 years of participation this year, along with three celebrating 60 years, one competing for the 65th time and another reaching the 70-year mark.
Visit us on Facebook at the
official USBC Open Championships page
.