Belmonte leads Day 1 of 2023 USBC Masters
March 28, 2023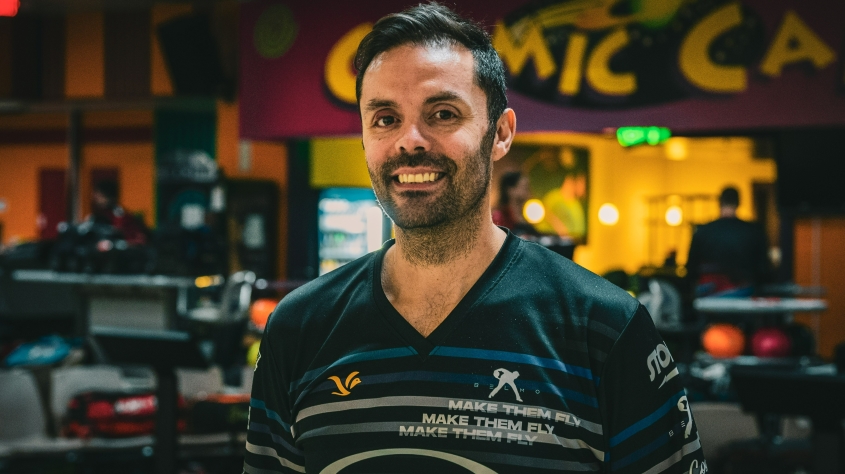 ALLEN PARK, Michigan –
Australia's Jason Belmonte came to the 2023 USBC Masters holding the distinction of being the only player to have won the event four times.
If Monday's opening-round performance is any indication of things to come, then he is well on his way to No. 5.
The 39-year old two-hander maintained a torrid scoring pace during his first five-game qualifying block at Thunderbowl Lanes in Allen Park, Michigan, shooting 813 for his first three games (258, 279 and 276) and closing with 224 and 227 to lead the 390-player field with a Day 1 total of 1,264, (a 252.80 average).
Roommates Jakob Butturff of Tempe, Arizona, and Cody Shoemaker of Hanover, Pennsylvania, tied for second place with 1,228. Patrick Dombrowski of Parma, Ohio (1,196), and Jake Rollins of Glen Rock, New Jersey (1,195) secured the final spots in the Day 1 top five.
Ric McCormick of Cincinnati (1,169), Phillip Watson of Mascoutah, Illinois (1,168), and J.R. Raymond of Clinton Township, Michigan (1,092), didn't finish quite as high in the Day 1 overall standings, but each found his groove at least once on opening day as all three recorded perfect games.
Nevertheless, Belmonte stole the show on Monday, and he didn't need one big game to do it; instead, he was simply excellent from start to finish.
That's certainly nothing new for Belmonte, who is the PBA's all-time leader in major championship victories with 15, the most recent of which came last Sunday when he defeated E.J. Tackett of Bluffton, Indiana, (246-179) to win the 2023 PBA Tournament of Champions at AMF Riviera Lanes in Fairlawn, Ohio.
According to Belmonte, last weekend's victory gave him a bit of extra confidence heading into Masters week.
"Bowling, like any other sport for that matter, is a momentum game. When you've got it, you have to lean into it and try to keep it going for as long as you can," Belmonte said. "The two shows that I won to win the title last week definitely had me rolling the ball with a little more confidence coming in today."
Some might expect Belmonte to always be extra confident at the Masters having already won the tournament four times; however, he quickly dispelled that notion.
"There's no more of less confidence here because of my past," Belmonte said. "This is a brand new Masters with different bowlers out there and bowlers at different skill levels than they were in previous years.
"Every single tournament I come into, every single Masters I come into, I treat it as if I've never won it before. If I'm going to win this one, I need to make my shots, not underestimate the field and make it my best event."
Although he's making sure not to take anything for granted after one strong round, Belmonte did admit that a good start has its advantages.
"To leave in the number one position for the day allows you to bowl the next round with a whole lot less pressure. If you leave a stone nine or ringing ten, you can let it roll off because you don't need it so much," Belmonte said. "Also, it's always important to see your ball strike a lot because if you need it later on in the tournament, you can see yourself doing it. It's always a positive to lead at any point in a tournament but especially the first day."
Regardless of what kind of start they got off to, all competitors will return to Thunderbowl Lanes on Tuesday for the second of three rounds of qualifying. After 15 games, which includes two blocks on the fresh lane condition and one squad on the burn, the top 63 players will join defending champion Anthony Simonsen of Las Vegas in the double-elimination bracket beginning Thursday.
Simonsen is guaranteed a spot in the bracket as the defending champion, but he can improve his seeding through qualifying. If he happens to finish qualifying outside of the top 63, he'll be the No. 64 seed.
After the first round, Simonsen is in 84th place with a 1,077 total.
Qualifying and match play at the 2023 Masters will remain consistent with previous editions of the event prior to the introduction of TV on March 31. The double-elimination bracket will be retained, and all matches leading up to the final eight competitors will feature three-game total-pinfall contests.
However, once the Elimination Bracket is down to the final eight, television matches will start with four single-game matches replacing the final three-game head-to-head round and four-player shootout to determine the finalists for the stepladder. These matches will be broadcast live on FS1.
These TV matches will implement a knockout-style format with the winners of the first two games advancing to the finals of the Elimination Bracket. The advancers then will take on players who lost in the semifinals of the Winners Bracket with each winner earning a spot in the opening match of the stepladder on April 2.
The two players who emerge victorious from the semifinals of the Winners Bracket will earn automatic spots on the April 2 broadcast with a three-game total-pinfall match determining the top seed. This match will be broadcast at
BowlTV.com
.
With only four players advancing to the stepladder, the top seed will need to be defeated twice on FOX to be denied the title.
The stepladder at the 2023 event will be April 2 at 1 p.m. Eastern on FOX, with the champion taking home a spot in the tournament's storied history, a major title on the PBA Tour and the $100,000 top prize.
For more information on the USBC Masters, visit
BOWL.com/Masters
.