Fran Deken helped shape women's pro bowling
March 17, 2021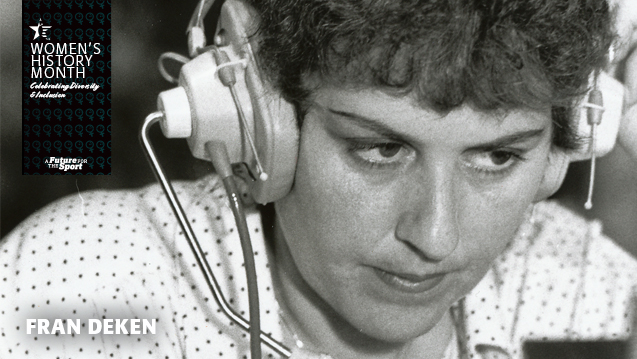 ARLINGTON, Texas -
Even though she may not have been competing under the television lights or signing autographs after the trophies were awarded, United States Bowling Congress Hall of Famer Fran Deken is without a doubt one of the most influential people in the history of women's bowling and an ideal addition to any Women's History Month celebration.
Yes, Deken was a top-tier competitor, first finding the national spotlight as a standout at the University of Iowa in the early 1960s. Yes, she has multiple pages of on-lane accolades and was inducted into the Southern Nevada USBC Hall of Fame in 1997 for superior performance. Yes, she was the 2001 Bowling Writers Association of America Senior Bowler of the Year.
But, the true depth of her legacy in bowling is the result of decades of behind-the-scenes work and attention to detail. She was inducted into the
USBC Hall of Fame
in 2006 for meritorious service.
While fans were watching the successes of their favorite
Professional Women's Bowling Association
stars - the likes of Lisa Wagner, Wendy Macpherson, Tish Johnson, Leanne Hulsenberg, Michelle Feldman, Carolyn Dorin-Ballard and countless others - Deken, now 76, also was part of their title-winning TV shows, but she was hiding in the shadows, headset securely in place, as the national tournament director for the PWBA Tour.
"I loved competing, but after a couple of years on tour, if became pretty clear to me I probably wouldn't be bowling on any TV shows," said Deken, who served as the tournament director for the PWBA Tour from 1981-1991 and 2001-2003, following a stint on the PWBA Board of Directors from 1976-1981. "The shows ended up being such a high point of the tour, and keeping things moving smoothly behind the scenes, so the players could focus on the bowling, was important and very rewarding for me."
Keeping things running smoothly is just one part of the tournament director's role, which also would include manually preparing all recaps and match-play scoresheets, organizing pro-ams and squad assignments for the bowlers, facilitating roll calls, working with local media, promoting the event in the host city and much more.
Deken's first taste of the tour life came when she earned the opportunity to represent Iowa at the first official U.S. Women's Open in 1971, and the experience, plus the persuasiveness of the game's top competitors, led her to join the PWBA shortly after.
Her first administrative tasks came when she volunteered to help with the pro-ams and the announcements, since the weekly schedule didn't always allow the necessary staff members to be in place in the next host city and ready to get underway.
Much like her love of sports in general, Deken's passion for bowling, then the PWBA, grew with each new area she was able to experience.
"First, I started bowling in a league, then I became fascinated by the recaps and the average sheets and doing the books," Deken said. "I loved everything about bowling, from the front end to the backend and everything in between. I loved all the components and wanted to see each part succeed. It was similar with the PWBA Tour. It started with one thing and grew from there. I loved every aspect."
Deken also played an integral role in helping women's professional bowling through a tumultuous time in the late 1970s and early 1980s, where there already were challenges for women in general concerning equality on many stages. Any division among the players needed to be addressed and mended.
In the late 1970s, some PWBA players found additional competitive opportunities with a newly formed organization, the Ladies' Professional Bowlers Association, which held a handful of events without much traction.
There was much animosity among the players as the two groups again became one, and after a challenging couple of years, proprietor John Sommer and John Falzone stepped in to keep any momentum going in the right direction.
They started the privately-owned Ladies Pro Bowlers Tour, and the highly respected Deken, who still was there as an advocate for the players, helped get things going in a way that had the best interests of the players in mind but also would help the organization succeed.
Deken was there to serve as a bridge and help eliminate any friction or hard feelings - or, at least, get all of the players to act professionally while representing the sport and the new organization. She knew a unified player base was important and that Sommer and Falzone would do all they could from a business and promotional perspective to see the tour succeed and grow, which included enhancing the televised portion of the puzzle.
As a former competitor, Deken knew what the bowlers wanted and needed. She was authoritative when necessary and motherly when the situation required it. After all, she'd successfully raised two sons, so how challenging could a locker room full of passionate professional athletes be?
Her efforts had an immediate and ongoing impact on the players, including fellow USBC Hall of Famer Robin Romeo, who was an emerging star on the tour in the 1980s.
"When I first met Fran, she was a fierce competitor with a full-roller style," Romeo said. "I thought when they later picked her to be the tournament director, it was awesome, because she knew a lot of us personally and had experience with life on tour. What stood out to me was that she was fair to everyone. She scolded you when you deserved it, and she really was like a mom to a lot of the younger players, of which I was one."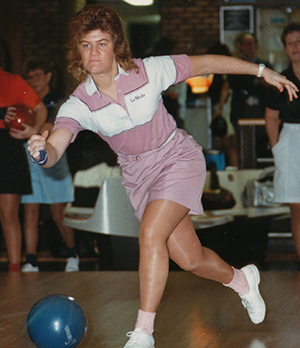 Romeo went on to win 17 PWBA Tour titles, highlighted by a five-win 1989 campaign that included a victory at the U.S. Women's Open and bowler-of-the-year honors. She was inducted into the USBC Hall of Fame in 1995 and the PWBA Hall of Fame in 1996.
When Romeo first embarked on her professional bowling journey, her father was on the road with her and built a rapport with Deken. Years later, through a variety of industry and committee work, Deken and Romeo's mother, USBC Hall of Famer Joan Romeo, became close friends.
The camaraderie and family atmosphere on the PWBA Tour, which often included Deken's young son, Paul, gave Romeo and her fellow competitors stability and incredible memories. Much of that was due to the environment Deken helped create and maintain.
"Over the years, I had a great relationship with Fran and always respected her hard work and the amazing job she did, and she really does have a place in bowling history, not just for women, but bowling in general," Robin Romeo said. "Looking back, when it was all going full force, to me, it was one of the best times of my life, and she was a big part of that."
In the years between and since her stints with the PWBA, Deken's service to the sport has included key roles in the Las Vegas and Reno, Nevada, bowling communities, time behind the keyboard as an esteemed bowling writer and administrative or contributory roles within the International Bowling Media Association (formerly BWAA), USBC Hall of Fame Committee, PWBA Hall of Fame Committee, PWBA Athlete Advisory Committee and in the state and local bowling associations of her home state of Oklahoma.
When it comes to knowledge and bowling history, there are few things more rewarding than having a conversation with Deken and hearing first-hand accounts of the sport's greatest players and moments.
There also are few things more awe-striking than just sitting back and watching Deken and her USBC Hall of Fame Committee counterparts recount, discuss and debate bowling's top players and accomplishments with encyclopedic versatility and computer-like accuracy.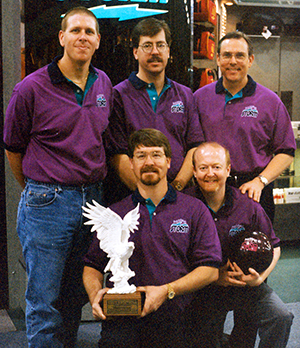 Among them, USBC Gold coach and hall of famer Bill Spigner, whose relationship with Deken started on the lanes at the
USBC Open Championships
. Deken competed on the companion team of Spigner's Pollard's Bowl squad that claimed the 1996 Team All-Events title with a record score that still stands.
Years later, following the merger of the American Bowling Congress and Women's International Bowling Congress as part of the formation of USBC, the two found themselves working side by side on the USBC Hall of Fame Committee, each bringing vast knowledge and experience from their respective realms.
"As I got more involved with the hall-of-fame committee and we got to work together, we developed a great relationship, and she's always offered such incredible knowledge and input," Spigner said. "Prior to the merger, we didn't really follow the women closely, so she immediately was an incredible resource for that. Because of all she's done and experienced in bowling, her perspective is unlike any other. She's definitely an icon in our sport."
Deken's dedication and performances also have earned her induction into the PWBA (Builder - 1997), Tulsa Area USBC (Skill - 2014), Oklahoma State USBC (Skill - 2014), Greater Kansas City USBC (2015) and Kansas State USBC (2019) Halls of Fame, along with a variety of other industry awards.
On the lanes, she was a four-time national champion at the Association of College Unions International (ACUI) National Championships, has earned multiple state and local titles, has represented the United States multiple times and found success as a senior at the USBC Senior Queens and National Golden Ladies Classic. She also logged 38 years at the USBC Women's Championships from 1972-2017.
This story about Deken is part of an ongoing digital media campaign recognizing various groups, organizations and bowlers that make up the USBC membership, while also bringing attention to topics that affect the world on a larger scale.
USBC will continue to expand its diversity and inclusion topics and welcome the opportunity to showcase the people and other areas that are important to the members.
March is a celebration of Women's History Month and features stories that recognize some of bowling's most influential women.
If you know someone who is a standout or inspiration, or you'd like to suggest a topic close to you, please let us know more by sending an email to PR@bowl.com.
For more information about USBC and its programs and partnerships, visit
BOWL.com/Diversity
.