Fro Power: Kyle Troup Talks Hair and Spares on SportsCenter
April 18, 2017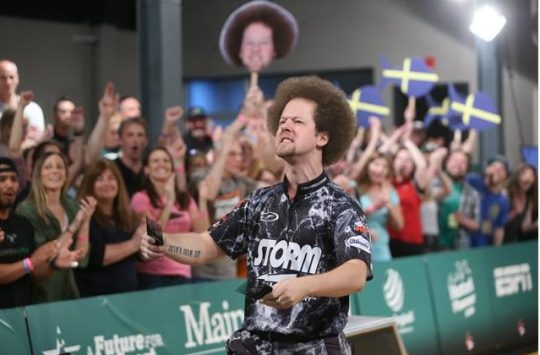 Fresh off his second PBA Tour title, which he won on Sunday when he and partner Jesper Svensson blasted 10 straight strikes to romp to victory in the Mark Roth/Marshall Holman Doubles Championship on ESPN, Kyle Troup put in an appearance on ESPN's SportsCenter this morning in which he covered everything from hair to spares.
Troup said on SportsCenter that following in his dad's footsteps "is a dream come true."
Told that his decision to appear on SportsCenter without his trademark full fro was "slightly disappointing," Troup conceded he spent a lot of time debating that very point. "I have been known for my wild-style hair choices, and I was debating whether I was going to fro it out again today or kind of rock the smaller curls," he said. "I did cut my hair back in January, so it is a little harder . . . we went with the better look for today."
On ESPN on Sunday, Troup celebrated a strike by pulling two picks out of his pockets and pumping out his fro to the raucous Bayside Bowl crowd's delight.
Troup said he has featured the fro all his life, though he did at one time "scalp it for a while" but then "realized curls are better, more people like the curls."
None of this is surprising given Troup's heritage — eccentric dad and eight-time PBA Tour titlist, Guppy, who was perhaps at least as well known on tour for his outlandish pants as he was for his bowling.
Troup said that following in his legendary father's footsteps is "a dream come true" because he "grew up watching him bowl and traveled to all the tournaments with him. He was my hero growing up, my idol in bowling . . . I am blessed with the opportunity to do what I love and make a living at it, and have so much support from all my fans and family. I really couldn't ask for a better life."
Troup's recent Instagram post in which he is aiming a bow and arrow at a rack of pins caught SportsCenter's attention and prompted the question: Which is harder, spares or strikes?
"Like my dad always said, strikes are for show, spares make the dough . . . work on your spares."
In the meantime, Kyle will work on pumping out his fro with both picks in preparation for his next TV appearance, and hope dad once again will be there to cheer him on.