Georgia's Glen Coryell is winner on and off the lanes at USBC Open Championships
May 02, 2022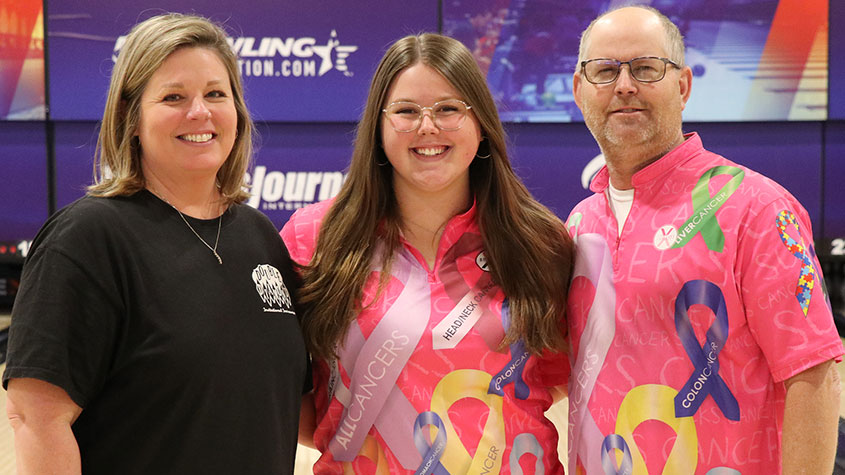 LAS VEGAS
- Picking your team's name is a very personal experience. It can be a funny name (Livin' on a Spare; I Can't Believe It's Not Gutter), simple name (Joe's Bar; Archie's Garage), workplace name (State Farm Bowlers; RK Real Estate) or a name that hits very close to the bowler and his family.
Glen Coryell's team, Cancer Sucks 3, falls into the last category.
Coryell has stage 3 colon cancer and is going for his very last chemotherapy treatment just a few days after he completes his second year of participation at the
United States Bowling Congress Open Championships
. He knew that nothing was going to stop him from bowling at this year's tournament at the South Point Bowling Plaza.
"My first championships were in 2019, and I bowled pretty well. I could not wait to come back," Coryell said. "But, as they say, due to circumstances beyond my control, I had to wait a few years."
The 2020 USBC Open Championships was canceled due to the COVID-19 pandemic, and Coryell could not come in 2021 due to contracting COVID pneumonia. While going through a full medical screening, he received news that no one wants to hear.
"One morning, I was driving to work, and I saw that that my doctor was calling my cell phone. He told me I had stage 3 colon cancer," says Coryell. "It was found while I was being treated for my COVID-19 symptoms. I actually can say that COVID saved my life. I would have never known about the cancer otherwise."
What went through Coryell's mind when he got the diagnosis?
"I thought of death," Coryell says. "I pictured myself 68 pounds with no hair and sitting in a recliner. Right there and then, I said this is not going to happen to me and my family."
Coryell, a builder of custom homes in McDonough, Georgia, knew he was in for a tough road ahead, not knowing how he would react to his chemotherapy treatment, but thanks to the love of his wife, Toni, his daughters, Madissen and Allysen, and the sport of bowling, he knew it was something he could conquer.
"I wanted everything to stay as normal as possible, and bowling is part of that normal," adds Coryell. "While I could not participate in my leagues at Fun Bowl of Henry County in McDonough, I could be there cheering my team on, as well as watching my daughter bowl for her college."
Allysen is entering her senior year at University of the Cumberlands, a small school in Williamsburg, Kentucky, where she is a member of the school's varsity women's bowling team.
"Madissen and I grew up on the lanes," says Allysen Coryell. "Bowling has always been a part of my life, and being able to bowl in college, and to have my mom and dad there watching me, is just awesome."
Allysen joined her dad on the lanes at the Open Championships this year for the first time. The tournament came close to having the whole family on the team, but "mom" just wanted to watch from the stands.
"My heart was pounding every time Glen or Allysen approached the lanes," says Toni Coryell. "I was asked to join them, but I just wanted to experience this once-in-a-lifetime event of Allysen's first tournament, and Glen doing his thing. Maybe next year in Reno (Nevada)."
Glen had a lot of supporters on the lanes, as there were seven total "Cancer Sucks" teams, with each participant wearing a pink shirt and showing lots of love and support.
"Back in 2019, my friend and teammate, Danny Godfrey, who this year is participating in his 27th Open Championships, said I should come and enjoy the tournament experience," Coryell says. "I did and could not wait to get back on the lanes this year. Nothing, absolutely nothing was going to hold me back."
That includes bowling with Allysen, who is a communications major and wants to get into the field of sports public relations and media. Inquisitive as a good media person should be, she asked her dad if he had anything to share to his fellow bowlers.
"Get a colonoscopy as soon as your doctor recommends it, do not wait," Coryell confidently said. "Even if you put it off just a week, it might be too late."
Prior to coming to Las Vegas, the Coryell family took a trip and hiked the Grand Canyon, and then will be heading to California for a quick vacation, before returning to McDonough for his final round of chemotherapy.
Glen had an amazing tournament, rolling 679 in team (which included the front 10 in Game 2), 557 in doubles and 531 in singles for an all-events score of 1,767. Allysen's debut was just as impressive, with 595 in doubles, 558 in team and 544 in singles. Her all-events total was 1,697.
"Today went beyond my wildest expectations," she adds.
Cancer sucks. Not only a team name and true statement. It's how Glen Coryell lives every day.
Visit us on Facebook at the
official USBC Open Championships page
.