Gerencser takes singles lead as 2023 Bowlers Journal concludes in Reno
July 28, 2023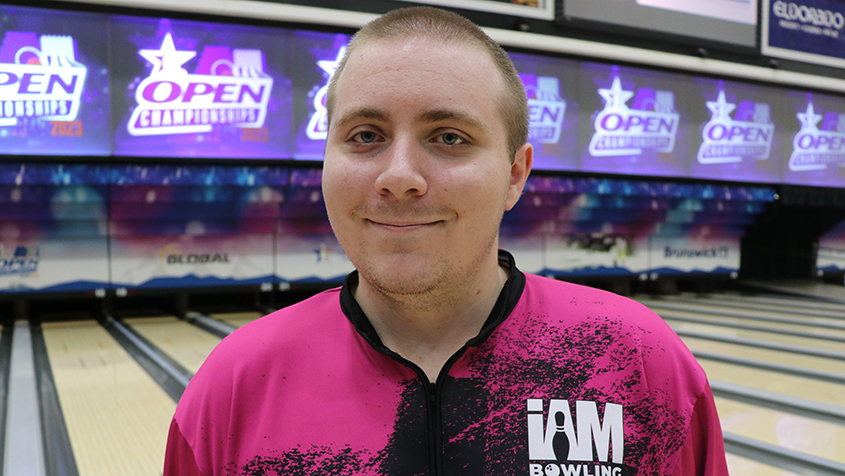 RENO, Nev. –
Joe Gerencser of Henderson, Nevada, saved the top performance at the 2023
Bowlers Journal Championships
for the last 48 hours of the 143-day event, taking the lead in Open Singles in dramatic fashion July 21 with a 787 series.
The 2023 event, which kicked off March 3 on the low end of the National Bowling Stadium, concluded July 23 after celebrating its 76th edition as the premier side event of the United States Bowling Congress Open Championships.
All scores from the 2023 Bowlers Journal Championships are unofficial and pending verification.
Gerencser, now 24, celebrated his birthday a couple days early with his run at the Bowlers Journal Championships by posting games of 276, 243 and 268 to take over the top spot by a pin. Jim Schroeder of Waukesha, Wisconsin, had held the lead in Open Singles with 786.
After the strong start, the right-handed Gerencser kicked off his final game with a strike before an open in the second frame. The open limited his options to get to the outright lead – he needed to deliver 10 consecutive strikes to close the game to get to 787.
The strikes began to add up on Lanes 1-2 as he approached his final frame, and he rolled two more strikes to start his 10th frame. Knowing one more strike would give him sole possession of the lead, Gerencser left little doubt on his fill ball and delivered one more strike.
"When I opened in the second frame, I looked up and thought I was out," said Gerencser, who posted scores of 721 in singles, 597 in doubles and 562 in team for an all-events total of 1,880 during his appearance at the 2023 USBC Open Championships. "I looked up there again and was like, 'OK, I need all of them to get there by one.'"
Gerencser rolled a 300 game at the 2022 Bowlers Journal Championships in Las Vegas, and the talented right-hander captured a Professional Bowlers Association regional title at the PBA West Non-Champions event presented by South Point in February 2022.
He plans to stay busy competing in the Las Vegas area while looking ahead to the return of the Open Championships and Bowlers Journal Championships to the South Point Bowling Plaza in 2024, and he appreciated where his performance from July 21 puts him in his young and growing career on the lanes.
"It'd be pretty big to win an event here," Gerencser said. "It would be at the top."
Although Schroeder was passed by a pin for the top spot in Open Singles, his performance June 3 helped him to the lead in Open Doubles with Christopher Wiley of Bettendorf, Iowa, with a 1,507 total.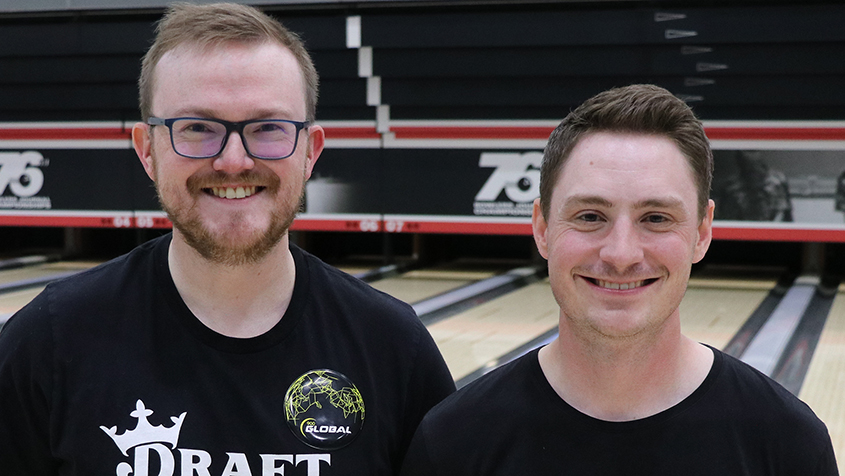 Christopher Wiley and Jim Schroeder
Schroeder's 786 series (279, 231, 276) and Wiley's 721 (243, 247, 231) helped push them to the only score above 1,500 at the 2023 Bowlers Journal Championships. Schroeder also finished in second place with Team USA's Nick Pate of Inver Grove Heights, Minnesota (1,480), in 11th with Anthony Dake of West Allis, Wisconsin (1,406), and 12th with Ryne Greenwood of Kenosha, Wisconsin (1,403).
Wiley, Pate and Greenwood also were part of K and J Finishing 1 of Carpentersville, Illinois, at the 2023 Open Championships, which finished at the top of the Team All-Events standings with a 10,394 total.
Since Schroeder was entered in doubles and singles during his set, he also is in position to claim the top payout in the tournament's Dual Entry prize fund.
Ray Smarsh of Middletown, Delaware, rolled one of the four 300 games at the 2023 Bowlers Journal Championships on the way to securing the top spot in Senior Singles with a 762 series (221, 300, 241), and Ken Wyatt of Sterling Heights, Michigan, posted the top score in Super Senior Singles with a 724 series.
Aris DeLos Reyes of Union City, California, finished at the top of 175 & Under Handicap Singles (741) and Handicap Doubles with Benny Sangalang of Hayward, California (1,319).
Sangalang also finished at the top of the standings in Classified Doubles at the 2023 Open Championships with Charles Garcia of Fremont, California (1,218).
In Senior Doubles, Robby Porter of Rancho Cordova, California, and Andrew Udahl of Elk Grove, California, posted the top total with a 1,366 combined score. Porter led the way with a 689 series, and Udahl added 677.
The optional jackpots at the Bowlers Journal Championships featured three bowlers sharing the top prize for high game (300 – Smarsh, Joshua Pate of Orlando, Florida, and Nick Borgaro of Coeur d'Alene, Idaho) and 36 sets qualifying for 30 clean frames.
Six bowlers – Kyle Barnes of Hermitage, Tennessee; Carl Breaman of Greer, South Carolina; Perry Crowell IV of St. Clair Shores, Michigan; Daniel Farish of Louisville, Kentucky; Steven Roberts of Goodyear, Arizona; and Michael Taylor Jr. of Layton, Utah – went nine for nine to split to the top payout in the Strike Jackpot.
Visit us on Facebook at the
official USBC Open Championships page
.