Gomez, Page, Troup, Prather Advance to Round of 16 in PBA Playoffs
April 09, 2019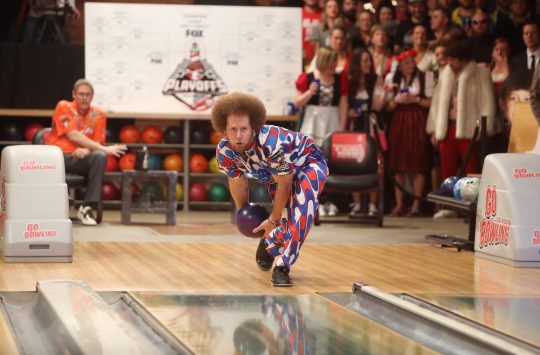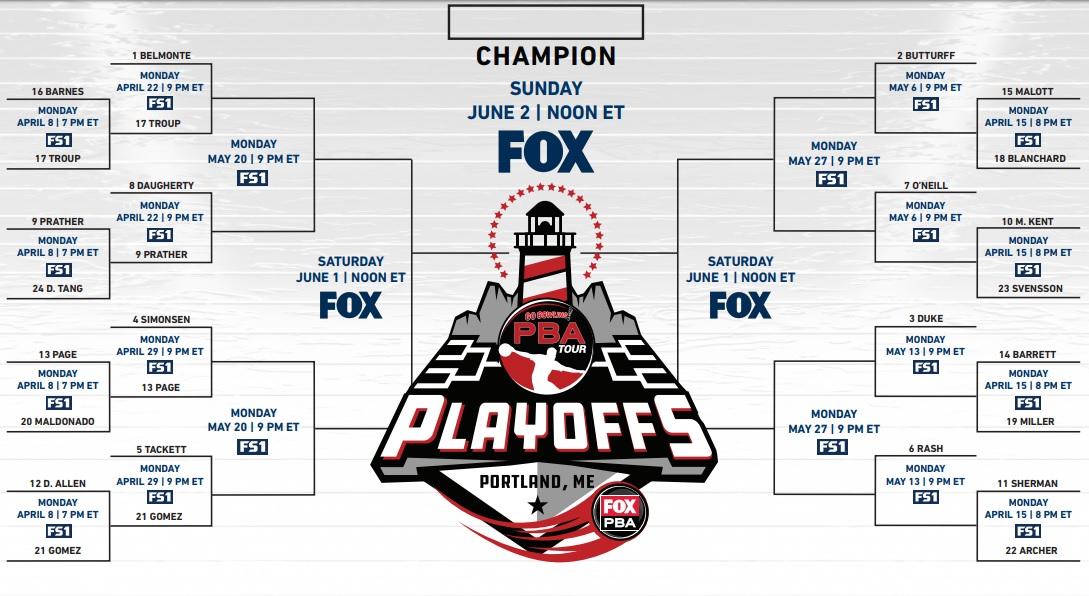 PORTLAND, MAINE (April 8, 2019) – After 13 tournaments on the 2019 GoBowling! PBA Tour – including four majors – the journey to determine the winner of the inaugural PBA Playoffs and a $100,000 payday began Monday at Bayside Bowl with the first Round of 24 telecast that aired live on FS1.
Advancing to the Round of 16 after one-game matches in the first half of the Round of 24 were Colombian Andres Gomez; Rhino Page, Orlando; Kyle Troup, Taylorsville, N.C., and Kris Prather, Plainfield, Ill.
In front of the normally wild Bayside Bowl crowd, No. 21 seed Gomez defeated No. 12 seed Dick Allen, 236-199; No. 13 Page defeated No. 20 Shawn Maldonado, 266-205; No. 17 Troup def. No. 16 Chris Barnes, 236-205, and in the fourth match of the telecast No. 9 seed Prather beat No. 24 seed Darren Tang, 207-183.
The PBA Playoffs continue Monday, April 15 at 8 p.m. ET on FS1 with the completion of Round of 24 single-game elimination action. The second half of the Round of 24 will feature Wes Malott vs. Josh Blanchard; Marshall Kent, vs. Jesper Svensson; Dom Barrett vs. Brad Miller and Kyle Sherman vs. DJ Archer
Round of 16 and Round of 8 matches will be contested April 9 and 10 at Bayside Bowl – which will be televised by FS1 on consecutive Monday nights at 9 p.m. ET beginning April 22 – to reduce the field to four survivors who will return to Portland for the semifinal and final rounds June 1-2, with both shows airing live on FOX at noon Eastern.
Once the Playoffs reach the Round of 16, the format will change to a Race to 2 Points format where each game won is worth one point. If the players split the first two games, a ninth and 10th frame tie-breaker will be used to award the deciding point. The eight winners from the Round of 24 will take on the top eight Playoffs seeds – Jason Belmonte, Jakob Butturff, Norm Duke, Anthony Simonsen, EJ Tackett, Sean Rash, Bill O'Neill and Tom Daugherty – who earned a bye to the Round of 16.
Players earned their berths in the Playoffs by finishing in the top 24 in points which were awarded beginning with the season opening PBA Hall of Fame Classic in January and ended with the USBC Masters which concluded on April 1. Points were awarded based on tournament classification. Tier 1 (major championship), Tier 2 (traditional format tournament), or Tier 3 (small or limited field, short format) events. Tier 1 events awarded 50 percent more points than Tier 2 and three times as many as Tier 3 events.
To view a PBA Playoffs bracket click on
https://www.pba.com/Content/Images/playoffs/2019_PBA_Playoff_Bracket.pdf
PBA PLAYOFFS FIRST FOUR ROUND OF 24 MATCH RESULTS
Bayside Bowl, Portland, Maine, Monday
(aired live on FS1)
Round of 24 (one game, single-elimination matches; losers earn $3,000)
Match 1 – No. 21 Andres Gomez, Colombia def. No. 12 Dick Allen, Lexington, S.C., 236-199.
Match 2 – No. 13 Rhino Page, Orlando, def. No. 20 Shawn Maldonado, 266-205.
Match 3 – No. 17 Kyle Troup, Taylorsville, N.C. def. No. 16 Chris Barnes, Double Oak, Texas, 236-205.
Match 4 – No. 9 Kris Prather, Plainfield, Ill. def. No. 24 Darren Tang, San Francisco, 207-183.
PBA PLAYOFFS SECOND ROUND OF 24 MATCH SCHEDULE
(FS1 air date Monday, April 15, 8 p.m.; order of matches to be determined)
Match 5 – No. 15 Wes Malott, Pflugerville, Texas vs. No. 8 Josh Blanchard, Mesa, Ariz.
Match 6 – No. 10 Marshall Kent, Yakima, Wash. vs. No. 23 Jesper Svensson, Sweden.
Match 7 – No. 14 Dom Barrett, England vs. No. 19 Brad Miller, Lees Summit, Mo.
Match 8 – No. 11 Kyle Sherman, O'Fallon, Mo. vs. No. 22 DJ Archer, Friendswood, Texas.