Guerrero earns top seed as finalists are determined at 2023 U.S. Women's Open
June 19, 2023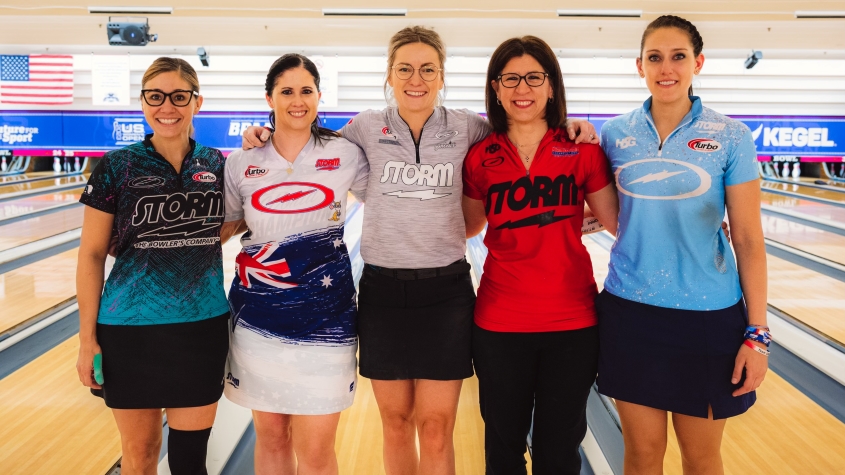 FULL RESULTS
GATES, N.Y.
– The U.S. Women's Open is the most demanding major championship in women's bowling.
A bowler hoping to reach the stepladder finals at the hallowed event must conquer an elite field of competitors, four incredibly challenging oil patterns and a grueling 56-game schedule.
The 2023 edition of the event kicked off last Thursday when 108 bowlers took to the lanes at ABC Gates Bowl hoping to take the first steps toward making their major championship dreams come true.
At the conclusion of Monday night's third and final eight-game block of round-robin matches, only five players remained.
Colombia's Clara Guerrero earned the top seed for Tuesday night's stepladder finals after going 16-8 during match play and coming in with a 56-game score of 12,227, which included 30 bonus pins for each match victory.
By qualifying first, Guerrero was guaranteed a spot in the championship match and will only have to win once in order to secure her second career major title; her first came at the 2016 GoBowling! PWBA Players Championship in Green Bay, Wisconsin.
The 41-year-old right-hander will be joined in the stepladder at ABC Gates Bowl by Bryanna Coté of Tucson, Arizona (18-6; 12,173); Diana Zavjalova of Latvia (18-6; 12,112); Liz Johnson of Niagara Falls, New York (16-8; 12,102); and Danielle McEwan of Stony Point, New York (13-11; 12,050).
The finals will be televised live on CBS Sports Network on Tuesday starting at 7 p.m. Eastern.
The winner will take home the second major title of the 2023 Professional Women's Bowling Association Tour season, the event's coveted green jacket and iconic trophy, and the $60,000 top prize.
For Guerrero, bowling for the U.S. Women's Open title represents the opportunity to make a lifelong dream come true while also flipping the script on what has so far been a disappointing season.
"It's definitely been a tough season, and I've struggled with a few things" said Guerrero, whose best finish on the Professional Women's Bowling Association Tour prior to this week was 33rd place at the GoBowling! PWBA Spokane Open back in May. "After missing a few cuts in a row, it gets very mental.
"I know how tough the U.S. Open is, so I came here with a new mindset and tried to keep things simple. Every round, I built a little more confidence and felt better. It's always been a dream to be the top seed and win the U.S. Open, and I've given myself a chance to do it. Now, I just hope everything goes well tomorrow."
As the No. 2 seed, Coté will be coming to Tuesday's night's telecast looking to create some good fortune of her own.
Despite tying Zavjalova for this year's best U.S. Women's Open match-play record at 18-6, Coté may very well need it as the 37-year-old right hander is the only one of this year's finalists without a major title to her name.
Nevertheless, the 2021 PWBA Tour Player of the Year has proven herself more than capable of performing on the big stage, as is evident by her four career PWBA Tour titles and multiple international medals as a member of Team USA.
Those experiences have taught Coté the importance of having patience on the lanes, and that's a quality she expects to have to call upon during Tuesday's stepladder finals.
"I'm going to have to control the pocket and make my spares because they're going to be very, very hard," Coté said. "Still, all season long I've just told myself that if I stick to my plan and keep moving forward, things will fall into place and go my way. That got me to the U.S. Open TV show, and there's no words for that."
Winning a major title has always been one of Coté's biggest career goals. Now that she stands just two wins away from reaching it, her only regret is that a cherished loved one is no longer here to cheer her on.
"At the end of last year, I lost my grandfather, who was the one who taught me bowling," Coté said. "This is kind of emotional for me because it's sad for him not to be here to able to see this. Still, I'm happy. Winning a major is one of the top goals of my bowling career, and I've earned the opportunity to try to do that. There are no words to describe it."
Zavjalova can probably find the words as she's already done it, win a major that is. In fact, she's done it twice by virtue of her victories at the 2013 and 2017 United States Bowling Congress Queens.
The 31-year-old right-hander has bowled well during the years that followed, yet she hasn't reached the winner's circle since bringing home the title at the 2018 Pepsi PWBA St. Petersburg-Clearwater Open in Seminole, Florida.
It hasn't been from a lack of opportunities, however, as Zavjalova has made multiple telecasts since then.
In fact, she qualified for the shows at the last two PWBA Tour stops prior to this year's U.S. Women's Open, finishing fourth at the PWBA Great Lakes Classic on June 6 and fifth at the Bowlers Journal Cleveland Classic on June 10.
Despite coming up a bit short in her bid for titles at those events, Zavjalova knows that as long as she maintains her confidence, she's capable of winning again at any time, including from the No. 3 seed on Tuesday night.
"I just need to keep a good mindset and really believe in myself," Zavjalova said. "I've made a lot of shows the last few years, but on some of them I've misread the lanes. Tomorrow, I need to pay close attention to the lane transition and hope that I see the lanes well on the show.
"Even though the Queens is my favorite tournament because I've won it twice, I've been dreaming about winning the U.S. Open for a very long time. Winning this tournament would be a dream come true."
Johnson doesn't have to dream about it; she's already done it six times, taking home U.S. Women's Open titles in 1996, 2007, 2013, 2015, 2016 and 2017.
The USBC Hall of Famer has four additional majors to go along with 21 standard titles, which pushes her total number of career PWBA Tour victories to 25. Tuesday night's other four stepladder finalists have a combined total of 16.
Still, Johnson knows that at 49 years old and coming in as the No. 4 seed, she'll have her hands full come showtime.
"There are four other amazing bowlers out there, and they've been bowling great all week and all year," Johnson said. "They're all hungry for this title, so I'm going to have to stay patient and make great shots if I want to have a chance to win."
Johnson would certainly relish such a victory as, at this stage in her career, she's not quite sure how many more opportunities will come her way.
"To make shows this late in the game is special because you never know when or if you're going to get that chance again," Johnson said. "I feel good, so maybe I'll keep doing this into my fifties. Who knows? But for now, it just feels really great to be here."
McEwan, who, as the No. 5 seed, will face Johnson in Tuesday night's opening match, knows almost as much as her counterpart does about what it takes to make the TV finals at the U.S. Women's Open.
That's because Tuesday night's telecast will mark McEwan's sixth U.S. Women's Open stepladder finals appearance as prior to this year's event, the 31-year-old right-hander reached the final five in 2013, 2015, 2018, 2019 and 2022.
Her lone title came in 2019 when she defeated Indonesia's Tannya Roumimper, 201-199, in North Las Vegas. Last year, McEwan finished second to Erin McCarthy of Elkhorn, Nebraska.
Although McEwan would love to add U.S. Women's Open title No. 2 to her resume on Tuesday night, she knows that it's an accomplishment just to make the stepladder finals at such a challenging event.
That's especially true of this year's version of the tournament, which McEwan found to be particularly difficult.
"The U.S. Open is always the hardest tournament of the year, and this year seemed like the hardest version of it I've ever bowled," McEwan said. "All of the patterns were challenging in so many different ways, and all of the bowlers were sharp and at the top of their games. To make the top five at this event with this field took a lot of work."
McEwan's work is far from over, however. After all, she isn't just content to have made the stepladder finals again; she wants to win.
While some may look at the No. 5 seed as a disadvantage, McEwan chooses to see it as an opportunity.
"I have the advantage of being the first one out there on the pair," McEwan said. "I get to get out there, see what the lanes are doing and get comfortable, so I'm going to use that to my advantage. My goal is just to throw as many shots as possible because that's what it takes to win when you're the fifth seed."
In order to reach the stepladder finals, McEwan and company had to survive two eight-game blocks of round-robin matches on Monday, one in the morning and one at night.
Thirty bonus pins were awarded for each win during match play, and the 56-game pinfall totals, including bonus pins, determined the five players who advanced to the stepladder.
Shannon O'Keefe of Shiloh, Illinois, and Juliana Franco of Puerto Rico withdrew from the event prior to the start of the second round of match play on Monday morning. O'Keefe was replaced by Haley Richard of Tipton, Michigan, and Franco was replaced by Estefania Cobo of Puerto Rico.
All 108 competitors bowled 24 qualifying games over three days to determine the 36 players advancing to Round 4. After eight additional games, the field was cut to the top 24 bowlers for round-robin match play.
For more information about the U.S. Women's Open,
click here
.