Hall of famer Liz Johnson wins 2015 USBC Queens
May 19, 2015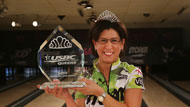 GREEN BAY, Wis. -
United States Bowling Congress Hall of Famer Liz Johnson of Cheektowaga, New York, added to her legacy Tuesday as she became the ninth bowler in history to win multiple titles at the
USBC Queens
, a Professional Women's Bowling Association event.
Johnson opened the championship match against rookie Erin McCarthy of Omaha, Nebraska, with four consecutive strikes to build a 23-pin lead and never looked back as she cruised to a 256-202 victory at The Ashwaubenon Bowling Alley.
Johnson claimed the coveted Queens tiara and $20,000 top prize, while McCarthy took home $10,000 for second place. The 2015 event featured a prize fund of more than $125,000.
"This is going to sound so cliche, but it's a dream come true," said Johnson, who now owns six major titles, including three U.S. Women's Open titles. "To win one Queens back in 2009, and now be able to win a second one to be in such company on a very short list, words can't describe how happy and excited and proud I am. It has been an amazing week."
USBC Hall of Famers Wendy Macpherson and Millie Ignizio are the only three-time winners at the Queens, while Dorothy Fothergill, Donna Adamek, Katsuko Sugimoto, Aleta Sill, Lynda Barnes and Kelly Kulick all have two titles apiece.
Johnson entered the stepladder Tuesday as the No. 2 seed after falling to McCarthy in the final round of the winners bracket. McCarthy averaged 261 in her last two matches, including a 795-651 win against Johnson, to earn the top seed for the TV show.
"I think having the extra game really helped," Johnson said. "I felt a little more comfortable after making the adjustments on the right lane, and I knew I had a great shot on the left lane. I was making good shots and being aggressive and throwing the best shots I could."
On the way to the final, Johnson struck 10 times, including her last four shots, to overcome two splits and sneak past 2006 Queens champion Shannon Pluhowsky of Dayton, Ohio, 234-228.
Pluhowsky, the lone left-hander on the show, started her day with a 225-208 win against defending champion Maria Jose Rodriguez of Austin, Texas, denying Rodriguez the chance to become the first bowler since 1982 to successfully defend a Queens title.
The southpaw was able to pull away with five consecutive strikes in frames five through nine, while Rodriguez's undoing was a 4-6-7-10 split in the fourth frame.
In the opening match, Rodriguez downed Liz Kuhlkin of Schenectady, New York, 10-9 in a one-ball roll-off after the two tied at 227.
Kuhlkin, a two-time national champion at the University of Nebraska, needed three strikes in her final frame to advance but left a 10 pin on her final offering. She left another in the roll-off, allowing Rodriguez to advance.
This week in Green Bay, more than 200 players bowled 15 games of qualifying over three days to determine the 63 bowlers who would join Rodriguez in the double-elimination match-play bracket.
The Queens is the first event of the 2015
PWBA
season. The Tour re-launched this year after a 12-year hiatus. The next event is scheduled for July 9-12 in Sacramento, California.
"I'm just very honored and humbled to be in the position, but I'm not done yet," said Johnson, who was inducted into the USBC Hall of Fame earlier this year. "It has been an amazing career so far, but I'm going to keep going. We have the ladies tour coming up in the summer, and we have a lot of good stuff coming up. Hopefully, I can continue the run."