Hess maintains lead, newcomer makes statement at 2021 USBC Senior Masters
September 15, 2021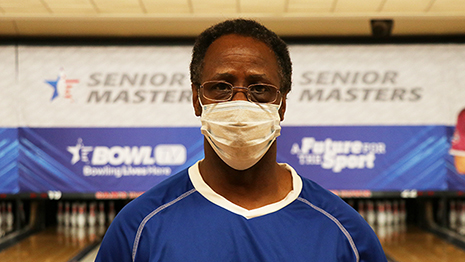 Standings: Round 1 | Round 2

LAS VEGAS -
When Walt Blackston of Hawthorne, California, walked into Sam's Town for his opening round of qualifying at the 2021
United States Bowling Congress Senior Masters
, he put first-squad leader Tom Hess on notice and wasted no time backing it up.
Though Blackston came up a few pins short of Hess' score, the 59-year-old right-hander's confidence remained high, and he returned to Sam's Town Bowling Center on Wednesday for another noteworthy performance.
The rotation of the squads meant Blackston would bowl earlier in the day for Round 2, and he used the opportunity to raise the bar. Games of 200, 234, 227, 244 and 187 vaulted him to the top of the standings after two of the day's three squads with a 10-game total of 2,289.
"It's all about having no fear," Blackston said. "At home, we bowl on conditions that are burned up way more than what we're seeing here, and if you can bowl on that, you can bowl on anything. I'm proud of my performance, and I'm happy to be here. I just love bowling. That's the biggest thing."
Hess also was able to continue his momentum and ultimately reclaimed the lead, but that won't change the fact that Blackston now is a player to watch at the premier event for USBC members age 50 and older.
Competition will continue throughout the day Thursday, after which, 15-game pinfall totals will determine the 63 players joining defending champion Amleto Monacelli of Venezuela in the double-elimination bracket.
Hess, of Granger, Iowa, tops the 223-player field with a 2,343 total, a 234.3 average.
He is followed by Blackston, Parker Bohn III of Jackson, New Jersey (2,263), David Leverage of Peoria, Arizona (2,249), and Chris Barnes of Denton, Texas, and John Gould of Yuba City, California, who are tied for fifth place with 2,203.
Hess is coming off a win at the 2021
Professional Bowlers Association
50 Senior U.S. Open and looking to become the fourth bowler in history to win both the USBC Masters and Senior Masters. He is the 2011 Masters champion.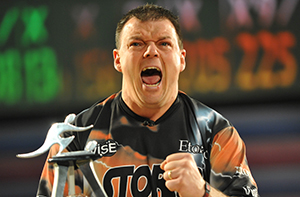 BowlTV.com
is providing wire-to-wire coverage of the Senior Masters, including the stepladder finals, scheduled for Sunday at 1 p.m. Eastern.
Blackston is a longtime truck driver whose passion for bowling meant traveling with bowling balls, allowing him to take the fast lane to the bowling lanes, no matter where he was in the country.
He also is a lifetime bowling fan who turned on the TV each week to watch many of the competitors who now are watching him on the lanes at Sam's Town.
Blackston finished Tuesday's round on the double-burn with a 277 game and 1,197 five-game total. Wednesday's block on the burn didn't end as well, but even with a 187 final game, he managed a 1,092 set and had a great time competing.
"I fell off a little bit at the end, but it's still fun," Blackston said. "It's so much fun. These guys are the best in the world, and I'm just out here tickling their feet."
Recently, Blackston made the decision to stay closer to home to care for his mother, but not being on the road also means more time to focus on his bowling game.
He describes himself as a "regular guy," though his performance this week has been anything but that.
Blackston will be back on the lanes Thursday at 11 a.m. Eastern for his final round of qualifying, which will come on the fresh variation of the week's 40-foot oil pattern.
Even with a 293-pin advantage over 64th place in his debut on the national stage, he still is being careful not to look too far ahead.
"Tomorrow, my mindset is to come in here and knock 'em dead, just like every other day," Blackston said. "If I make it to match play, I'll adjust my mindset for that at that time. It won't matter who it is I'm bowling. The plan will be to take no prisoners."
Monacelli, who recently turned 60 and won the 2021
Super Senior Classic
on Monday, is in 23rd place with a 2,134 total. His 1,143 total in Wednesday's second round helped him skyrocket from a tie for 74th place. He is guaranteed the No. 64 seed in the bracket if he falls out of the cut, but he can improve his seeding for match play during qualifying.
After 10 games, Brandon Libel of Wathena, Kansas, and Keith Dommer of Tucson, Arizona, are tied for 64th place with 1,996, a 199.6 average.
Bowlers advancing to bracket play will compete in three-game total-pinfall matches until the top five bowlers are determined for Sunday's stepladder finals. The winner will take home a $20,000 top prize.
The Super Senior Classic and Senior Masters are taking place at the 56-lane Sam's Town Bowling Center together for the fifth time, a routine that began in 2016.