Hess wins first career title at USBC Masters
February 13, 2011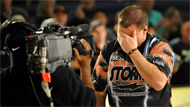 PHOTOS:Finals photo gallery

RENO, Nev. - Tom Hess of Urbandale, Iowa, thrust his hands to the sky, jumped into the air and relished his place in bowling history as he claimed the title at the 2011 Bayer United States Bowling Congress Masters on Sunday at the National Bowling Stadium.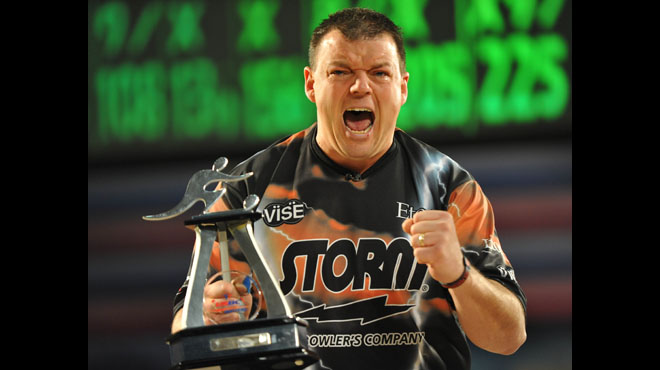 Hess defeated top seed Jack Jurek of Lackawanna, N.Y., 225-214, to win his first career Lumber Liquidators Professional Bowlers Association Tour title.

"I can't put into words right now what this means, this is just a lifelong dream realized," said Hess, who defeated Mika Koivuniemi of Finland, 254-219, for the right to bowl Jurek. "I am a PBA champion now. It's something I've wanted to do since I was very little."

Jurek opened up the championship match in strong fashion, striking on six of his first seven shots and taking a 22-pin lead after seven frames, but disaster struck for the top seed. Jurek left back-to-back splits for open frames in the eighth and ninth.

"All I was thinking was to keep the pressure on him," said Hess, whose only open in the title match came in the first frame when he failed to convert a 4-9 split. "That's why we bowl 10 frames. I caught my bad break early in the game and was able to come back from it."

After Hess struck on his first shot in the 10th frame, he needed just a handful of pins on his final two shots to win, when Jurek approached him and gave Hess some words of advice.

"He actually came up to me and said congratulations, get your emotions together and make a good shot," Hess said. "He's a true gentleman. I almost feel bad that I took his title away from him, but I earned it."


Jurek finished second at the 2006 Masters to Doug Kent, losing as the top seed in that event as well. He said he felt comfortable and was content knowing he made good shots.

"I wasn't the most relaxed that I've been on television, but I wasn't bad," said Jurek, a two-time winner on the PBA Tour. "I felt like I made a lot of quality shots. The two open frames I had in the eighth and ninth, that's part of bowling. Those were two shots where I didn't feel nervous or anxiety."

When Jurek stepped up in the final frame of the championship match, he trailed by one pin. He delivered a clutch strike on his first shot, but left a pocket 7-10 split on his second shot and got one pin.

"Even a spare there forces him to go spare, strike to win and for your first title and a major title, that's not the easiest thing to do," Jurek said. "Throwing the second strike in the 10th and forcing him to double to win would have put a whole new emphasis on things. It was a huge shot."

In the semifinal, Hess and Koivuniemi both started with five consecutive strikes before Koivuniemi opened in the sixth frame. Hess went on to throw two more strikes to run his string to seven in a row before leaving the 3-6 in the eighth frame. Hess converted spares in the final three frames to advance.

In the opening match of the day, Koivuniemi jumped out to a big lead against Mike DeVaney of Murrieta, Calif., and took a 230-206 victory.

The 2011 USBC Masters featured a field of 256 of the top professional and amateur players in the world competing for an overall prize fund of $235,000.

The Masters was the second stop on the new World Bowling Tour organized by the World Tenpin Bowling Association. The World Tour is a new concept developed by the WTBA to showcase the best bowlers from around the world.

Players who compete in the selected international events and finish among the top three men and top three women in the final points standings will be eligible to compete in the World Bowling Tour Finals, a special televised event with a prize fund of $40,000.

2011 BAYER USBC MASTERS
At National Bowling Stadium, Reno, Nev.
Sunday's results

Final standings

1, Tom Hess, Urbandale, Iowa, 479 (two games), $50,000.
2, Jack Jurek, Lackawanna, N.Y., 214 (one game), $25,000.
3, Mika Koivuniemi, Hartland, Mich., 449 (two games), $15,000.
4, Mike DeVaney, Murrieta, Calif., 206 (one game), $10,000.

Stepladder results

Match One - Koivuniemi def. DeVaney, 230-206
Match Two - Hess def. Koivuniemi, 254-219
Championship Match - Hess def. Jurek, 225-214