Hispanic Heritage Month offers Guerrero chance to share about Colombian culture and life in the USA
October 13, 2021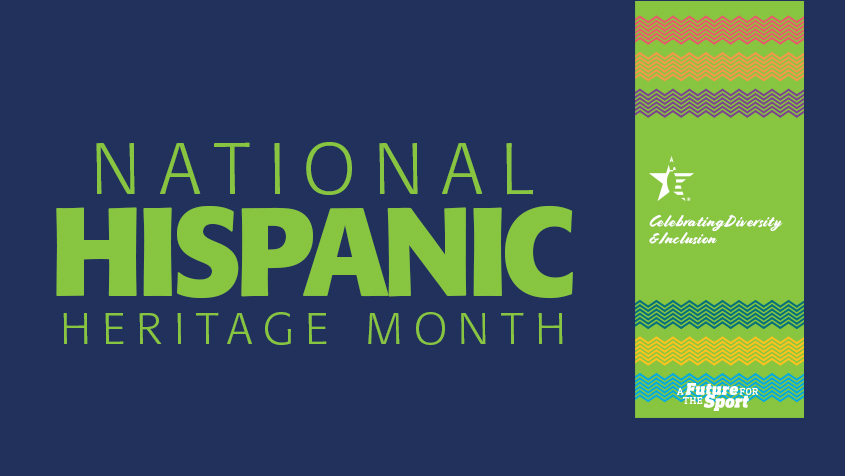 ARLINGTON, Texas -
For a brief time during the winter of 2002, part of Clara Guerrero's day included wheeling her three-ball bowling bag through the snow and across the Wichita State University campus.
Along the way, she quickly realized the light outerwear that helped her through the chilliest of days in her tropical home of Armenia, Colombia, would be no match for the Kansas winter, but while the daily trek was challenging, and sometimes frustrating, it also was symbolic of her personal journey.
The Spanish-speaking Guerrero arrived in Wichita in January 2002 with her sights set on a career in professional bowling and understood how valuable her time with the Shockers would be for her education and for elevating her bowling game prior to beginning her pro career.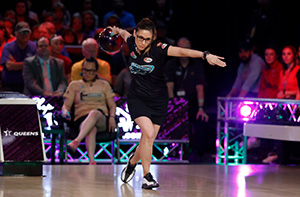 Unfortunately, despite studying English in middle school and high school, her limited skills meant she'd need to take a few more English classes before she'd have the opportunity to showcase her bowling abilities for her new teammates and the rest of the collegiate bowling world.
The delay may have impacted her timeline, but it did not derail her goals. She remained committed to training and practicing, but the reason she needed to transport her equipment each day was because she didn't know how to ask for a locker at the bowling center.
Guerrero's decision to attend Wichita State came at the advice and influence of fellow Colombian star Sara Vargas, who was a trailblazer in the space just a few years earlier. Vargas also helped solve the storage dilemma after a quick chuckle.
"The whole experience was a cultural shock, and I missed home so much, but it turned into a beautiful experience," said Guerrero, who joined the Wichita State bowling team in 2003. "Sara opened the door for us and showed us the way, and it was amazing to have her there to help."
Vargas and
Professional Bowlers Association
Tour champion Andres Gomez were the first of many Colombian bowlers to move to the United States, and as the anniversary of Guerrero's own move approaches, she realized she now has been in the United States for as much of her life as she was in Colombia. She will turn 40 in April.
The move was years in the making, a seed planted while watching Venezuelan star Amleto Monacelli excel on the PBA Tour, beginning in the 1980s.
Guerrero's brother was a huge bowling fan and her parents were bowlers, so watching the PBA Tour telecasts on TV was something they did as a family, even if it meant staying up past her bedtime.
Monacelli helped create a blueprint for international competitors, while Guerrero's own Team Colombia teammates helped give her the confidence to pursue her own dreams.
"The person I looked up to as a little girl was Amleto, and seeing him on TV and winning made me think I could do it someday, too," Guerrero said. "Kim Kearney was the woman I looked up to most, and I now can say they're both my good friends. It's incredibly special how it all has come full circle. I feel so proud to be one of the international players on tour, and it's amazing to see so many countries represented."
Guerrero knew the decision to move would be best for her goals, but it didn't come without sacrifice. To make it happen, her parents had to sell their house and vehicles, and that's something that continues to motivate her on the lanes.
Another obstacle Guerrero encountered early in her transition was when the
Professional Women's Bowling Association
shut its doors in 2003. Though she still was a few years from graduating and joining the PWBA, her path became as clear as a Wichita sidewalk in a winter snowstorm.
The resilient right-hander stayed patient and again found her way.
Her bowling game progressed, she helped the Shockers to a national championship in 2005 and she met the man who would become her husband in 2007 - fellow bowler Josh Kubiak.
After their time in Wichita concluded, Guerrero and Kubiak moved to Austin, Texas, to be closer to Kubiak's family, something that was important for the family-oriented Guerrero.
Beyond just the security of having loved ones nearby, the move gave Guerrero a home base for the next chapter of her life, which included finding new competitive opportunities within the PBA and becoming a citizen of the United States.
"Having the opportunity to become a citizen of the United States is something near to my heart, and I'm incredibly grateful to this country for opening its doors and arms to me and so many others," Guerrero said. "In a way, I'm very proud to be able to say I'm from both places when I'm out there in the world competing."
While embracing her new home and culture, Guerrero has been careful to make sure her Hispanic and Colombian heritage continue to be a part of her daily life. The diverse Austin community and food options certainly help her feel closer to home, but there's nothing like the real thing.
She visits Colombia multiple times each year, her family members visit her whenever they can and two of her favorite holidays - Christmas and New Year's Eve - are celebrated with as much Colombian tradition and flair as possible.
Because Colombians celebrate Christmas on Dec. 24, the timing allows her to then embrace the American and Kubiak traditions for a second day of celebration on Dec. 25. Ringing in the new year in Colombia is more about family and being at home than Dick Clark and Times Square, so some compromise is required there.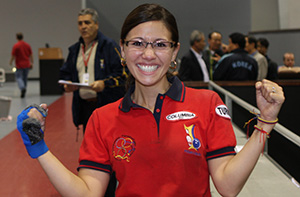 Another way Guerrero has maintained her Colombian identity is by remaining active as a member of the Colombian national bowling team, something she has done all but three years since 1995.
She was the 2000 World Amateur Bowler of the Year, 2005 World Ranking Masters champion, 2009 World Bowling Writers Bowler of the Year after a pair of gold medals at the International Bowling Federation World Women's Championships and was inducted into the World Bowling Writers Hall of Fame, also in 2009.
Guerrero has collected dozens of medals in international competition and picked up a pair of QubicaAMF Bowling World Cup titles in 2014 and 2015.
Anytime she's on the lanes, whether she's in Colombia's colors or has her nation's flag on her jersey, she competes to make her family and country proud. She also knows she's out there as a role model for the next wave of young girls and boys curious about the competitive world beyond their home borders.
That includes while she's competing individually on the PWBA Tour, which relaunched in 2015 and allowed Guerrero, along with a handful of other Colombian standouts, to resume their intended bowling trajectory.
Guerrero's lone title came as a major at the 2016 Go Bowling PWBA Players Championship, while Maria José Rodriguez and Rocio Restrepo also have found the winner's circle.
Rodriguez and Restrepo were two more of the many Colombian bowlers who competed collegiately in the United States and decided to stay after college. Rodriguez lives in the Austin area, and Restrepo resides in Ohio.
The three will see their 2021 competitive calendars wind down in the coming weeks, but it won't be the ending they originally were hoping for.
Due to a combination of restrictions, timing and personal decisions, the three were not able to return to Colombia for the event that determined the national team members for the year.
The collective decision not to attend the team trials also included left-hander Anggie Ramirez Perea, who recently announced her own United States citizenship, and meant the four would not be able to defend their team title at the upcoming IBF Super World Championships in Dubai, United Arab Emirates, or at the PANAM Bowling Adult Championships, where the Colombia women are the two-time defending team champions.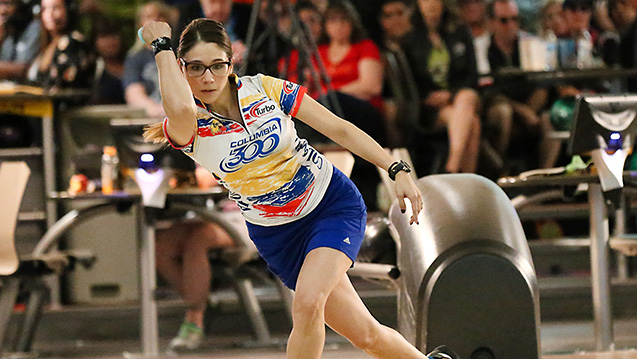 Though the established stars won't be representing Colombia at the events, it will give a new group of competitors the chance to step into the spotlight.
Instead, the veterans will focus their attention on the conclusion of the 2021 PWBA Tour season, which wraps up this month with a trio of events at the National Bowling Stadium in Reno, Nevada.
The 2021 PWBA Fall Classic Series at the NBS will feature the PWBA Reno Classic, PWBA Pepsi Classic and PWBA Tour Championship. The Series- and season-ending Tour Championship will be considered a major, and the winner will take home a $50,000 top prize.
"I felt a little rusty after not bowling much during COVID, and this hasn't been my best season, but I feel extremely ready going into this final series of events," Guerrero said. "I think we're all a little disappointed about not being able to bowl the PANAM event (in Colombia) and the World Championships, but that hasn't affected my preparation for Reno. I'm looking forward to being able to finish the season strong, especially with it ending with a major."
Designating the final event as a major and offering the enhanced top prize was part of an August announcement from the United States Bowling Congress and Bowling Proprietors' Association of America that also stated that the four major championships they present each year - the U.S. Women's Open, U.S. Open, USBC Queens and USBC Masters - will be awarding $100,000 to each champion through 2023.
Team USA's Josie Barnes of Hermitage, Tennessee, won the record $100,000 first-place prize at the 2021 U.S. Women's Open in August for her first major title and fourth PWBA Tour title overall.
This story about Guerrero is part of an ongoing digital media campaign recognizing various groups, organizations and bowlers that make up the USBC membership, while also bringing attention to topics that affect the world on a larger scale.
USBC will continue to expand its diversity and inclusion topics and welcome the opportunity to showcase the people and other areas that are important to the members.
This month (Sept. 15-Oct. 15) has been a celebration of Hispanic Heritage Month.
If you know someone who is a standout or inspiration, or you'd like to suggest a topic close to you, please let us know more by sending an email to
PR@bowl.com
.
For more information about USBC and its programs and partnerships, visit
BOWL.com/Diversity
.