Hulsenberg psyched for Team USA debut
August 13, 2012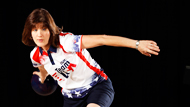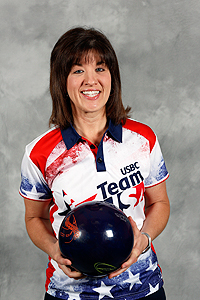 Leanne Hulsenberg may have thought she put her rookie days behind her with a 1987 Rookie of the Year award on the ladies' tour. But when she shoes up for
Team USA
at the 2012 Pan American Bowling Confederation Combined Championships in Henderson, Nev., next week, she will stand in the shoes of a rookie for the first time in 25 years.
"I am totally happy with the way my career turned out. I had a good, long run and I pretty much did everything I wanted to do," the 2011 U.S. Women's Open
champion
explains. "So to think that there is more I can do in bowling is pretty cool."
The notion that Hulsenberg still would be adding to her bowling resume decades into her career would be no surprise to those who watched a teenage Hulsenberg, then Barrette, shoot practice at Boulevard Lanes in Edmond, Okla. The surroundings may have been different for the native Californian who moved to Oklahoma when her father transferred for his job with General Motors, but the game remained the same.
"She is the most explosive female bowler I have ever seen," Richard Altman, then-proprietor of Boulevard Lanes, told Bowling Digest in 1992. "Leanne has a legitimate shot at being the best female bowler ever."
The "explosive bowler" of whom Altman spoke—the one known in those days as "Boomer"—had plenty of reason to agree with him then. The 24-year-old had reached 13 titles at a younger age than any female pro before her, and she had just added Player of the Year and Bowling Digest Women's Bowler of the Year honors to her growing list of accolades.
Asked at the time what her long-term goals were, Hulsenberg said she hoped to bowl the tour for "at least 10 more years." She could not have known then that 10 more years was almost exactly the amount of time she had left, that the tour would fold for good when she was just five titles shy of tying the tour's winningest player, Lisa Wagner, who claimed 32 titles in her career.
The three titles Hulsenberg won in 2002 alone, the year before the tour collapsed, leave little doubt that she was well on her way to doing just that.
"I thought, 'Oh, my God, what am I going to do?'" Hulsenberg recalls of the tour's demise. "It was a bit panicky."
Fellow USBC Hall of Famer and longtime friend, Kim Terrell-Kearney, recalls Hulsenberg was ready to bowl for quite a bit longer than just those 10 more years she had planned on.
"When we first stopped touring, she more than anyone was intent on bowling the men's tour and bowling regionals," Terrell-Kearney says. "Honestly, there was more anxiety and panic with her than anybody. This is what she was going to do with her life, and now it was just absolutely gone."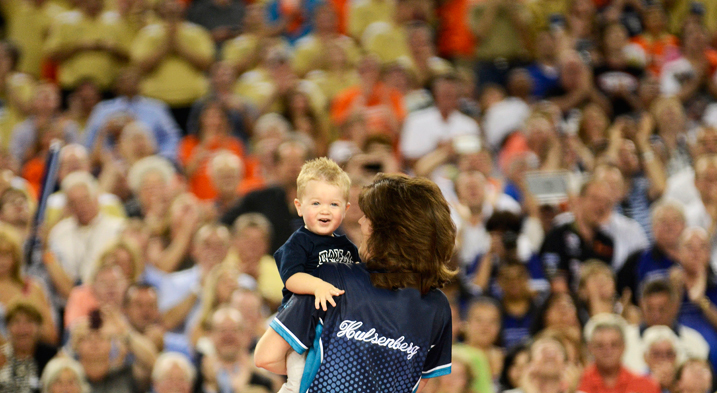 But Hulsenberg has two good reasons to not feel all that panicky these days. They are called Gary and Barrett, her husband of five years and her three-year-old son. Add a job as Youth Leader at Steve Cook's Fireside Lanes in Citrus Heights, Calif., and that panic Hulsenberg felt after the tour's demise feels like an awfully distant memory.
"I met Gary a month after the tour ended, and not long after I got a great job working for Steve Cook," Hulsenberg says. "So things have turned out great for me. I had the best career I could imagine and now I still have time to have a family."
In addition to the encouragement of her husband and some persistent prodding from Team USA coach Terrell-Kearney, the youth bowlers Hulsenberg mentors at Fireside Lanes can claim the lion's share of credit for her decision to compete at the 2012 United States Bowling Congress
Team USA Trials
. Hulsenberg's days on tour may be done, but in some ways, her work has only begun.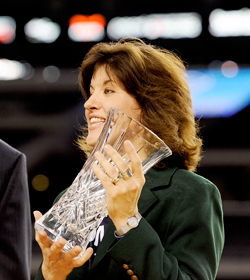 "To be honest, what motivates me these days is the work I do with the kids in northern California," Hulsenberg says. "Just seeing how eager they are to learn, how they just want to bowl. They all went to Indianapolis to bowl
Junior Gold
this year and half of them did better than they have ever done before, and they wanted to bowl the day they got home. Their enthusiasm and willingness to learn is what keeps me going."
Those kids have reawakened the fiery teenager within Hulsenberg whose talent turned heads at Boulevard Lanes all those years ago. The dreams that moved her then all came true, but the thing that comes with a phone call inviting you to represent your country is a sense of duty that carries at least as much weight as dreams.
"My first thought was, 'I don't want to let them down,' especially after watching them win gold last year in Hong Kong," Hulsenberg says. "I know all the girls on the team and I have admiration for all of them. But I do know I am the rookie and they've bowled together a lot. I feel like I am a good team player, and I am open to coaching and all that, and I am really looking forward to it."
Hulsenberg will join fellow Team USA stars Liz Johnson, Stefanie Nation, Diandra Asbaty, Shannon Pluhowsky and Josie Earnest in representing the women at the PABCON Championships starting Monday. The Team USA men will be represented by Patrick Allen, John Janawicz, Steve Smith, Bill O'Neill, Marshall Kent and Tommy Jones.
Bowling fans can watch the entire event live on BOWL.com's
BowlTV
.