Hurricane Harvey a Sobering Experience for Texas Bowling Community
September 02, 2017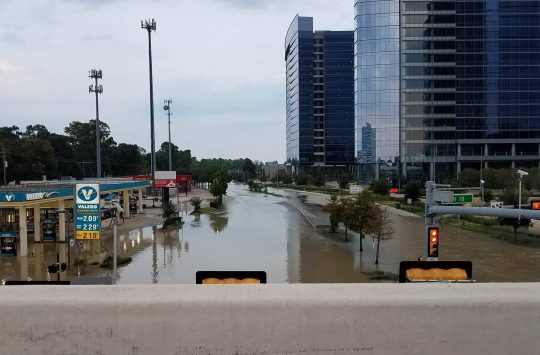 Southeast Texas is home to some of the greatest bowlers of the past and present PBA Tour, including hall of famers such as David Ozio, current tour players such as Shawn Maldonado and D.J. Archer, and PBA Southwest Region Manager Pete McCordic and his brother, Paul, among others. Hurricane Harvey's devastation affected some of them more than others, but it left all of them with a sobering experience they will not soon forget.
Compared to others in the area, Maldonado and Archer made it through fine, though Archer reported that residents were rescued by boat just a few blocks from his home. Ozio's experience, however, was quite a bit different.
"My home came within two inches of getting water in it," said the 63-year-old Ozio Thursday. The 11-time PBA Tour champion is a longtime resident of Beaumont, where the storm left much of town under water, without power and without any water supply. "I was up at all hours every day using a squeegee to push the water out of the patio into the pool. We never lost power, so I just put the pool to waste and I was sucking the water out of the pool and into the sewer so that I could just transfer the water from the patio into the pool. I was doing that for six days, until finally the rain subsided enough that the water no longer was threatening to come in through the back door.
"Then, my wife is a night owl, and she heard at about 1:30 in the morning that the water pumps in town were about to burn out and would only have pressure for a few more hours. So she runs in there and takes a shower and then filled up all the bath tubs in the house and a bunch of pots with water. I had to go up in the attic and turn the hot water heaters off and got that done and went back to bed. I mean, it was insane. Just insane. We worked our way through Hurricane Ike and Hurricane Rita, but this has been the most monumental thing. We've got a lot of friends who took six feet of water into their houses."
Ozio downloaded an app for iPhones through which he listened to dispatchers sending boats into town to rescue people from their homes, and learned that the only passable road out of town was I-90. Even then, the way out of Beaumont would not be easy.
"I had to push about two feet of water for about six miles to get out of town," said Ozio, who headed out in his Chevy Suburban. "My wife was absolutely panicked driving through it, and there were cars stranded everywhere. It's just been a week-long nightmare, to be honest with you. But we're good now, just out of harm's way."
Ozio headed to his daughter's house in Tyler.
"The only issue now is gas,"added Ozio, who runs an outfitter business out of Lake Fork. "There's no gasoline anywhere. One of my clients from Dallas called me and he drove around for four hours and said there's no gas anywhere."
Steve Wunderlich, Managing Partner at Cowtown Bowling Palace in Fort Worth and a three-time PBA Tour champion, confirmed that report.
"The craziest thing right now is that gas stations are running out of gas everywhere," he said Friday. "There is a gas station half a block from me where there was a line around the block of people waiting for gas. The media is playing it up, showing the long lines on the news, telling everybody to only drive where they have to because they may not be able to fill up."
Eight-time PBA regional titlist Paul McCordic, 63, got through the storm without his house in Katy taking in any water, but he said the 17-mile drive to a Houston-area bowling center at which he normally practices felt just as hopeless as a four-hour search for gasoline.
"I like to practice three or four times a week, and I just can't get to the center right now because of the damage to the freeways in town," he said Friday. "The last few days I have tried to go practice but after an hour of trying I just turned around and came back. Trying to get around has been just a nightmare the last two days. I think it's going to be tough to get to some of the bowling centers just because of the repairs that need to be done to the freeway system. One of the freeways that had a lot of flooding, the barriers that separated the northbound and southbound sides had been pushed all the way to the other side of the road. Those barriers are so heavy they had to use cranes to lift them and put them back where they were. That just shows you how much force there was in those flood waters.
"And then the thought I had is that this is a huge week for bowling, with the fall leagues starting up, and for a lot of people around here I am sure that's not a high priority right now. It's just incredible to me how many people lost their houses," he added. "Sometimes the media finds a puddle of water to stand in and sensationalizes it, but there is a lot to sensationalize here, I'll tell you. My wife, one of her friends had water in her home, and she's over there today to help clean it up. It's scary. George R. Brown, a large convention center downtown, had 10,000 people in it. Every shelter they have set up filled up incredibly fast, so you know there's tens of thousands of people and I just don't know where they're going to stay. I don't know if their homes are repairable and, if so, they have to get crews in and do that. And even then, while they're working on them, their homes are uninhabitable. Where are they going to go?"
BJI contributor Mark London, a Houston resident, reported that two days ago the flood waters depicted here completely submerged the gas pumps at the gas station to the left.
One place locals are not going is the bowling center. Don Ellis Jr., owner of Emerald Lanes in Houston, confirms Paul McCordic's suspicion that bowling may not rank among the highest priorities for victims of the flood.
Ellis, 55, explained that his center remained high and dry throughout the ordeal, but said, "We don't have anyone coming through the front door because they don't know how to get here."
That may be a common theme throughout southeast Texas for some time.
Two-time PBA Tour titlist Pete McCordic, 63, said, "I think every major highway in the city is in some state of disrepair or has portions of it that are still flooded. Traffic is so bad because so many roads are not open."
Still, Ellis is heartened by the calls coming in from people asking when their fall league meetings will convene.
"It's basically given us a seven-day delay," he said. "We've got a little tournament this weekend, and we'll see if anybody shows up for it. We're just going to muddle through it like everybody else is, make sure folks have food, water and bread. Believe it or not, bread is a commodity around here right now."
Ellis said he prepared for that eventuality as Harvey drew nearer to the Texas coast as the first Category 4 hurricane to strike the state since 1961, when Hurricane Carla destroyed nearly 2,000 homes, killed more than 40 people and cost more than $300 million. AccuWeather estimated that Harvey, by contrast, may cost up to $190 billion. Yes, with a "b."
"I knew it was coming, so we loaded up on water and we get deliveries on Wednesdays and it happened on Friday," Ellis said. "So I probably dished out a dozen loaves of bread to anybody that needed it. Water, bread, bacon, hamburger meat. You can't eat it if it's going to sit in a refrigerator for five to seven days, so my employees might as well take it home with them."
Scenes and stories of Harvey's devastation ignited that same charitable spirit in PBA Tour champion Connor Pickford, 25, who plans to deliver thousands of bottles of water and other needed supplies to Houston on Monday with help from fellow PBA Tour titlist Kyle Troup and a former roommate, Kole Payne.
"Basically, I felt compelled to try to lend a hand to anybody who needs it," Pickford, who lives in Dallas, said Friday. "Kole, he's also a bowler and he delivers all kinds of supplies and PVC pipe and stuff like that all over the country, and he comes to Texas pretty often. He is in town this week, and I said, 'What if we could kind of band together and see how many bottles of water we could buy, and then donate it?' If we get enough big pallets, I might need somebody to help me get to Houston, and he's got a 25-foot flatbed in Texas with him right now."
Pickford garnered some donations for the effort after posting about the plan on Facebook.
"I've had half-a-dozen people reach out to me and say, 'How can I help?' and they donated some money. We're going to buy pet food, canned food, baby diapers and formula. That's what I have been told is really needed the most."
Pickford said anyone wanting to help should email teamfishbowling@gmail.com.
"Every dollar people donate is going to be spent on goods," Pickford said. "I am going to Houston, and I am going to try to get to Beaumont, but I don't know if I can get to Beaumont right now. I mean, Max Bowl in Port Arthur opened their doors to people who have been displaced and they have around 400 people in there right now. Worst case, if I can't make it down to Houston, because there is also a gas shortage going on right now, I am going to find a Dallas-based organization that is going to be planning a delivery. I want to find the most trustworthy source; I want to make sure it gets into the hands of the people that need it."
Pickford said in an Aug. 31 Facebook post that he had taken in $500 in donations by that point.
Still, amid the nightmare gripping Houston in the wake of the first major hurricane to make landfall in the U.S. since Wilma struck south Florida 12 years ago, Paul McCordic takes some of the edge off with a little levity.
"If this truly is a 500-year flood, at least I won't be around for the next one," he said.