Hurricane Matthew Forces Cancellation of PBA Xtra Frame Tour Event in Florida
October 04, 2016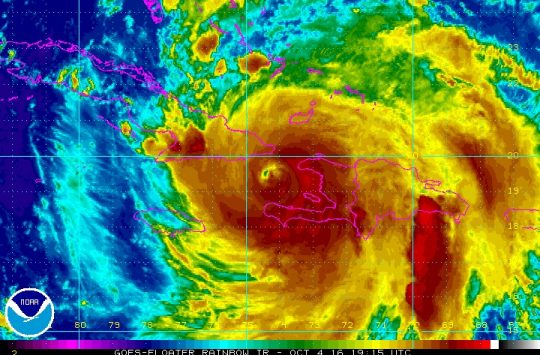 Powerful Hurricane Matthew made landfall on the Tiburon Peninsula of Haiti at 7 a.m. on Oct. 4 and was forecast at that time to track close to the east coast of Florida after raking across all of the Bahamas.
TAMARAC, Fla. (Oct. 4, 2016) – With Hurricane Matthew bearing down on south Florida, the Professional Bowlers Association, in cooperation with its host center, Sawgrass Lanes, has canceled the inaugural PBA Xtra Frame Reality Check Tamarac Classic scheduled for this weekend.
The tournament will be re-scheduled as part of the PBA Xtra Frame Tour's 2017 series.
Cancellation of the Tamarac Classic means the PBA Xtra Frame South Point Las Vegas Open, scheduled for Oct. 29-30 at South Point Bowling Plaza in Las Vegas, will be the final event in the race for the winner-take-all $10,000 bonus in the 2016 PBA Xtra Frame Series points race.
The leaders in the Xtra Frame series points race are E.J. Tackett of Huntington, Ind., who has won a pair of 2016 PBA Tour titles in the PBA Xtra Frame Storm Open and the PBA Bear Open; future PBA Hall of Famer Tommy Jones of Simpsonville, S.C., who won his 17th career title in the Downums Waste Services PBA Jonesboro Open earlier in the year, and Ryan Ciminelli of Cheektowaga, N.Y., who won the bowlingball.com Maine Shootout in April and Sunday's Parkside Lanes Open.
Tackett, Jones and Ciminelli rank 1-2-3 in Xtra Frame Series points with 75, 72 and 69 points, respectively. In the Xtra Frame series, tournament winners earn 25 points, runnersup receive 19 and all others earn points which diminish by one point through 20 place.
Still within mathematical reach of first place are Sean Rash of Montgomery, Ill., and Texas teenager Anthony Simonsen, the 2016 USBC Masters winner, with 52 points each.
The Xtra Frame Series, which includes exclusive live coverage of the entire tournament on PBA's online bowling channel, gives up-and-coming young bowlers an opportunity to test their skills against some of the PBA's greatest stars.