Husband and wife take Classified Doubles lead at 2022 USBC Open Championships
May 05, 2022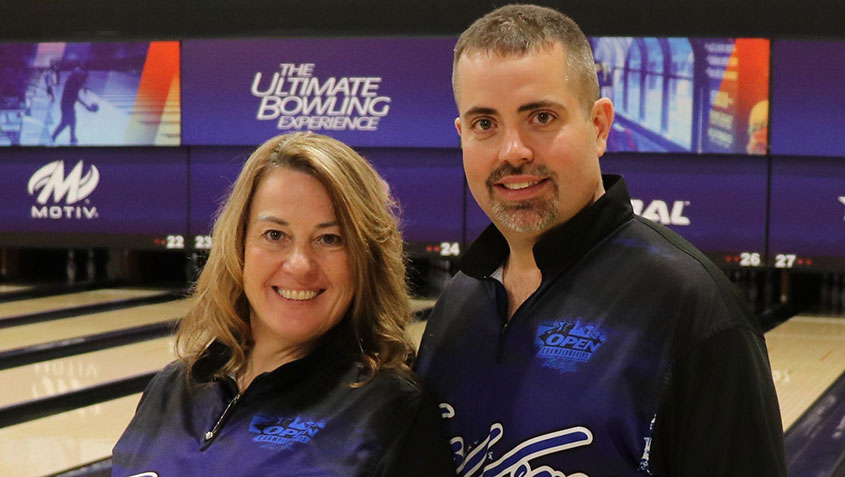 By Nick Bonsanto
USBC Communications

LAS VEGAS
- Nathan and Betsy Nigh of Rushville, Indiana, have made their way to the lead in Classified Doubles with a score of 1,138 at the 2022
United States Bowling Congress Open Championships
at the South Point Bowling Plaza.
The husband-and-wife duo bested the previous leaders of Arick Shibata of Hilo, Hawaii, and Ricky Torres of Kea'au, Hawaii, who held the high mark of 1,132.
Bowling in their eighth USBC Open Championships, the pair did not really know they had a shot at the lead going into the 10th frame. They were genuinely surprised and in disbelief when they realized that they accomplished it.
Betsy talked about what she was thinking at the time.
"You must be kidding me," she said. "I didn't believe what was going on. We come to nationals to just bowl and have fun."
Betsy paced the duo, rolling games of 192, 164 and 240 for a 596 series. Nathan bowled 178, 168 and 196 for a 542 series.
Classified Doubles includes pairs with combined entering averages of 310 and below.
The new leaders also competed in the Classified Division for singles and all-events, which includes bowlers with entering averages of 155 and below.
Nathan rolled an all-events total of 1,648 at the 2022 event, besting Betsy by 48 pins, as she totaled a 1,600 score. Nathan added scores of 561 in team and 545 in singles, while Betsy had 535 in team and 469 in singles.
Their scores on Tuesday and Wednesday were their best individual performances in their eight years of competition at the Open Championships.
The current leader in Classified Singles and Classified All-Events is Ronald Hilliard of Lancaster, California, with 665 singles and 1,824, respectively.
Betsy overcame injuries to make it to the 2022 Open Championships. She's had two knee surgeries, with the second coming less than six months ago.
Betsy and Nathan bowl at Rushville Bowl, which is owned by Rushville's James Ephlin, who will make his 49th Open Championships appearance later this month. Betsy received a text from Ephlin before they bowled.
"He's in my phone as Mr. Bowling," she said. "He texted me good luck and make as many spares as possible."
When asked if their performance Wednesday ranks at the top of their bowling accomplishments, Betsy replied, "This is it. This is the best we have ever bowled here."
Visit us on Facebook at the
official USBC Open Championships page
.