IBC Youth Development awards 35 Bowler's Ed grants
February 02, 2016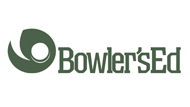 ARLINGTON, Texas – Each year, the International Bowling Campus Youth Development team receives applications from schools and organizations seeking Bowler's Ed grants, which awards mobile bowling equipment that help teach the sport of bowling to children.

Over the last year, applications for Bowler's Ed grants grew by nearly 400 percent and the IBC Youth Committee made the decision to award Bowler's Ed grants to 35 applicants in 2016.

While the cost to IBC Youth will be higher than in past years – the value of a kit is $1,300 – the kits will help introduce bowling to an estimated 150,000 children. The New York State USBC assisted by providing two of the grants.

"When you examine the cost of the Bowler's Ed kits to the impact this will have on the schools, organizations and communities, we decided to award all applicants who qualified," said Melissa McDaniel Morrow, who chairs the IBC Youth Committee. "Through the Bowler's Ed program, we are able to reach a large audience of children, many who will experience bowling for the first time."

The Mobile Bowling Equipment program annually helps schools, youth groups and other organizations teach students the lifelong sport of bowling though education, instruction, fitness and fun.

"Our Youth Development Specialists have been educating centers about the Bowler's Ed program and how the centers can promote the program when they go talk to schools in their area," said Gary Brown, IBC Youth Managing Director. "It is a great program to get young people excited about the sport and we are seeing more school and organizations taking advantage of this educational and fun program."

More than half of the kits will be awarded to the following schools or school districts:
Acadia Parish School Board, Crowley, La.
Assumption Catholic School, Fairfield, Conn.
Berryhill Elementary, Tulsa, Okla.
Bishop Hennessy Catholic School, Dyersville, Iowa
Boiling Springs Intermediate School, Boiling Springs, S.C.
Brockport Central School District, Brockport, N.Y.
Burlington Christian Church School, Burlington, Colo.
Como Park Elementary School, Lancaster, N.Y.
Cooperative Association for Special Education, Glen Ellyn, Ill.
Deer Creek Prairie Vale Elementary, Edmond, Okla.
Duval County Public Schools, Jacksonville, Fla.
Harriet Bishop Elementary, Savage, Minn.
Holy Family Catholic School, Fort Worth, Texas
Holy Ghost Immaculate Conception, Dickeyville, Wis.
Konawa Elementary School, Konawa, Okla.
Lead Academy Public Charter School, Greenville, S.C.
Lincoln Avenue School, Dolton, Ill.
Lyncourt Union Free School District, Syracuse, N.Y.
Madison Elementary School, Madison, Kan.
Marshall Middle School, Wexford, Pa.
Morgan Elementary School, Morgan, Utah
North Liberty Elementary School, North Liberty, Ind.
Ottauquechee School, Quechee, Vt.
River Valley Elementary School, Three Oaks, Mich.
Robison Elementary School, Tucson, Ariz.
St. Mark's Cathedral School, Shreveport, La.
Summit Academy North, Romulus, Mich.
Tippecanoe Valley Middle School, Akron, Ind.
WB Simpson Elementary School, Camden-Wyoming, Del.
The grants to the Brockport Central School District and the Lyncourt Union Free School District were funded by the New York State USBC.

Public or private educational institutions with grades K-8 or 501(c) 3 non-profit organizations serving youth in grades K-8 are eligible to receive the annual grants. An organization is eligible to receive funding once every three years; individuals are not eligible to apply or receive awards.

The organizations selected to receive grants are:
Boys & Girls Club of Martin County, Hobe Sound, Fla.
Boys & Girls Club of White County, Monticello, Ind.
Catholic Charitable Bureau of Archdiocese of Boston Inc., Dorchester, Mass.
Cowiltz USBC, Kelso, Wash.
Special Olympics Missouri, Jefferson City, Mo.
Scott County Family YMCA, Scottsburg, Ind.
Go to BOWL.com/Youth-Resource-Center and click on the Bowler's Ed section for more information about the program and to learn how schools and organizations can partner with Bowler's Ed to benefit their school, project and/or charity.