IBMA Selects Rhino Page as October Kegel Bowler of the Month
November 23, 2017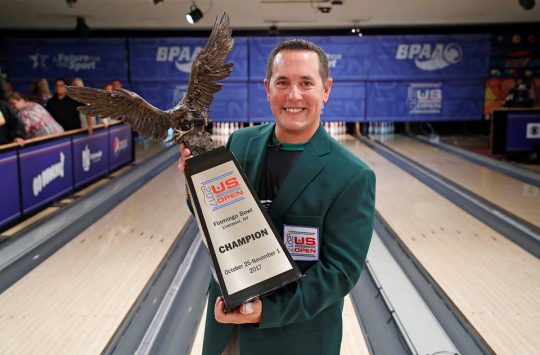 Rhino Page has been selected as the October 2017 Kegel Bowler of the Month by the International Bowling Media Association. Page defeated top-seeded Jakob Butturff, 256-222, for the 2017 U.S. Open title, his sixth PBA title and first major crown.
The television stepladder finals began with fifth-seeded Graham Fach, Guelph, Ontario, Canada, downing fourth-seeded Norm Duke, 259-222. Third-seeded Wes Malott ousted Fach, 186-179. The second-seeded Page then bested the 2013 U.S. Open Champ, 226-155, setting up the title match with Butturff.
Page slowly climbed up the leaderboard in qualifying, ending the first round in 48th place, rising to 30th, 13th, then finishing the fourth qualifying round in 4th place. He stayed in the top five during each of the three match play rounds, getting to second place for the stepladder finals.
Others obtaining votes this month were Yannaphon Larp-apharat, winner of the World Bowling Tour (WBT) Thailand 2017, Paul Moor, winner of the 8th Sofia International Open, and Raymond Jansson, winner of the Norwegian Open 2017 by Brunswick.