Illinois bowler marks return to USBC Open Championships with run up Classified leaderboard
June 23, 2021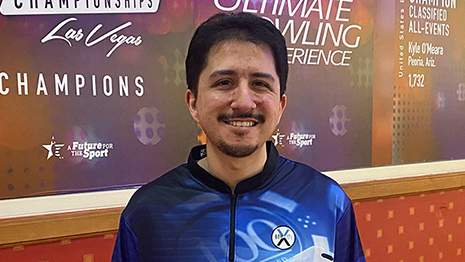 By Matt Cannizzaro and Cassidy Courey
USBC Communications

LAS VEGAS -
For the first time since 2008, Michael Martinez of Cicero, Illinois, participated in the
United States Bowling Congress Open Championships
, and while his initial goal simply was to have an enjoyable trip with his friends and family, his focus now will shift to keeping an eye on the event's online leaderboards.
Martinez had no idea his overall performance at the South Point Bowling Plaza and South Point Bowling Center was good enough for a run up the leaderboard, and he was in disbelief when he found out he was the new Classified All-Events leader.
The 32-year-old right hander posted sets of 646 in team, 610 in singles and 544 in doubles, and a late-falling 9 pin on his final shot netted him the first 1,800 total in the Classified Division since 2014.
Martinez's 1,800 was the best performance of his four tournament appearances by more than 150 pins and bested Austin Eastman of Sioux Falls, South Dakota, who previously held the lead this year with 1,758.
"I had no idea I was even close to the lead," said Martinez, who made three consecutive trips to the USBC Open Championships, starting in 2006. "It's so exciting. I'm speechless. I wasn't really watching the scores. I was pretty calm bowling with my friends but still focused on bowling my best."
Going into singles Wednesday at the South Point Bowling Center, Martinez needed a 569 series to take the lead in all-events.
He opened with games of 198 and 201, before starting the final game of singles with five consecutive strikes. A few more marks and a 211 finish vaulted him into the stop spot. Barry Mortimeyer of Roseville, California, leads Classified Singles this year with 674.
Martinez admitted he never would have thought he'd be leaving Las Vegas with the chance to win an Eagle. He plans on checking the standings every day for the remaining 25 days of the tournament.
The 2021 Open Championships kicked off its 79-day run on May 1 and will run daily until July 18.
The Classified Division includes individual bowlers with entering tournament averages of 155 and below.
Visit us on Facebook at the
official USBC Open Championships Facebook page
.