Indiana bowler celebrates 50 consecutive years at USBC Open Championships
July 22, 2023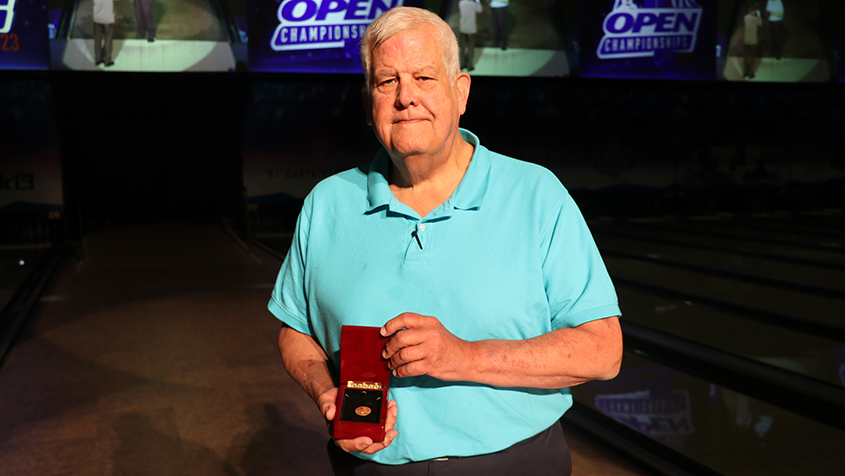 RENO, Nev. –
James Ephlin of Rushville, Indiana, became the final bowler to reach 50 years of participation at the 2023
United States Bowling Congress Open Championships
, and he had quite the entourage to help cheer him on for his milestone appearance at the National Bowling Stadium.
The 68-year-old was accompanied down Center Aisle by his teammate and son, JT, as he received a chevron, plaque and diamond lapel pin to commemorate his 50th consecutive appearance at the event.
Ephlin made his first appearance at the USBC Open Championships in 1973 in Syracuse, New York, and he could feel the excitement and nerves well before his day in the spotlight at the NBS.
"I was nervous about this day when they came and took my picture last year during my 49th tournament, but it was a good type of nervous," Ephlin said. "I should have already gotten here if it wasn't for the COVID year canceling the tournament in 2020, but I'm happy I am here today with many of my friends and family."
Many friends and family members made the trip to Reno to support Ephlin for his 50th appearance. Along with JT, he was joined by his wife, Karen, daughter, Annie, and was surprised by his sister-in-law, Jean, and niece, Chrissy, who made a promise to come out for his milestone celebration.
Ephlin is known by most in Rushville as Mr. Bowling, and Rushville Bowl is where you will find him most nights along with his wife, running the center and accommodating their customers.
"I work the counter and count the money, while my beautiful wife, Karen, runs the kitchen," said Ephlin, who said that owning a bowling center has been challenging at times but is rewarding due to his passion and love for the sport of bowling.
After 50 years of bowling on the championship lanes, Ephlin was able to reflect on a few of his favorite moments over the years.
"Well, I would definitely rank being able to bowl on the same team with my father, James Sr., in 1984 right before he passed away," Ephlin said. "He was the one that got me involved in the game and allowed me to bowl nationals when I turned 17.
"Another moment I really enjoyed was seeing my name up on the leaderboard back in 1982 when they would post high scores from the day before. I had never had my name up in the bright lights before like that, and it was just such a surprise to me."
In the last few years, Ephlin has enjoyed being able to share the lanes with JT, just like he and his father were able to do.
"I love being able to bowl with my son, and I plan on doing so as long as I am healthy enough to keep coming to the tournament," Ephlin said. "When I get down on myself with my scores in my older years, JT is always there cheering me on and letting me know I'm doing a great job and to keep my head up."
Now that he has reached 50 years, Ephlin plans on bowling as many years as his health allows and would like to make it to 60 years at the Open Championships.
He was able to close out his 50th event with a 474 series in team, 430 in singles and 417 in doubles for an all-events total of 1,321, getting him to a career pinfall total of 80,038 and career average of 180.2.
"My wife, Karen, and son, JT, continue to support my bowling, and I am going to keep on bowling with their encouragement helping to get me here each year," Ephlin said.
A total of 20 participants celebrated their 50th appearance at the 2023 Open Championships, bringing the all-time total to 332 bowlers over 119 years of competition.
The 2023 Open Championships kicked off March 4 and will conclude July 24. The 143-day tournament will feature more than 9,700 five-player teams and nearly 50,000 bowlers making their way to compete in The Biggest Little City in the World.
Visit us on Facebook at the
official USBC Open Championships page
.