Indiana bowler final new member of 50-Year Club at 2021 USBC Open Championships
July 13, 2021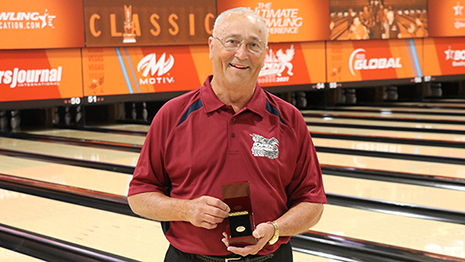 LAS VEGAS -
Lee Nichols of Warsaw, Indiana, had his family by his side as he became the year's final new entrant into the 50-Year Club at the
United States Bowling Congress Open Championships
.
The journey began at the 1968 event in Cincinnati, but it wasn't until more than three decades later that Nichols began thinking about his milestone march to the lanes, even though the early part of his USBC Open Championships career was spent alongside some of the tournament's most noteworthy participants.
Among the bowlers who shared the lanes with Nichols in the early part of his tournament career were USBC Hall of Famer Bill Doehrman, Frank "Chick" Carr and Herman Muesing, who all hailed from Fort Wayne, Indiana, and combined for 188 Open Championships appearances.
Doehrman, also a 1922 team champion, is one of three bowlers to reach 71 years of participation, while he and Carr (62 years) both are members of the 100,000-Pin Club. Muesing, who bowled 55 times, was the squad organizer who first invited Nichols to the tournament with them.
"I had the opportunity to cross with some incredible bowlers and see a lot of great cities along the way," Nichols said. "I shot a few 700s over the years and had some memorable performances. I even made a run at 800 at the 1975 event in Dayton (Ohio) and ended up with the cameras behind me. That was pretty neat, but really, every tournament has a story."
Also during his debut in 1968, Nichols had the opportunity to bowl doubles and singles with a different group of legendary competitors.
His then-employer, Dan Johnson, a 1963 Team All-Events champion, needed a bowler, and it meant competing in the Classic Division, which separated professional and non-professional entrants from 1961-1979.
That experience resulted in one of Nichols' top tournament memories, as he was a few lanes away from hall of famers Bill Tucker and Don Johnson, and Tucker rolled one of the two perfect games tossed during the 1968 event.
One of the photos that followed the 300 was featured in Bowling Magazine, and the photo showed Nichols' name on the nearby scoreboard.
Even without the star-studded company, the Open Championships likely was going to be a destination for Nichols, simply because he loved bowling and competing.
The 72-year-old right-hander is a lifelong bowler who worked as a mechanic for more than 20 years and was a proprietor and pro shop operator.
"I'm a bowler," said Nichols, whose home bowling center is The Bowling Alley in Warsaw. "I've been bowling my whole life. I was pretty competitive back when I was younger, too. And, like everyone, I always wanted to win an Eagle. It has been great to be able to compete each year, but it also was nice to be able to take the kids and make a vacation out of it around spring break or something like that."
It was Nichols' wife, Fran, sons Jason and John, and grandson Ian, who walked him to the lanes Monday at the South Point Bowling Plaza, where he received a plaque, chevron and diamond lapel pin to commemorate the milestone. He was the 22nd, and final, bowler this year to reach 50 years of participation.
John Nichols has competed in the tournament 27 times, and Jason has made a handful of appearances, too. Neither bowled in the 2021 event, however.
Nichols wasn't even sure that he'd make it to Las Vegas to compete this year.
Initially, he was slow to recover from a knee replacement a little over three years ago, and there was continuing uncertainty surrounding the COVID-19 pandemic, which forced the cancellation of the 2020 tournament.
But, he made it.
"You don't think about this milestone," Nichols said. "It probably became something we talked about around 35 or 40, and it became more difficult when some guys I was bowling with stopped coming. It was nice to be here and have my family with me. Really, there's faith, family and country. And, bowling, of course."
In his milestone appearance this week at South Point, he rolled sets of 539 in team, 515 in singles and 463 in doubles for a 1,517 total. In 50 tournaments, he has knocked down 82,636 pins for a career average of 184.8.
Visit us on Facebook at the
official USBC Open Championships Facebook page
.