Indiana team captures first USA Bowling national U12 title
August 16, 2016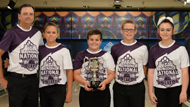 USA Bowling National Championships U12 winners (from left): Coach Chris Toyias, Kyle Toyias, Hayden Smith, Reece Dunbar, Shayla Gwynn.

ARLINGTON, Texas – After having competed against each other for state titles during the last couple of years, the top middle-school bowlers in Indiana joined together to go after a national team title.

Competing in the 12-and-under division at the inaugural USA Bowling National Championships in Indianapolis, the Indiana U12 All-Stars proved to be as good collectively as they were individually as they captured the national title. The youth team event was held in July, and the finals from Western Bowl were televised Tuesday on CBS Sports Network.

The USA Bowling National Championships title match consisted of best-three-of-five Baker format. In the Baker format, team members alternate frames, and with four-player teams for the event, the leadoff bowler would bowl the first, fifth and ninth frames, while the second bowler would bowl the second, sixth and 10th frames.

The Indiana U12 All-Stars, the Lower Great Lakes regional winner, dropped the opening game of the title match against Team Georgia, the Coastal South regional champion. Team Georgia had just one open frame and closed with four consecutive strikes to take a 199-166 victory.

But, the Indiana U12 All-Stars would take Game 2, 181-151, and then pull out a slim, 187-180, victory to take a two-games-to-one lead.

In Game 4, the Indiana U12 All-Stars strung together six consecutive strikes on the way to a 234-162 victory to capture the first title of the USA Bowling National Championships.

Kyle Toyias started the run of strikes in the sixth frame, and teammates Reece Dunbar, Hayden Smith and Shayla Gwynn followed his lead. Kyle would complete the strike run with a double in the final frame.

"Well, once you start something with your team, they get pumped, and they want to do what you did," Kyle said about his teammates. "Throwing a good shot, that makes them want to throw an even better shot."

The team members of the Indiana U12 All-Stars all were high finishers at recent state middle school championships. Shayla is a two-time state champion, Reece was the fifth-grade state champion and runner-up last season, and Kyle, who made the cut to match play at the 2016 Junior Gold Championships, was third at the Indiana Youth State tournament.

Chris Toyias figured if he could pull together the top players from the state tournament, he would have a pretty solid team.

"In 2015, after the bowling season, I decided to put the best middle-school bowlers in fifth grade together for this USA Bowling team," said Chris Toyias, coach of the Indiana U12 All-Stars. "We won our regional in October, and we've been practicing and working toward this goal right here since October."

Shayla, who also made the cut to the top eight for match play at the Junior Gold Championships, said the team was pretty good from the start.

"We've only bowled together in tournaments like four times, but it's a good team" Shayla said. "We know that we can pick each other up when we open, we know we can get our spares. We were pretty nervous because they beat us (in qualifying), but we brought it back and made sure to close frames."

Team Georgia, coached by Jeffrey Collins and assistant coach Christopher Griffith, pulled together their team from bowlers who compete on the Georgia Youth Bowlers Tour. Team members were Jacob Ballenger, Joshua Collins, Bryant Griffith and Braden Sorrentino.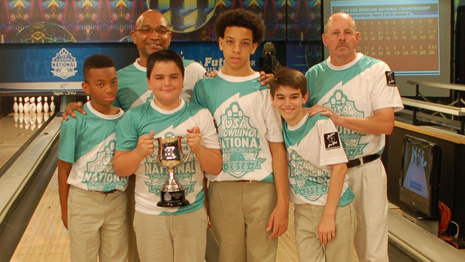 Team Georgia (from left): Bryant Griffith, assistant coach Christopher Griffith, Jacob Ballenger, Joshua Collins, Braden Sorrentino, coach Jeffrey Collins.

Starting in the fall of 2015, USA Bowling conducted 16 regional events across the country to determine the 32 teams – 16 in the 12-and-under division and 16 in 15-and-under division – that would represent their regions at the national tournament.

At the USA Bowling National Championships in Indianapolis, all teams bowled 15 games of qualifying to determine the seeds for the double-elimination match-play bracket. The Baker format was used for all qualifying, with best two-of-three matches determining which teams advanced in the bracket.

International Bowling Campus Youth Development introduced the USA Bowling National Championships with four regional events in 2013. It grew from the USA Bowling program, a team-based youth program to introduce youngsters to the sport that follows the same structure as other youth sports by placing children on a team, providing a coach and holding regular practices along with weekly competitions.

USA Bowling is a product of the Youth Education Services (YES) Fund, a joint initiative of the Bowling Proprietors' Association of America and United States Bowling Congress supported by top bowling brands including Bowling.com, Brunswick, Columbia 300, Ebonite, Hammer, QubicaAMF, Roto Grip, Storm and Track.

Go to BOWL.com/USABowling for more information about the USA Bowling program and the USA Bowling National Championships.

USA BOWLING NATIONAL CHAMPIONSHIPS 
At Western Bowl, Indianapolis 
FINALS RESULTS 
12-and-under division 
Lower Great Lakes regional champion Indiana U12 All-Stars (Reece Dunbar, Shayla Gwynn, Hayden Smith, Kyle Toyias) def. Coastal South regional champion Team Georgia (Jacob Ballenger, Joshua Collins, Bryant Smith, Braden Sorrentino), 3-1.