Inspired Jake Peters sets pace at 2022 USBC Team USA Trials in Las Vegas
January 03, 2022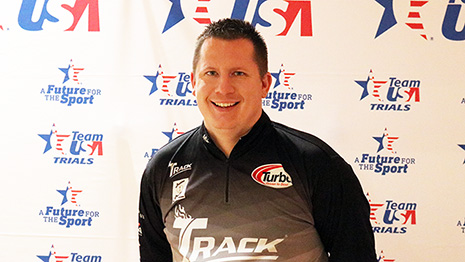 Day 1 Results: Men | Women

LAS VEGAS -
Jake Peters of Henderson, Nevada, made a promise to his late wife, Melissa, and honoring that immediately made him one of the most motivated bowlers in the world.
His progress and determination showed Monday at the Gold Coast Bowling Center, where he averaged more than 230 over six games to lead the 161-player men's field after the first of five days of competition at the 2022
United States Bowling Congress Team USA Trials
.
The event features a unique point-based format, and Peters' 1,381 total earned him one ranking point as the leader for the round.
The top bowler of each round this week will earn one ranking point, second place will earn two points, etc. - with the lowest total of ranking points after five rounds determining the men's and women's USBC Team USA Trials champions. Each will earn an automatic spot on
Team USA
for 2022.
All rounds of competition are being broadcast live at
BowlTV.com
.
Las Vegas youth standout and two-time
Junior Team USA
member TJ Rock finished the day in second place with a 1,348 total and was followed by former Junior Team USA member Justin O'Shaughnessy of Pewaukee, Wisconsin (1,340), and current team member Alec Keplinger of Wichita, Kansas (1,332).
Recent Team USA member Steve Badovinac of Parker, Colorado, and defending U.S. Amateur champion Cameron Crowe of Orland Park, Illinois, tied for fifth place with 1,318. Defending Team USA Trials champion Matt Russo of Ballwin, Missouri, finished the day in a tie for 25th place with a 1,243 total.
"I haven't bowled Team Trials in six or seven years, and that was primarily because I was focused on coaching some local youth players during this and helping them reach their goals and dreams of making Junior Team USA," Peters said. "I've never made adult Team USA, and that always has been a goal for me. Usually, I'm not a fast starter, so it's awesome to get out of the gates strong. The Team USA mantra and having that on your back is so cool and humbling and a credential that stays with you forever. It would be an honor to have another chance to represent our country."
Peters, a 32-year-old right-hander, already had established himself as an up-and-coming talent, finding success at every level at the game, but he sometimes wondered if all the hard work would translate to the financial stability he wanted for his family.
As his married life began in 2013, he found ways to make sure they were taken care of, while still being involved in the sport he loved, even if it meant less opportunity for him to practice and compete.
Melissa Peters knew what her husband was capable of, beyond the list of accolades that included two years on Junior Team USA, three collegiate national titles with Wichita State and a
Professional Bowlers Association
Tour title, all before the age of 25.
Before she lost her battle with cancer in May 2021, she made him promise that if anything happened to her, he'd return to the lanes and take aim at what she knew he could accomplish. She was adamant about him focusing on his game and making an all-in effort to reach his potential.
"Through everything, my wife was incredibly supportive and pushed my career as my biggest fan, my coach and my best friend," Peters said. "During the progression of all we went through, we had many conversations about the future. I promised her that if something happened, I'd absolutely do what she was asking. I've made it a point to really focus on my game and work hard. In the coolest way, it feels like we're still doing this together and we're still a team. It has been the best way to feel like I'm still connected to her."
Two months after her death, Peters made and emotional return to professional competition at the 2021 PBA Lubbock Sports Open and came within one errant frame of finding the winner's circle on the PBA Tour for the first time in more than eight years.
He knew the experience would be incredibly emotional, and it was, but he eventually found comfort in being back on the lanes and simply "playing bowling again."
"It wasn't about anything other than just getting to be out there bowling again," said Peters, who lost to Shawn Maldonado in the title match, 222-199. "It was emotional for the first 36 hours or so, but then there was some relief in the familiarity. What started as a distraction to kind of get away, ended up being like a safe place. Somewhere I could go and play and focus on an outcome, and that was really fun."
Any disappointment in the loss was overshadowed by the affirmation that he was where he belonged and that bowling would continue to be the thing that kept him most connected to his wife.
He has since added a pair of PBA regional titles to his list of accomplishments and was named the 2021 Steve Nagy Sportsmanship Award winner, which was voted on by his fellow PBA Tour competitors.
Those on-lane relationships, along with support from the bowling community as a whole and the Wichita State family they left when they moved to Nevada, helped Jake and Melissa Peters through the last two years.
Much like their whirlwind relationship and most of the decade since they met in Wichita, the timeline of Melissa's illness was accelerated, too. In October 2019, at age 32, she initially was diagnosed with an aggressive form of breast cancer, HER2-positive, and that soon metastasized to her brain.
"We had just gotten back from Sweden and Malta for bowling and a vacation, and we were living the life we wanted to live," Peters said. "When that diagnosis came in, our world stopped, and beating it became our focus. I always felt she was the strongest and most amazing person I knew. The things she went through were so unreal, and she never stopped fighting. It was so fast, but I truly believed in my heart she was going to beat it and we were going to celebrate that with another trip around the world. I will keep my promise to her, and 2022 is off to a great start."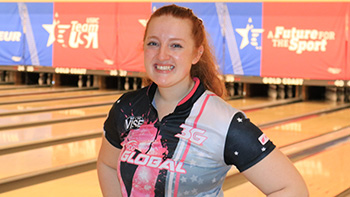 On the women's side Monday at the 2022 Team USA Trials, former Junior Team USA member Alexis Neuer of Milton, Pennsylvania, proved how far she has come in increasing her versatility and eliminating any lingering self-doubt.
She overcame a 167 start and averaged 218 over her six games to lead the 125-player women's field with a 1,308 total. That included a 247 effort in her final game on the day's 38-foot oil pattern.
Neuer was followed by two-time U.S. Amateur champion Breanna Clemmer of Clover, South Carolina (1,304), longtime Team USA member Shannon Pluhowsky of Dayton, Ohio (1,303), past Junior Team USA member Taylor Bailey of Jonesboro, Arkansas (1,286), and Lindsay Brown of Clemmons, North Carolina (1,282).
Kelly Kulick of Union, New Jersey, the two-time reigning Team Trials champion, is not competing this week, but she is in Las Vegas as part of her new role as the head coach for Junior Team USA.
"I utilize a wrist brace, and I'm getting better at learning when to use it and when not to use it," said Neuer, a 23-year-old right-hander. "I took it off after 18 frames today and went to a more aggressive ball, and it gave me a great look. I struggle with confidence sometimes because I do have a weaker hand, but I'm happy with how I performed today. I'll have a much different mindset after this, and it will help overcome some of the self-doubt I have sometimes."
Neuer and Peters will lead their respective fields back onto the lanes Tuesday, where the competitors will face similar 40-foot oil patterns for six additional games. The women will take the lanes first, getting underway at 11 a.m. Eastern, and the men will bowl their second round at 6 p.m. EST.
The tournament will conclude Friday with the introduction of Team USA and Junior Team USA 2022.
The top four age-eligible men and top four age-eligible women this week, based on ranking points, will earn automatic spots on Team USA, while two additional men and two additional women will be selected by the National Selection Committee from the pool of players that competed during the week at the Gold Coast Bowling Center.
Bowlers now must be at least 18 years old as of the end of the 2022 Team USA Trials to be eligible for the adult version of Team USA.
The National Selection Committee also will select additional men and women for the team based on submitted resumes. Those applicants must have been Team USA or Junior Team USA members within the last 10 years or among the top 25 in earnings during the 2021 PBA Tour season or top 25 in points during the 2021 PWBA Tour season.
After the final qualifying round at the Team Trials, the top three amateur men and top three amateur women will advance to a stepladder final to determine the U.S. Amateur champions. Both winners will earn spots on Team USA.
If the U.S. Amateur champion already has earned a spot on the team, the spot will be awarded to the next-highest Team USA Trials qualifier based on ranking points.
To be eligible for this year's U.S. Amateur, a bowler must not hold or have held a professional membership (PBA or PWBA) in 2021. Also, anyone who has won a professional title (regional, national or senior) as a professional is not eligible to compete as an amateur.
For youth competitors, the top four age-eligible boys and top four age-eligible girls, based on ranking points, automatically will earn spots on Junior Team USA 2022. Two additional boys and two additional girls also will be selected by the National Selection Committee based on performances from either the 2022 Team USA Trials or 2021
Junior Gold Championships
.
They will join the youth competitors who already earned their spots on Junior Team USA 2022 during the 2021 Junior Gold Championships.
BowlTV will provide wire-to-wire coverage of the events, including the announcement and introduction of Team USA and Junior Team USA 2022.