Is there a Cinderella story in the making at the 2022 USBC Open Championships?
April 09, 2022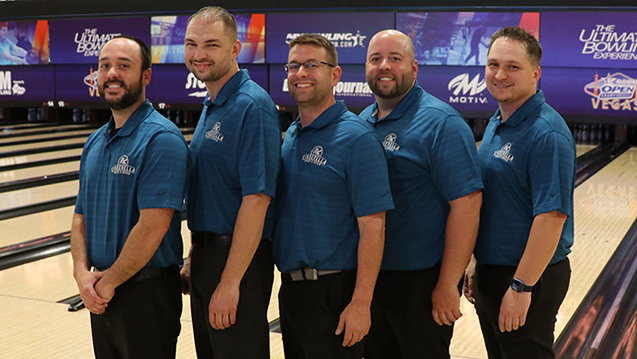 By Nick Bonsanto
USBC Communications

LAS VEGAS -
Cinderella Shoes of Bradley, Illinois, danced all the way into the lead in Standard Team at the 2022
United States Bowling Congress Open Championships
on Friday.
The team got off to a great start at the South Point Bowling Plaza with games of 1,078 and 966 for a two-game total of 2,044 and then needed just 893 to take the lead.
Team captain Matthew Nanos was a little concerned in the third game, but the team managed to rally for a 961 finish and 3,005 total. Parkway Bowl Team 1 of Lakeside, California, previously held the lead this year with 2,936.
"We started the last game cursed," said Nanos, an 11-time participant at the USBC Open Championships. "We gathered ourselves together as a team, started making spares and the strikes followed."
Jordan Fox led the way for Cinderella Shoes with a 661 series and was followed by Jesse Fox (660), Adam Lubert (597), Matthew Nanos (594) and Shea Nanos (493).
The performance marked the second time since the introduction of the Standard Division in 2017 that a team had eclipsed the 3,000 mark. Proformance Team 2 of Clermont, Florida, took home the title in 2021, also at South Point, with a record 3,086 total.
Matthew Nanos, who is the bowling coach at Bradley-Bourbonnais Community High School, knew the team was in contention for the lead Friday and about what score was required to get there.
Jordan Fox did the heavy lifting in the pivotal third game, closing with eight consecutive strikes. He was a new addition to a team that finished 38th in the Standard Team standings at the South Point Bowling Plaza in 2021.
"He had a huge finish," Matthew Nanos said. "He absolutely took us over the top."
The team now will have a lengthy wait to see if the score is enough. The 2022 Open Championships kicked off its 129-day run March 12, and it will conclude July 18.
"We love bowling in Vegas and look forward to the 2023 tournament in Reno (Nevada), as well," said Matthew Nanos, whose home bowling center is Brookmont Bowling Center in Kankakee, Illinois.
Visit us on Facebook at the
official USBC Open Championships page
.