ITC profiles: Geoffrey Young, Wichita State
May 24, 2012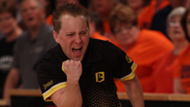 2012 USBC Intercollegiate Team Championships
Friday, May 25, 10 p.m. ET
CBS Sports Network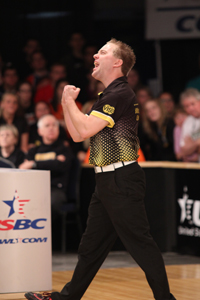 No one could have known it at the time, but the moment asthma kept Wichita State senior
Geoffrey Young
off the baseball field at age 11 was the moment he began a journey that would send him around the world to represent his country, place him on national television, and transform him into the leader of the most recognized college bowling program in the country.
"He used to play baseball and basketball and he wanted to play baseball one fall, and I told him 'Geoffrey, you have asthma, we are not going through bronchitis all winter,'" Young's mother, Carol, explains. "So I took him to the bowling center."
Carol Young would take her son to the bowling center many times from that moment forward—every day, in fact, for years.
"We took him every day after school to bowl," Carol Young explains. "He just fell in love with it right away."
The road Young's mother drove to take him to practice after school soon reached much farther than the local bowling center. Young got word of a summer camp up at a place called Wichita State and made it a destination for the next five summers, an experience which, in the words of Young's father, Gary, "transformed him from a Volkswagen into a Cadillac."
"I cannot even put into words what that experience did for him," Young's father says.
The Cadillac Young has become is the kind you don't soon forget after spotting it in the street, a souped-up ride with flashy spokes, a spoiler in the back and a blasting stereo.
"Geoffrey's personality is not something anybody else can pull off," says Young's fellow Wichita State Shocker, Miguel Lopez. "He is not afraid to make a fool of himself. You wait to see his reaction every time he strikes, because usually it's hilarious and it has nothing to do with bowling, and you're like 'Did you really just say that?' No matter what the situation is, no matter how down you may be, he always brings your mood up."
Another thing Young always brings up is that he is from Texas. And don't you dare forget it.
"He is very proud of being from Texas," Lopez explains of the Denton, Texas native. "One time at nationals when he struck he threw his arms up in the air like he had a lasso and he was like 'Alright, boys, rile 'em up!' I almost died laughing, and I was up after him, so I had to kind of gather myself and start bowling again."
It is no surprise that a guy who takes himself a lot less seriously than most others fit right in at a program that operates under the motto "Have fun and play the lanes." But even Young has to admit that it was not always that way.
"Yeah, I remember yelling too loud and walking out shots when I really didn't need to at my first tournament," Young recalls. "I almost ran into one person, if I recall correctly."
That was the kind of kid Wichita State head coach Gordon Vadakin had on his hands when Young made his way out of his summer camps and into his bowling program—the brash Texan who does what it takes to make himself heard, even if some folks might hear him a little too loudly for their liking.
"He really didn't know how to behave when he first came here," Vadakin recalls. "Like many young players that have a lot of fire in them, sometimes it was out of control. I think he tried a little too hard to fit in at first."
At least Young had an excuse to be brash by the time he showed up to bowl under Vadakin. The two-time
Junior Team USA
member had won
Junior Gold
in 2008 after finishing third in that same event just the year before, he had competed on national television against the likes of Norm Duke at the 2009 United States Bowling Congress Clash of Champions, and he had racked up medals at the 2008 PABCON Youth Championships in El Salvador.
And, after all, he had bowled his way onto a team that to date has won 10 USBC
Intercollegiate Team Championships
titles.
Four years later, the thing that made Vadakin the proudest as he watched Young strike relentlessly toward his 2012 USBC
Intercollegiate Singles Championships
title had nothing to do with his bowling game.
"I am more excited about how he behaved and how he carried himself than I am with how he bowled," Vadakin says of Young's restrained performance that day on CBS Sports Network. "I think it was a surprise for all of us. He was able to quiet his mind and just throw good shots, and it was great to watch. It made me feel like a lot of the work we had done here, a lot of the things we had talked about, paid off."
"It's kind of just a respect issue," Young adds, "making sure you don't go over the top. Because if you look at what Pete Weber did at the U.S. Open, I don't think that was right, and I don't want to be like that."
But when Young shoes up to lead the Wichita State Shockers in yet another appearance in the finals of the Intercollegiate Team Championships, which airs Friday, May 25 at 10 p.m. ET on
CBS Sports Network
, don't be surprised if you spot a little more Pete Weber in his performance, a little more of that Texas kid who lassoes the air after strikes.
"Well, with your team behind you, it's different," Vadakin explains. "I don't think he would be doing his job if he didn't give his teammates something to feed off of."
No matter how things turn out for the Wichita State Shockers Friday night, they will know one thing for sure before the first shot is thrown: Geoffrey Young will give them plenty to feed on.