Jackson, Galicia selected as 2022 USBC Youth Ambassadors of the Year
April 22, 2022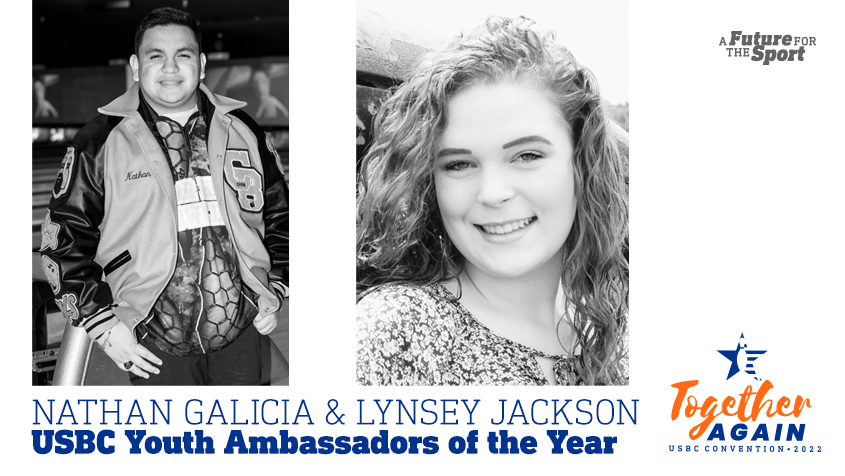 ARLINGTON, Texas
- Lynsey Jackson of Tullahoma, Tennessee, and Nathan Galicia of Friendswood, Texas, recently were selected as the 2022 United States Bowling Congress Youth Ambassadors of the Year by the International Bowling Campus Youth Committee.
The annual award recognizes one female and one male USBC Youth bowler for exemplary academic accomplishments, community involvement and contributions to the sport of bowling outside of league or tournament play.
Winners are chosen based on submitted applications, and each will receive a $1,500 scholarship.
Jackson, 17, is a senior at Tullahoma High School, where she holds a 4.1 GPA, while completing Advanced Placement and Honors classes. With her strong performance in those classes, Jackson had the opportunity to earn college credits, in which she could dual enroll in high school and Motlow State Community College. She will earn an associate degree in May, while her college GPA currently sits at 3.5.
Jackson, who will pursue a career in the medical field, will enroll next year at the University of Alabama-Huntsville to begin coursework toward a Bachelor of Science in Nursing degree. Once she is a Registered Nurse, she will continue school to become a Nurse Practitioner.
"I had no idea what to say when I heard the news," Jackson said. "I didn't have any words, because I've never received anything that big before. I was shocked. It took me a little bit to realize how big of an award it is, how special it is and what it really means."
Jackson began bowling around 9 years old in a youth league, which was run by her aunt, Holly Petty. Jackson, who still competes in the league, learned early about the importance of being a team player. A few years later, she became a youth director to help funnel ideas from the youth to the local association on how to enhance the youth program.
She was instrumental in convincing the board of education to add middle school bowling following the addition of the Tullahoma High School bowling program. Jackson bowled on the middle school team for three years before entering high school and spending four years on the Tullahoma High School squad.
She wants to introduce bowling to as many people as possible and help guide them in understanding how great the sport is and what it can provide. Several players on her high school team started out not knowing how to bowl, but with Jackson's help, those players showed significant improvement. The lifelong friendships, competition and people are some of the things that Jackson loves about the sport.
"I really enjoy seeing new people giving bowling a try, especially if they can't compete in other sports," Jackson said. "I enjoy encouraging them, helping teach them and showing them how they can set goals for themselves. When they reach those goals and are proud of what they've done, it makes me feel amazing. Once I complete school, I would like to join my aunt in building youth bowling leagues."
Off the lanes, Jackson's love of volunteering developed in part as a way to honor her grandparents and give back the love she's received from them after they provided some much-needed stability during a sometimes uncertain childhood upbringing.
Led by love, the want to give back and her future professional pursuits in the medical field, she created an annual fundraiser called "Bowling for Boobies." The event, which began in 2021, raises money to support breast cancer and USBC's Bowl for the Cure campaign.
She began with an initial fundraising goal of $2,500, but the goal quickly was eclipsed with the event's 100 participants, who donated money and baked goods. Jackson surpassed her goal as the event raised $3,600. Along with "Bowling for Boobies," she plans to host similar events to allow bowlers from all skill levels to have fun while supporting great causes.
"I'm really happy that all of my hard work has finally paid off," Jackson said. "I'm so thankful for everybody who has helped me along the way, especially my aunt. She's the one who started the youth league and got me into it. I really think she is the reason I'm so involved with bowling. I really thank her a lot, because I don't think I would've had this opportunity if she wouldn't have gotten me into bowling. This award means so much to me. I'm so happy. I'm just in shock."
Galicia, also 17, is a senior at Clear Brook High School, where he maintains a 4.3 GPA amidst a variety of work, extracurricular and volunteer activities, not to mention his time as a four-year member of the bowling team.
In just a few months, Galicia will take his talents to Wichita, Kansas, where he will enroll at Newman University. He will major in chemistry forensic science, with his ultimate goal to become a forensic pathologist.
"It was honestly very exciting," Galicia said. "I wasn't expecting it at the time. We had just come back from a trip when I got the call, and it was honestly amazing. I love volunteering. I love volunteering for the sport because it's done so much for me and my family. I never would've thought I would've been honored for this."
Galicia saw firsthand what volunteering was all about by watching his older brother in action as president of their local youth leaders. The younger Galicia had an early role model to watch and learn from, and he began to realize the power of volunteering and how it influenced others.
He also saw what it meant when a community comes together during tragedy when his family suffered significant damage and loss of property due to Hurricane Harvey. His church family and community helped Galicia and his family rebuild their home.
"That's when I realized how much volunteering can help somebody from an emotional perspective," Galicia said. "Even if it's not bowling or just to help out a stranger, I've always wanted to help. I love doing it because someone did it for me, and I think I should pay it back."
He's an active volunteer for the Special Olympics. His bowling squad takes part in a "polar plunge" to raise money by plunging into the Gulf of Mexico during the winter. He also has volunteered his time to work the Special Olympics bowling event in his area and has done so every year since the sixth grade.
Galicia helped launch a youth league for bowlers ages 3-12, which is run by high school coaches - including Galicia. He served as president of the Texas State USBC Youth Leaders for the last six years and president of the Greater Houston USBC Youth Leaders for the past five years. He also serves on the association's board of directors.
Along with his mom, Roxy, the two combined to create a toy drive by hosting a bowling tournament featuring youth bowlers against first responders, where bringing toys to donate served as the entry fee. They also provided $1,500 in scholarships.
On the lanes, Galicia has competed for state championships with his high school team and bowls regularly in two scratch leagues, one of which is an invitational and requires an average of 170 or better. Of course, Galicia is serving in some other capacity, too. He's held positions of president, vice president and secretary in his travel league.
"I hope they're proud," said Galicia, when referencing his parents. "I'm going to be very, very nervous. My goal is to just give a good speech. Besides that, I'm very excited to receive this award, because it's a huge honor and once-in-a-lifetime opportunity. I'm very excited. I think my parents will be emotional."
Jackson and Galicia will be recognized in April during the 2022 USBC Convention at The Orleans in Las Vegas.
This year's award ceremony, which includes a variety of awards for youth and adult bowlers, will take place during the morning session of the USBC Annual Meeting on April 28 at noon Eastern. The award presentations will be live to watch at BowlTV.com.
Learn more about awards for adult youth leaders and scholarship opportunities for youth bowlers at
BOWL.com/ScholarshipsAwards
.