Janawicz claims top seed for stepladder finals at 2023 USBC Senior Masters
June 11, 2023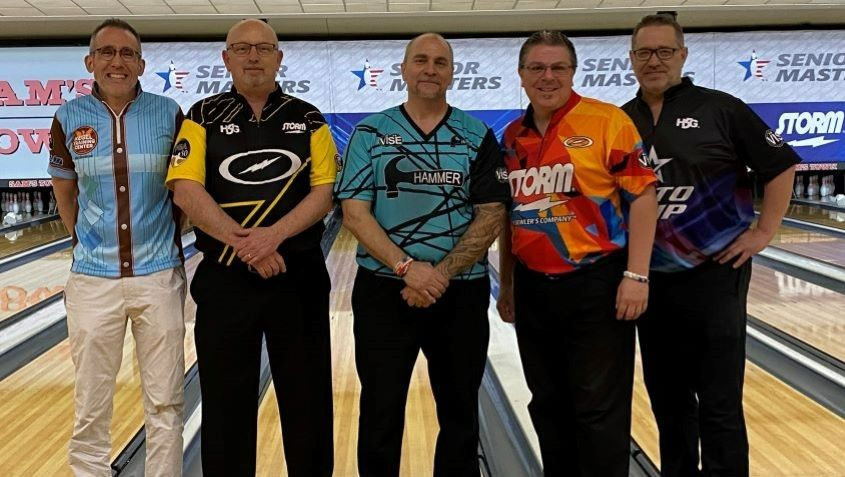 LAS VEGAS –
John Janawicz of Winter Haven, Florida, went undefeated in match play and earned the No. 1 seed for the stepladder finals of the 2023 United States Bowling Congress Senior Masters at Sam's Town Bowling Center Saturday.
Janawicz, who turned 50 in September, is a rookie on the Professional Bowlers Association 50 Tour and competing in this event for the first time. He defeated Lennie Boresch of Kenosha, Wisconsin, in the match to decide the No. 1 seed for Sunday's stepladder finals, 648-524 (three-game total pinfall). Boresch will be the No. 2 seed.
Joining Janawicz and Boresch in the finals are No. 3 seed Troy Lint of Blandon, Pennsylvania, No. 4 seed Brad Angelo of Lockport, New York, and No. 5 seed Brian LeClair of Delmar, New York.
After winning both of his matches on Friday, Janawicz kept things on the right track Saturday by opening with a narrow win over Andy Neuer of Lewisburg, Pennsylvania. Janawicz doubled in the 10th frame to secure a 708-702 victory.
"I was up early in that match and then Andy started striking and made a heck of a run at me," Janawicz said. "After he struck in the ninth in that last game, I thought I was gonna be done. But then he got around one a little bit in the 10th and left the 4-10 to give me a chance. I managed to throw a double in the 10th
to get the win. That was huge."
He picked up the pace in his next match, rolling a 300 game en route to a 790-678 win over Kimmo Lehtonen of Finland. A win over Angelo (699-698) preceded his win against Boresch that put him in the top spot for the finals.
Janawicz, a USBC Hall of Famer and 10-time and current Team USA member, talked about his expectations entering his first event on the senior circuit.
"When it comes to expectations, honestly all I'm trying to do out here is learn and try to continue to get better," Janawicz said. "Fortunately, this week I made some good decisions when it came to lane play and it all worked out pretty well."
As the No. 1 seed and only undefeated player in the double-elimination format, Janawicz will have to lose two games in the stepladder finals for someone else to claim the title.
"Of course that's an advantage, but it's one I hope I don't need," Janawicz said. "I'll need to pay attention to how the lanes are being played in the matches in front of me and how the lanes are breaking down. I don't want to relax because I have to be beaten twice. I want to put it away with one game."
Boresch, a five-time PBA50 Tour champion and owner of two PBA50 majors, is seeking to improve on his second-place finish in this event in 2013 when he lost to Pete Weber.
"It would be nice to win this one," Boresch said. "That one I lost to Pete kind of left a bad taste in my mouth. If I had struck out in the 10th, I could've shut him out. But I left a split. So, hopefully I can make up for that tomorrow."
Lint came into Saturday's match play as the hottest player in the field after winning with scores of 768 and 835 on Friday. He lost his first match on Saturday, but never looked back after that.
After that opening match loss, Lint shot 791 to beat Paul Fleming of Fort Worth, Texas, then proceeded to take out USBC and PBA Hall of Famer Parker Bohn III of Jackson, New Jersey, 684-604. He then shot 726 to beat Rick Meneley of Santa Maria, California, before dispatching Lehtonen, 736-716, to put himself into the final match of the day, where four players battled for the final three spots in the stepladder.
In that last match, Lint's 760 total was best among Angelo (727), LeClair (703) and James Campbell of Vonore, Tennessee (586), who finished sixth.
Lint, the lone left-hander in the stepladder finals, has put together a memorable performance despite battling an extremely sore right (sliding) knee.
"I won a regional two weeks ago and the next day my knee was killing me," Lint said. "I was perfectly fine bowling that regional, but now it's just blown up. I'm using Aleve . . . Tylenol . . . ibuprofen . . . everything."
Lint, who is seeking his first PBA50 Tour win, is willing to work through the pain in pursuit of a title.
"It would mean everything," Lint said, when asked what a win in this event would represent. "It's the goal, it's why I'm out here. These are the guys I've watched since I was a kid and now they're friends of mine, so that makes it even better."
The opening match will feature a pair of New Yorkers as Angelo and LeClair will face each other. Angelo is after his second PBA50 win after capturing his first title last year. LeClair, who was the 2017 PBA50 Player of the Year, is seeking his sixth PBA50 title, but first since 2019.
The top five will compete in Sunday's stepladder finals live on
BowlTV
at 1 p.m. Eastern (10 a.m. Pacific).
Since the stepladder will be broadcast on BowlTV, the top seed will have to be defeated twice in the true double-elimination format. The winner of the 2023 USBC Senior Masters will take home a major championship on the PBA50 schedule and the first-place prize of $20,000.
For scores and information about the 2023 USBC Senior Masters, visit BOWL.com/SeniorMasters.