Janawicz receives Jim Jaryszak Laneman Award
June 29, 2023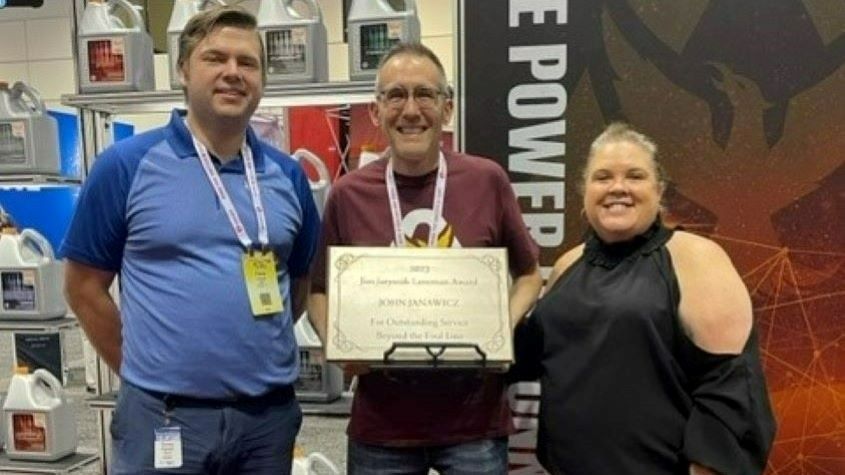 ARLINGTON, Texas –
John Janawicz of Winter Haven, Florida, was named the recipient of the 2023 Jim Jaryszak Laneman Award Wednesday at Bowl Expo in Orlando, Florida.
Janawicz's selection as this year's recipient was announced by United States Bowling Congress President Melissa McDaniel, who presented Janawicz with the award along with USBC Senior Director of Equipment Specifications Tom Frenzel.
The Jim Jaryszak Laneman Award winner, which recognizes a person for their behind-the-scenes work as a laneman, is selected by the USBC Equipment Specifications and Certifications team from submitted nominations and presented at Bowl Expo.
"It's definitely an honor for me to win this award, especially since it's named after Jim, who was someone I knew and was a mainstay at USBC's equipment specs and research department," Janawicz said. "It's cool to be recognized for an award in lane maintenance because lane maintenance is one of those deals where if everything is going well, you don't hear anything at all. But if something goes bad, then you're probably going to hear about it for the rest of your life. So, it's nice to get some recognition for doing some good work."
Janawicz's "good work" in lane maintenance started when he took a position as a laneman at the 1998 USBC Open Championships, followed by a stint working the same position at the Junior Gold Championships.
Following those events, Kegel hired Janawicz as a full-time employee in July of 1998. He's worked for the Lake Wales, Florida-based company ever since and is currently one of the company's international technical delegates and its technician/pattern specialist.
Janawicz began his career at Kegel working as a laneman for Professional Bowlers Association Tour events and spent his time in between events assisting with research and development.
By 2003, Janawicz was continuing to work as a lane maintenance technician for various events and tournaments, but he also started spending time between events working in tech support. In that role, Janawicz provided support for questions about the lane machines and the oil patterns themselves.
Eventually, Janawicz added seminars and educational clinics to his list of duties. All of that shaped Janawicz into one of the industry's most knowledgeable lanemen.
Janawicz estimates he's worked as a laneman for more than 300 events on five different continents (Asia, Australia, Europe, North and South America) and has visited more than 40 countries.
"Lane maintenance and working for Kegel has been quite the blessing," Janawicz said. "To be able to meet so many people all around the world, to experience different cultures, and to be able to see all these different places, it's been very enlightening. I never thought when I first got involved in all this that I would've had all these great experiences."
In addition to Janawicz's career working "beyond the foul line" at Kegel, he's also had an impressive career on the "other side" of the foul line as a bowler.
Janawicz is a 10-time and current member of Team USA, where he has earned more than 20 medals in international competition. He is a three-time Eagle winner at the USBC Open Championships and was inducted into the USBC Hall of Fame in 2018 in the Outstanding USBC Performance category.
Janawicz, 50, won the USBC Senior Masters this year in his first time competing in the event. He was named 2004 Bowlers Journal International Amateur of the Year and is a two-time Bowling Writers Association of America (now International Bowling Media Association) Amateur of the Year (2004 and 2009).
Janawicz was the recipient of the 2019 Bowling Proprietors' Association of America Dick Weber Bowling Ambassador Award and, in addition to being a member of the USBC Hall of Fame, was inducted into the Florida State Bowling Hall of Fame in 2011.
"It's been a great ride so far, and I'm hoping it continues," Janawicz said. "The game is always changing, and I'm always going to try to learn more and find new ways to continue to get better at my job."
The Jim Jaryszak Laneman Award is named in honor of the USBC Research Manager who passed away in late 2010. Jaryszak was instrumental in setting up the USBC Sport Bowling program and served as the point person when the PBA was updating their animal patterns.
Past recipients include names such as Sam Baca, the first Director of Lane Maintenance for the PBA, and Kegel founder John Davis.
For a complete list of past recipients and to learn more about the Jim Jaryszak Laneman Award, visit BOWL.com/EquipAndSpecs.